Nothing Down Ambassador Program
Ambassadors are chosen on an annual basis to represent and assist the organization through community outreach, fundraising, and social media promotion. Ambassadors are the faces of Nothing Down and work very hard to advocate for the Down syndrome community.
Their stories are represented on our website, and their milestones are documented on our social media pages throughout the year. By providing these amazing kids and adults a platform to shine, it educates the world that we are far more alike than we are different. The program began in early 2018 and in the two years since it's inception, we have received close to 2,000 applications from potential ambassadors all over the world.
Selecting our representatives is an extremely difficult process for our team, as there are so many incredible applicants that would make great additions to the program. In the end, we choose the families that show the most dedication to assisting Nothing Down in the areas of outreach, fundraising and promotion, and who have a true passion for our mission and advocacy.

Ambassador Application Process
Every December, we advertise the application process for our annual Ambassador call. Applicants are asked to provide a picture and fill out a questionnaire detailing their family's current level of advocacy, frequency in which they share Nothing Down projects or programs through social media outlets, any history they have fundraising for Nothing Down, and their intentions if chosen to represent the organizations. We have found that the best ambassadors are those who have been dedicated to assisting our organization before applying to be an ambassador. If you believe that your family would be a good fit for the above mentioned criteria, we would love to have you apply for our next ambassador call!
To be notified of our monthly news including ambassador calls, casting calls, new projects, events, and other big news, click the link.
WE ARE PROUD TO ANNOUNCE OUR 2020 NOTHING DOWN AMBASSADORS!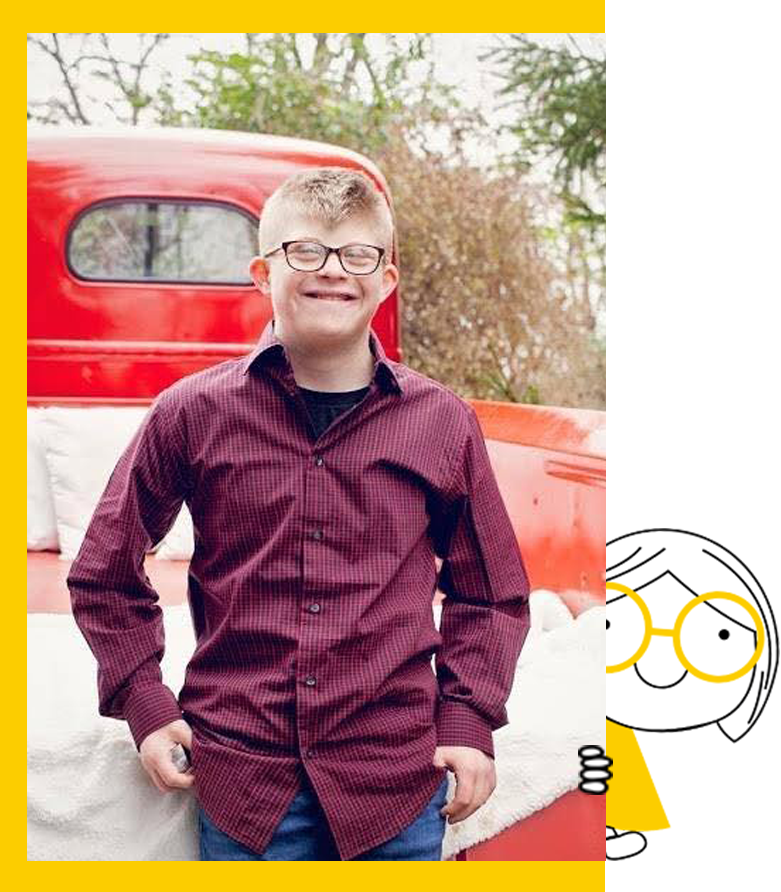 Alex is currently an eighth grader in Delaware, Ohio. At school, he participates in Student Council, Diversity Club, Eagle News (the student news broadcast), the 8th grade boy's basketball team, and is looking forward to participating on the track and field team this spring. Alex looks forward to beginning high school in the fall!
Outside of school, Alex is a member of the Ensemble Company at a local dance studio, and he volunteers as an usher and acolyte at his church. Beyond all of that, Alex loves the WWE, The Price Is Right, Hot Wheels, and spending time with his family and friends.
Alex's family is passionate about inclusion and kindness, and diligently works to illustrate that Alex is an equal and able member of their community. #InclusionMatters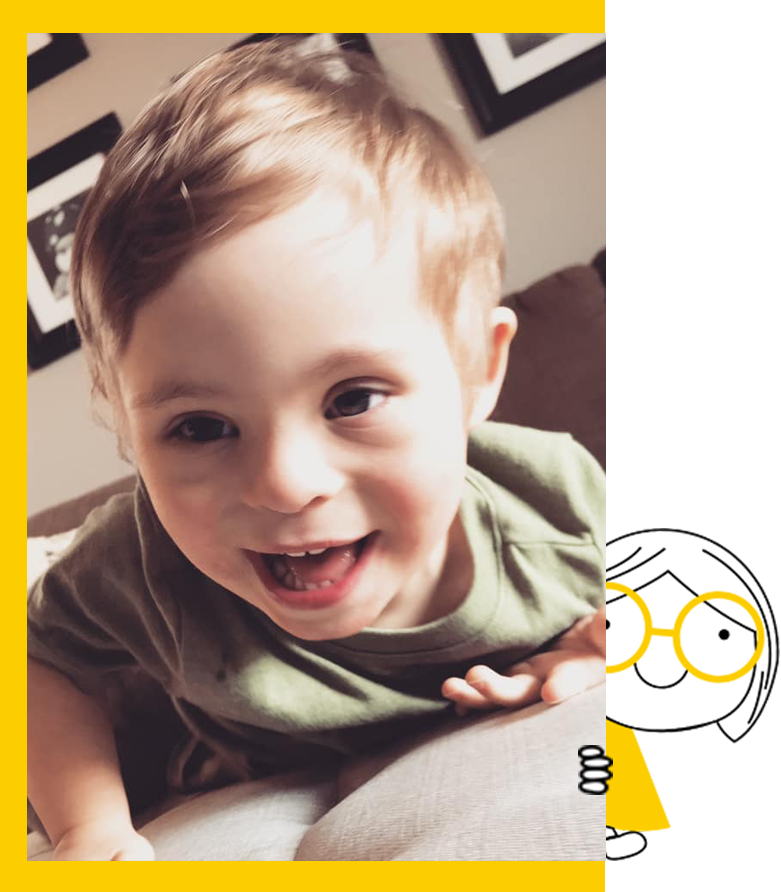 Two-year-old Vaughn is Nothing Down's only Canadian ambassador. He has a contagious smile, a sensitive heart and gives the greatest hugs. Vaughn is a strong-willed and curious little boy who loves trains, puzzles, books and mastering new signs. His energy and curiosity keeps his parents on their toes, as Vaughn is always on the move, running and climbing.
We feel so lucky that Vaughn was born in today's age – a time with such a buzz and push for inclusion for people of all abilities. We know without a doubt that Vaughn will continue to break stereotypes and show the world that he is smart, capable, worthy, and that there truly is nothing "down" about Vaughn or his extra chromosome. He makes his family and friends proud every day and is loved beyond measure.
You can keep up with Vaughn on his Instagram page- @daily.vaughn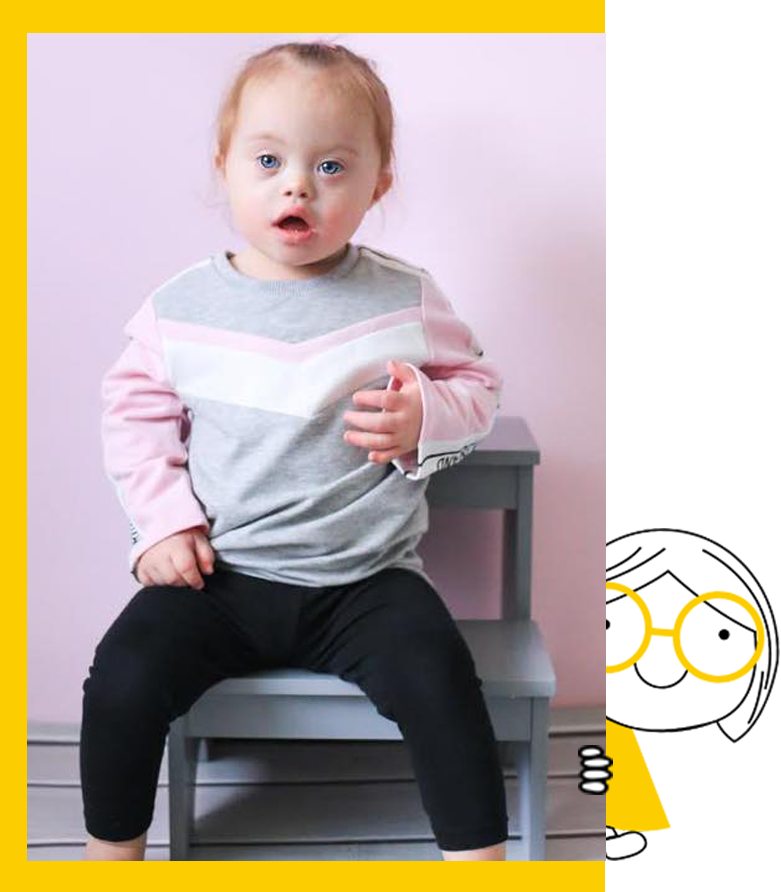 Please meet Bella. Bella is 2 years old and lives in the UK. We had a prenatal unofficial diagnosis so we had plenty of time to prepare for our little bundle arriving. Bella was born on the 20th January 2017 weighing 5lb 7oz. She was born with a small hole in her heart which closed up on its own by her 1st birthday. Other than that, Bella has no other health issues.
Bella is a part of the "Wouldn't Change a Thing" charity in the UK, trying to make negative perceptions of Down syndrome a thing of the past.
Bella took part in the Down right beautiful campaign last summer and we absolutely love to spread awareness wherever we can. Down syndrome is nothing to be feared and we cant wait to help spread that with Nothing Down. Bella is a little star and makes people smile wherever she goes.
We are so proud of this little girl and will continue to raise awareness where we can.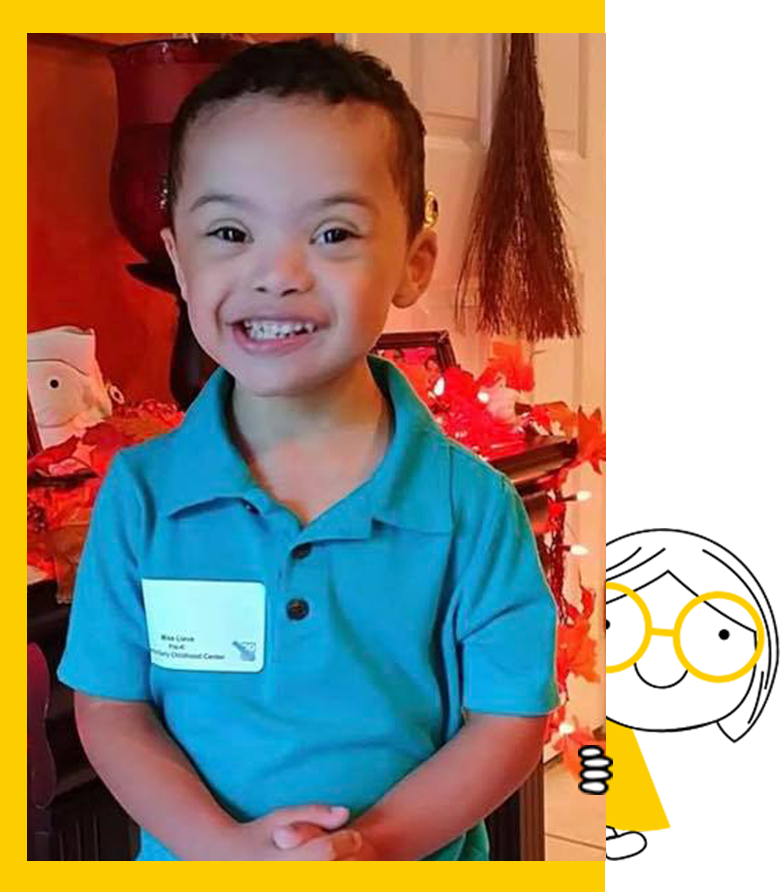 Derek recently turned 4 and is so very excited to be one of the 2019 Nothing Down Ambassadors! We had a prenatal diagnosis when I was about 15 weeks pregnant and we decided that we weren't going to tell anyone because we didn't want anyone feeling bad for us! It was the best decision for us and right then we knew that there was Nothing Down about Down syndrome!.
Derek is the absolute light of everyone's lives! He can make you smile and laugh just by looking at you. He will turn your day around with his big beautiful smile. He absolutely LOVES riding the bus everyday and loves school! School has been so amazing this past year and Derek keeps showing us all that he can learn just like his typical peers!
We are so so proud of our boy and we can't wait to keep showing the world that there is Nothing Down about Derek and all of his amazing friends!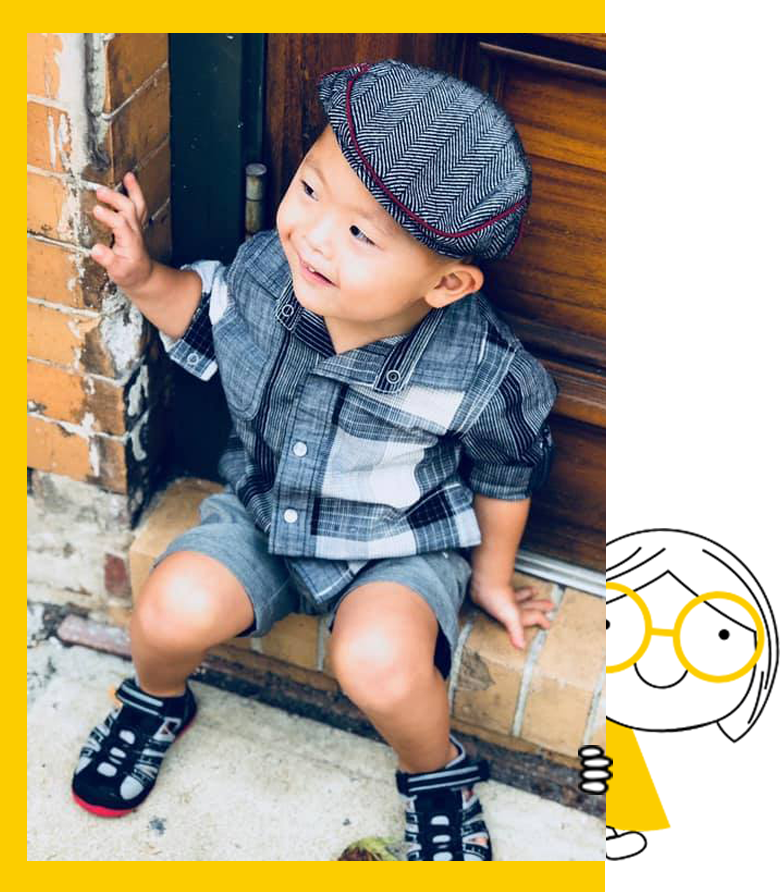 Born in China, Lian was lovingly welcomed into his forever family's arms on October 30, 2016. In the two years he has been home, he has made tremendous strides in health and development! Bright, funny, and with a keen love of music, Lian spends his days dancing, reading books, and practicing speech! He participates in a gymnastics class, loves to swim, and is very fluent in sign language.
Lian can be quite the mischievous ham, making everyone around him laugh. When out and about, he loves to give everyone he meets a high five and even the grouchiest stranger cannot resist his enthusiastic hello, coupled with a big smile.
While Lian has endured much loss in his short life, he doesn't let that keep him down! His story is being shared far and wide, encouraging other adoptive families to say "YES!" to children who have Down syndrome. Lian's adoption story is being published in a book that will come out in late 2019 and he also represents North Carolina in a new children's book about the states!
Lian is adored by his parents and three older siblings, AND he will be getting a younger sister who also is rocking the extra chromosome from China in 2020!
Lian is a blessing to all who know him!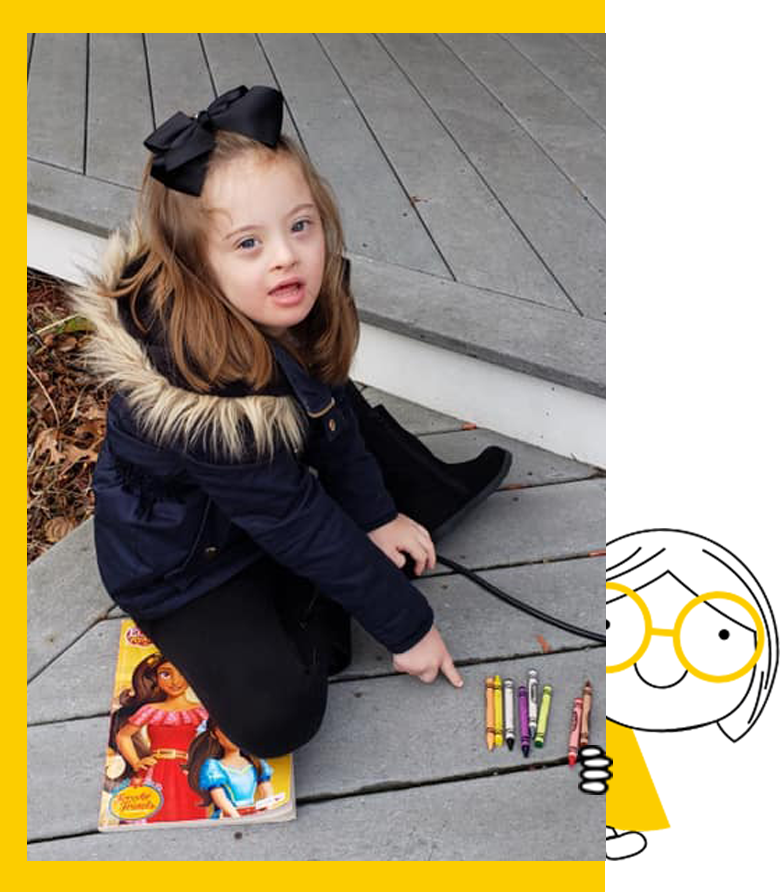 This is our Gabriella. She is 7 years old and in second grade where she is learning and growing so much. Although Gabby does not have much speech she is working hard everyday to communicate with others and has now begun learning sign language. She loves all her friends at school and is blessed to have some amazing teachers.
Gabby has a smile that can brighten up any room. Shes loving, beautiful, smart, sassy and gives the best hugs. She loves to swim and has started taking dance classes. She still has a very shy and stubborn side, but we love it. Her best friend is her little sister who is 5 years old. They are inseparable!
Down syndrome is not something anyone should fear but something you should embrace. We are learning from Gabby everyday and shes the best tour guide on this incredible journey. I know that she will continue to prove to everyone that she is capable of anything. We are honored that she was chosen to be a 2019 Ambassador for such an amazing organization.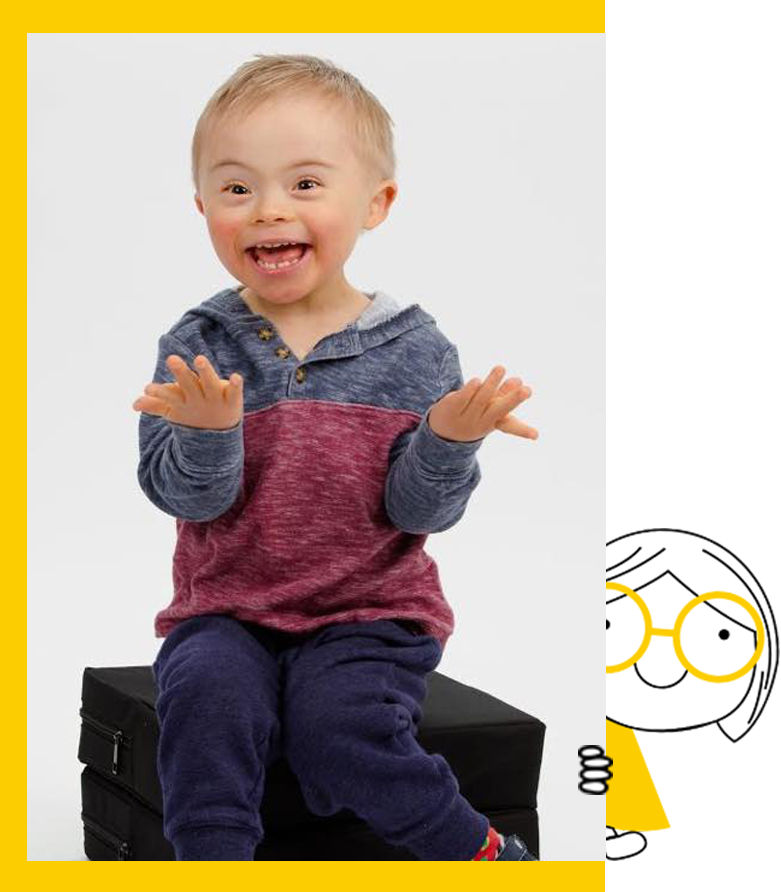 James is our sweet 5 year old St. Patrick's Day miracle. We didn't find out that he had Down syndrome until birth, which came as quite a shock. But James very quickly showed us that the love of parents doesn't change just because of one extra chromosome. We live in a very supportive community that fully embraces inclusion. James and his friend, who also rocks the extra chromosome, are the reason behind the Just Two Moms organization. Their mommies started spreading the word and advocating for the acceptance and inclusion of ALL people in Northern California. (Facebook @justtwomoms and Instagram @justtwomomssr)
Although James has had a rough medical past, he can make you smile in an instant. You would never have guessed he's had 3 major surgeries and 23 other minor surgeries, hundreds of days in the hospital and several hard to diagnose medical issues. The twinkle in his eye has captured our hearts from day one and has never faded, even in the worst of times.
He is fully included in preschool and is making such great gains! He knows well over 350 signs and counting. He loves learning and is keeping up with his typically developing peers. His teachers say that he's an empathic friend who always brings comforts his friends in their times of need. We can't wait to see how James continues to change the world!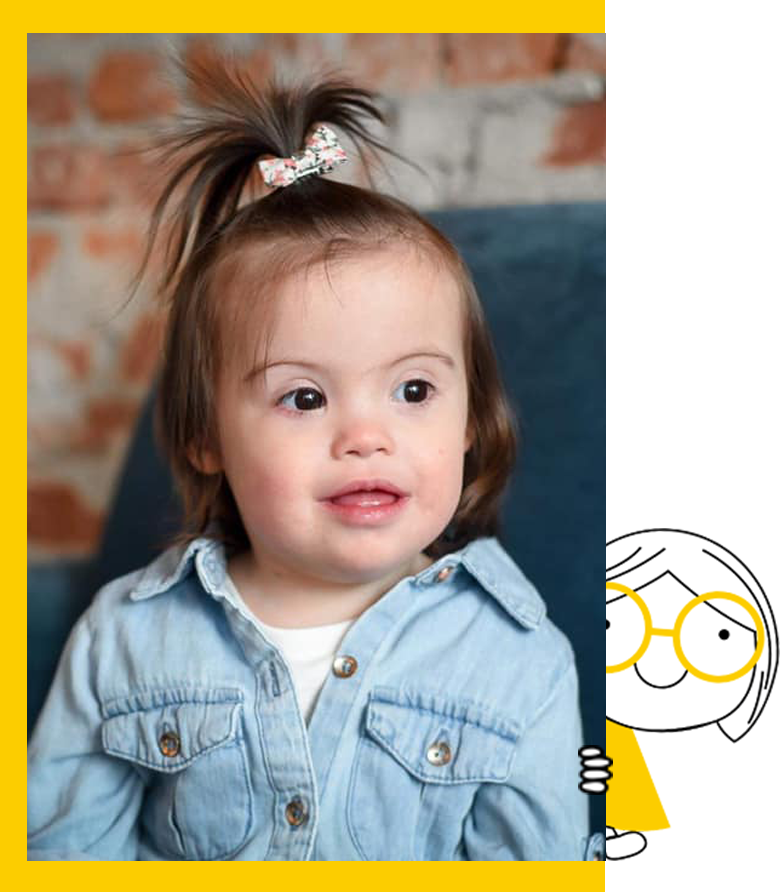 Nadia is 20 months old and ready to take on the world. She is just starting to stand on her own, and will be taking her first step any day now. Nadia is one of the ambassadors chosen from right outside of Philadelphia, in Delaware County, Pennsylvania.
Nadia was born six weeks premature on August 5, 2017, after her mom spent five weeks on bed rest in the hospital leading up to her arrival. She was diagnosed with duodenal atresia and had corrective surgery at one day old. Other than that, Nadia has had no other health issues.
Nadia loves playing with her sisters and brothers. She also loves little doll babies, barbies, and she is a big fan of music.
Every time I see Nadia overcome a challenge, it reminds me that she is here to do great things. We look forward to everything Nadia has to teach us.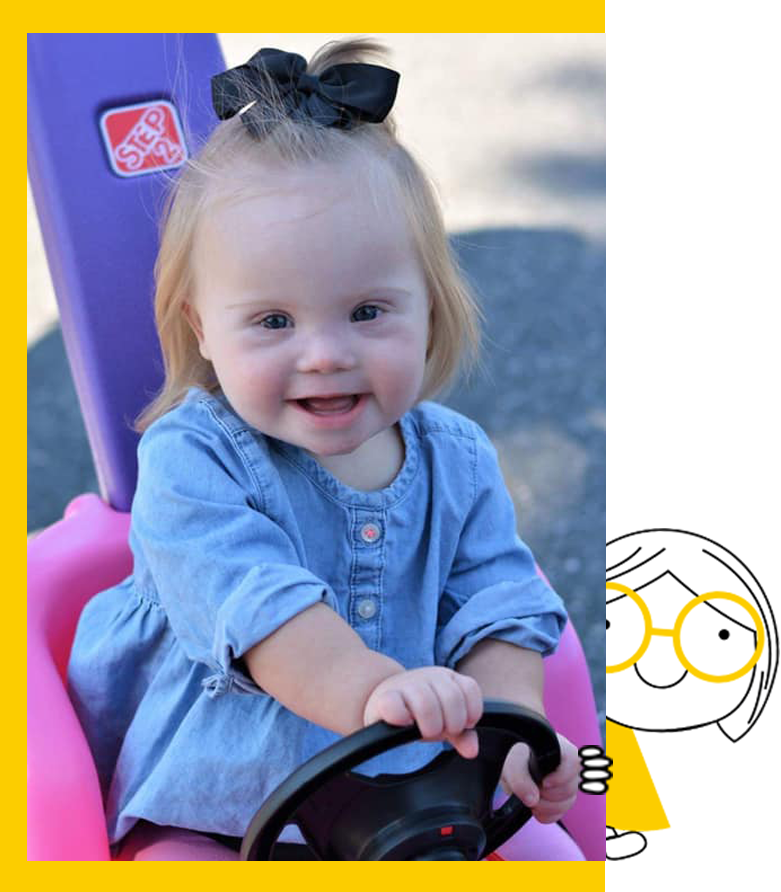 Meet Sydney (AKA Sydney Bean!) Sydney is 18 months old. Wow- that went fast! She will be the big TWO years old on August 24, 2019. She is the baby of three and absolutely loves her big sister and brother, Olivia (6) and Logan (3). They truly are the best of friends. From her love of matchbox cars and superheroes, to tackling her brother and reading with her sister, she has brought a new light to our lives. She is feisty, determined, and nothing will stop her until she succeeds!
Sydney was a surprise birth diagnosis and though we weren't ready for our new journey, we have set out as a family to change the misconceptions of Down syndrome. Sydney was chosen to star in the Nothing Down documentary, "Dear Doctor". We were able to share the story of our birth diagnosis and how we were lucky to have her diagnosis delivered to us in such a compassionate and loving manner.
Sydney's smile, her laugh, and her wildness will bring a smile to your face and make your heart skip a beat. She has brought our family together, brought our friends closer and has even brought our community together. At almost two years old, she is helping to show that there is so much more to Down syndrome than just a diagnosis, and because of her we have been able to bring awareness, advocacy and inclusion.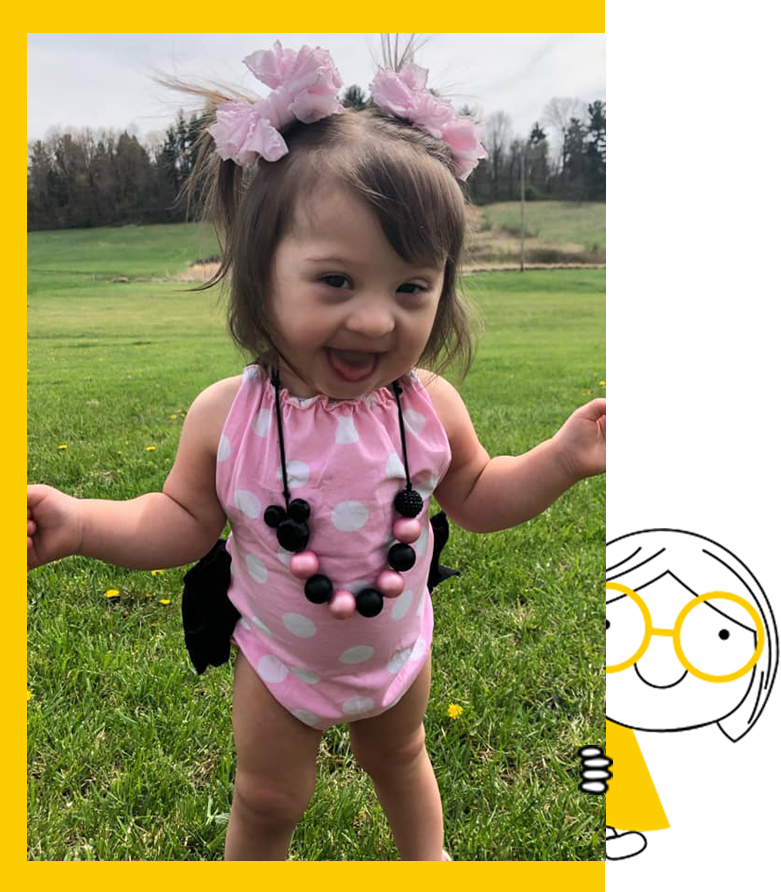 Meet Aubrey Paige! She is 19 months old and full of love and laughter. Aubs has completely changed our lives for the better and has shown us that there is nothing down about Down syndrome. Aubrey is a true miracle. When we received her Down syndrome diagnosis, the doctors told us all of the negatives and none of the positives about our daughter. Needless to say, she proved every one of those doctors wrong! Aubrey is a smart, loving, strong and special girl. She is also a fighter. Our little girl is heart warrior, after undergoing two open heart surgeries and also having surgery for a hernia. Aubrey is also mama's girly girl! She is a little diva and has a passion for bling and fashion. She loves to dress up and have her picture taken. Aubrey truly has a heart of gold and her diagnosis will never define her. We hope that, together with Aubrey, we can change the way the world sees Down syndrome!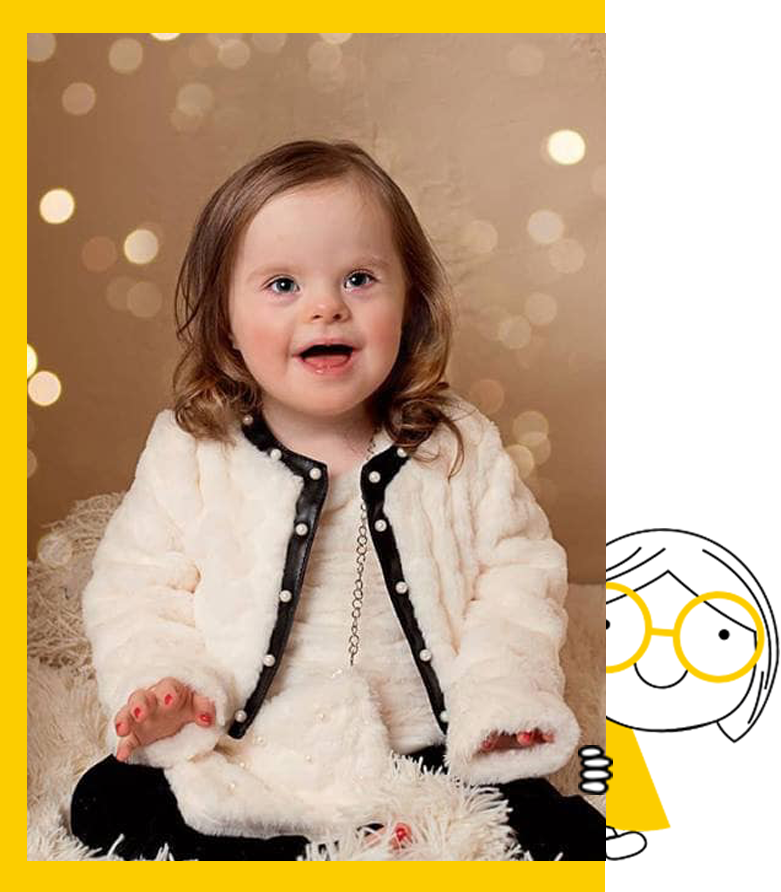 Molly is a fun and bubbly 2 ½ year old little beauty from Carlow in Ireland. Born with the complicated heart condition, Tetrology of Fallot, Molly has successfully gone through two open heart surgeries and stents. She is known as a "Little Heart Warrior" and is doing fantastic! Molly uses sign language to communicate and after just recently learning to crawl, she is already nearly standing and is raring to go! She loves music and is completely country music mad with lots of celebrity fans from the music industry following her. After setting up pages for Molly on Instagram and Facebook, she gained quite a following. She quickly got picked up by several international brands and now showcases their clothes and bows as a brand representative. She loves to pose for the camera and has been photographed for newspapers, magazines and calendars. She's even had a few television appearances. Molly is also the first model with Down syndrome to be signed to a large Irish Model Agency. Becoming an ambassador for Nothing Down was a big dream of ours and we are delighted to take on this role and spread even more awareness that there is Nothing Down about Down syndrome! Molly's progress and advocacy can be followed on www.facebook.com/mollyandjoshua/ and on Instagram www.instagram.com/mollyandjoshua/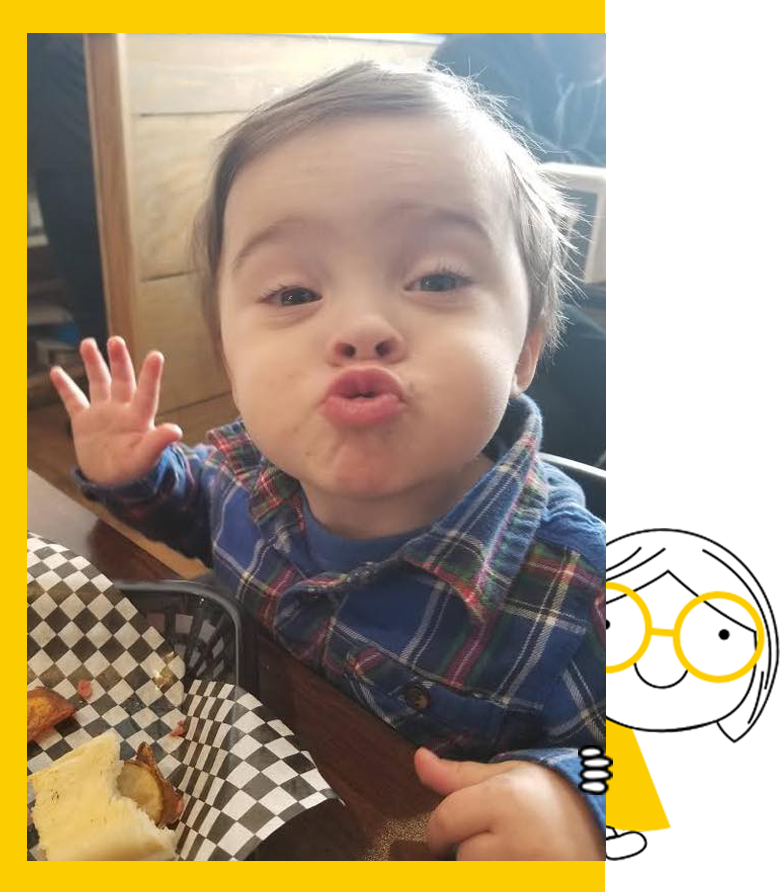 Augustus "Auggie" Ferrari, is a 2 year old charmer with a big smile and even bigger dreams. Auggie is crushing goals everyday thanks to his fierce determination and the help of his big brother Giorgio. In his spare time he is a young foodie. We can get him to try new things nearly most of the time, as long as it involves food.
Auggie has been on the jumbrotron in Times Square two times, has participated in the Go Baby Go program, and will be starting the Special Olympics Young Athletes program this spring. He truly shows everyone that he comes in contact with that there is Nothing Down About Down syndrome.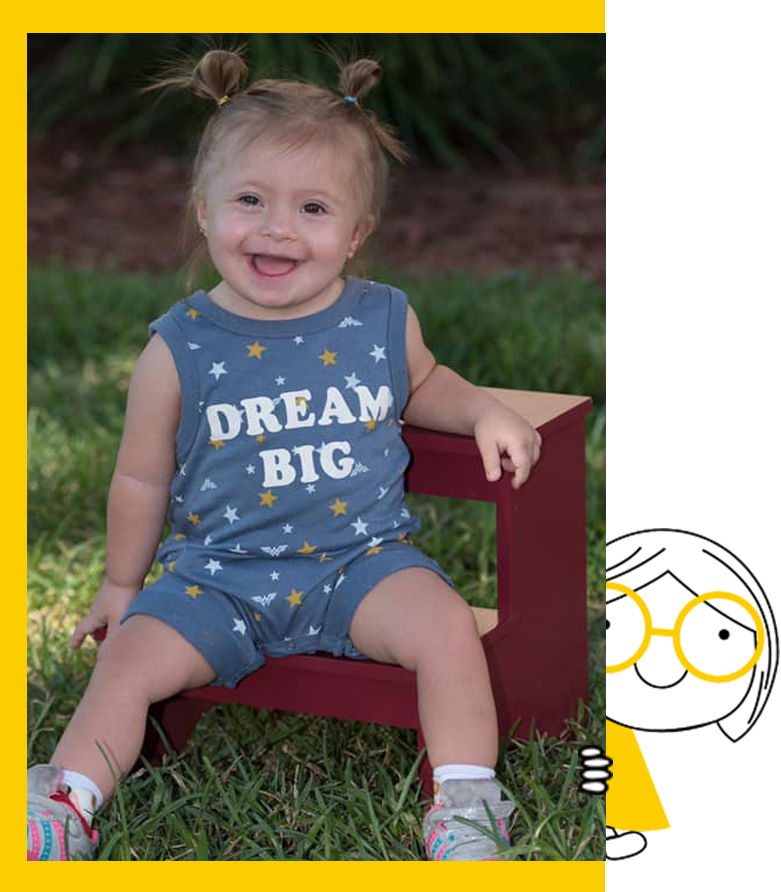 Riley is 2 years old and has a smile that shines brighter than the sun. We received a birth diagnosis and, at the time, it was one of the scariest moments of our lives. But it turned out to be the best thing ever. Riley has the ability to light up a room and bring smiles to everyone. She is full of life and love. Riley adores her big sister Olivia who is 7 and her puppy, Waylon. She is one of the most determined, strong, stubborn babies I know. Riley doesn't let having Down syndrome stop her from doing what she wants. When she sets her mind to something, she doesn't give up. Riley is very social and loves giving high fives and fist bumps. She loves giving hugs and meeting new people. Riley has no fear, is very curious and is always on the move. She keeps us on our toes! We couldn't imagine a world where she doesn't have that extra chromosome. Riley loves music, dancing, she loves when we sing songs to her. She loves playing with her big sister, and watching daddy play video games. We are so excited to be a part of Nothing Down and have Riley be an ambassador for such an amazing organization. We love being apart of the Down syndrome community. It's is a world I never knew existed and we are so happy to be a part of it. Riley is our rock star and is taking on us on an incredible adventure!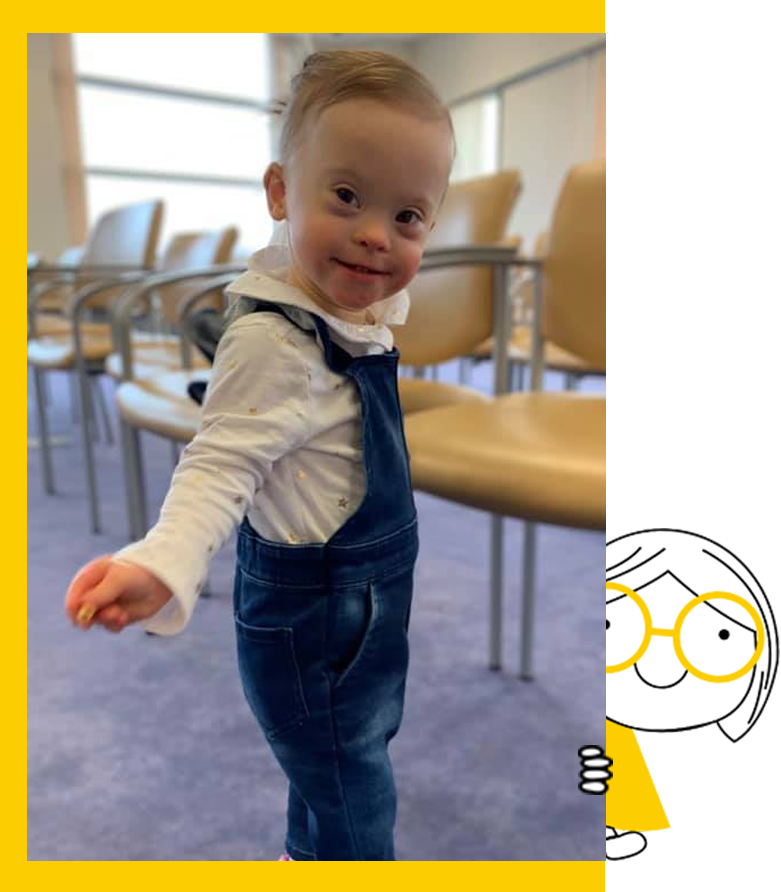 Lila is our sweet, smart, joyful, and resilient 1-year old girl. She walks, climbs, plays with her toys, and uses sign language to communicate. Her biggest fans are her big sister, big brother, and of course mommy and daddy!
She came into the world three weeks early and immediately went into the NICU. She needed oxygen and a feeding tube and was predicted by doctors to be there for 4-6 weeks. She was off oxygen after 24 hours and off her feeding tube after 2 days, she went home with her family at 5 days old. She is a sassy fighter and continuously shows that her possibilities are limitless!
Lila loves to dance to country music, especially Luke Bryan! She builds with blocks, plays ball, and feeds her baby dolls. She loves veggie straws and even made up her own sign to communicate that is what she wants! When she sees that her sister or brother is sad or upset, she immediately goes to them and gives the sweetest hug ever.
She completes our family and we wouldn't change one thing about her!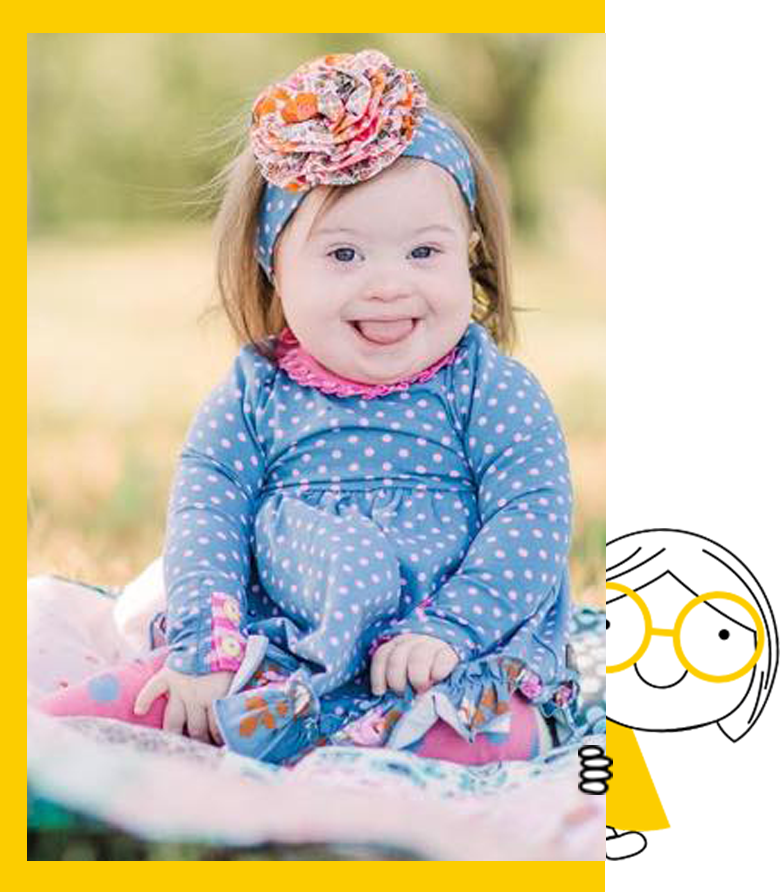 Annabelle may only be two years old, but she has conquered more in her short life than many do in a lifetime! She was born with Trisomy 21 and Unilateral Left Clubfoot. She did not let the weekly trips out of state to get new leg casts hold her back and even began rolling over at just a month old! Every single milestone that doctors predicted she wouldn't be able to accomplish for months (or even years!) she was able to accomplish in weeks. At 12 months old, Annabelle was named Zulily Cutie 2017 and was flown to Seattle for several photo shoots with her family. Appearing on their social media pages and on their website, Annabelle was well on her way to changing the way the world views Down syndrome. Just weeks after the cross-country trip, Annabelle was diagnosed with Acute Lymphoblastic Leukemia. She spent many months in the hospital, but thankfully achieved remission in September of 2017. With only a few months of treatment left now, Annabelle is rocking the world once again. She became an ambassador for the Children's Miracle Network in 2018 and is so excited that she's been given the opportunity to represent Nothing Down as a 2019 ambassador! Even with all of these complex issues, as well as being profoundly deaf in one ear, Annabelle has already shown the world that there's absolutely Nothing Down about Down syndrome! To learn more about Annabelle's journey, follow her on Facebook at www.facebook.com/TravelWithAnnabelle/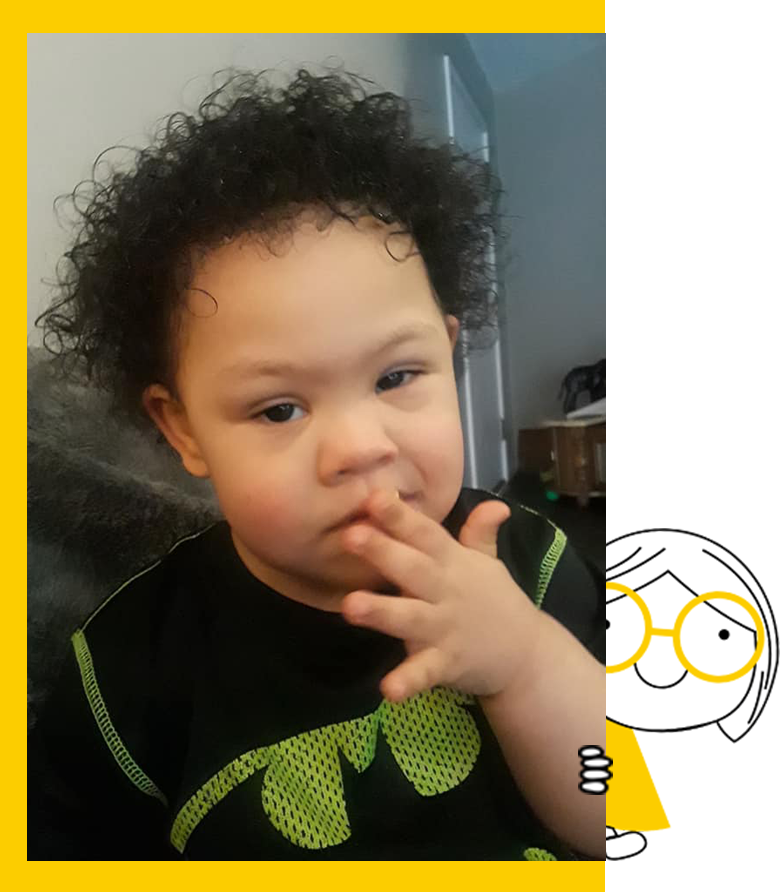 Marcus was born 5 weeks early in September 2016. We learned around 15 weeks gestation that he had a high risk of having Trisomy 21. For our family it was scary as we had no idea what to expect.
He came into the world really quiet. It turned out that he had fluid around his lung- a condition called Chylothorax- which kept him hospitalized for the first two months of life. Since then Marcus has been perfectly healthy and strong! One of the first thing we noticed about Marcus was his affinity to love. The very first sign he learned was "love" and he uses it all the time to openly express his feelings for us.
Marcus started walking right after he turned 2 and has developed a very strong love of books. He loves to dance, he often gets the whole family dancing with him to his favorite songs! His favorite show is Sesame Street and he has recently developed a strong interest in dinosaurs. One of the most profound things Marcus has shown us is the purity of love. His love is full and comes with no conditions or expectations. We love him to pieces and can't wait to see what else he will show us!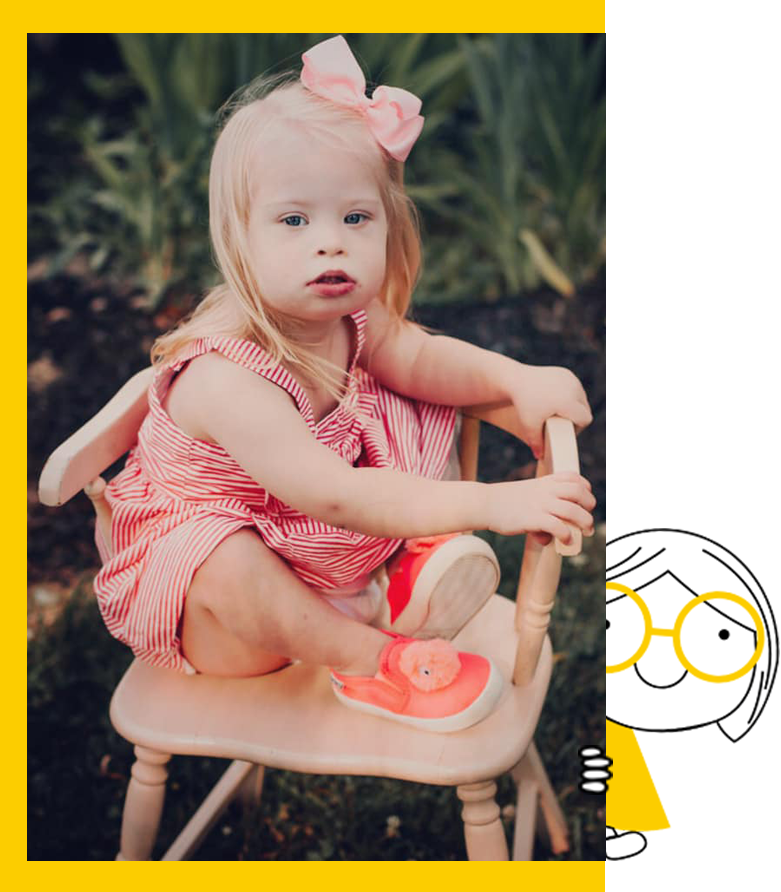 Fleur is a spunky, charismatic, and hilarious two year old. She lives in a small town in Pennsylvania, but makes new friends everywhere she goes. Sometimes she will start a random dance party in the grocery line, and turns heads to blow kisses with strangers. Her loud energetic hello is enough to turn a bad day into something good. Not only is she beautiful, but she is extremely smart. Fleur has therapy almost daily and excels at most challenges presented. Walking has just recently been conquered, and now she can start running towards her dreams. Swimming and dancing are two of her favorite activities, and music makes her shine.
She is such a hard worker and inspires people around her to be better. As someone who is so full of love, it's hard for others not to feel her energy. Her happiness is constant and is truly contagious. This wild spirited girl has nothing but open doors ahead of her. Whatever she chooses to do in life will be a magical journey. There is no doubt that she will light the way for others while rocking her amazing Fleur smile. As an ambassador, she will make Pennsylvania and Nothing Down proud!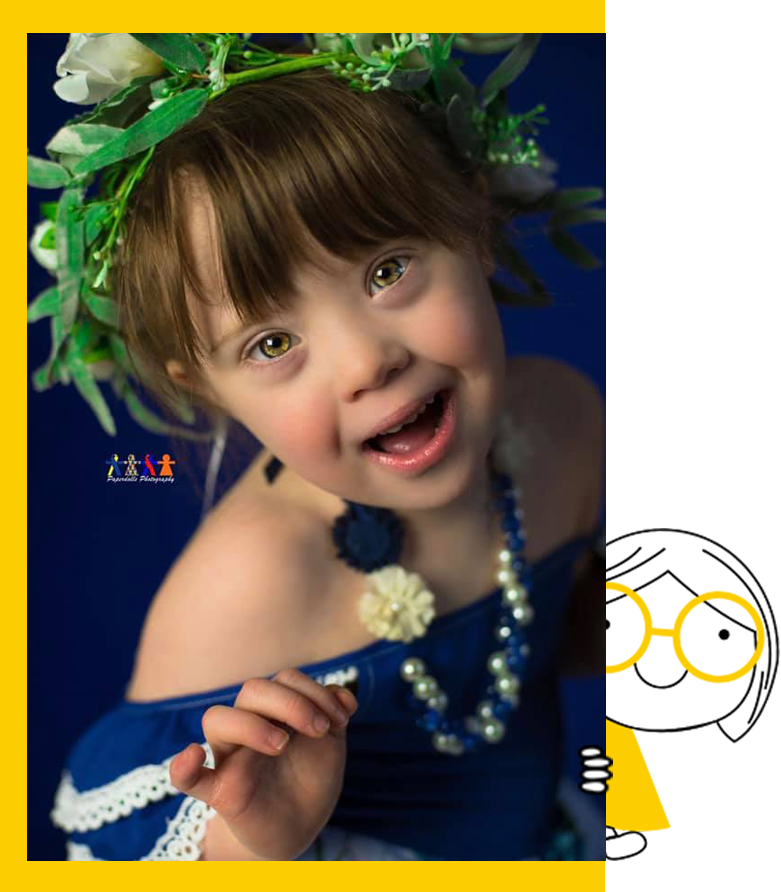 Hannah Grace burst into this world with all odds seemingly against her. She was born with three holes in her heart, that gave her MAYBE 3 years to live at most, possible Leukemia, a post-birth Down Syndrome diagnosis, and a father who refused to accept that diagnosis- abandoning us when she was only 5 days. We were left virtually homeless with no car, no job, and very little hope (find our full story at https://paperdollsphotography.com/letter-to-my-daughter/ ).
Hannah is now almost 5 years old and has beat ALL odds. Every hole in her heart closed up without a knife ever touching her chest (yes, God is still in the miracle working business). 'Look Mom, no scar!' My miracle child has become one of the biggest self-advocates this world has ever seen- just by BEING HERSELF!
She is the heartbeat behind the mission of my advocacy platform Paperdolls Photography. Hannah has been featured in International news media all over the globe, along with many of her friends as you'll see in the link. At almost 5 years old she has LITERALLY saved lives by showing those who have been given a prenatal Trisomy 21 diagnosis that Down Syndrome is an EXTRAordinary gift that comes wrapped in the most unexpected package. All you have to do is simply open and accept it.
We are beyond blessed to partner with Nothing Down to continue our mission of advocacy!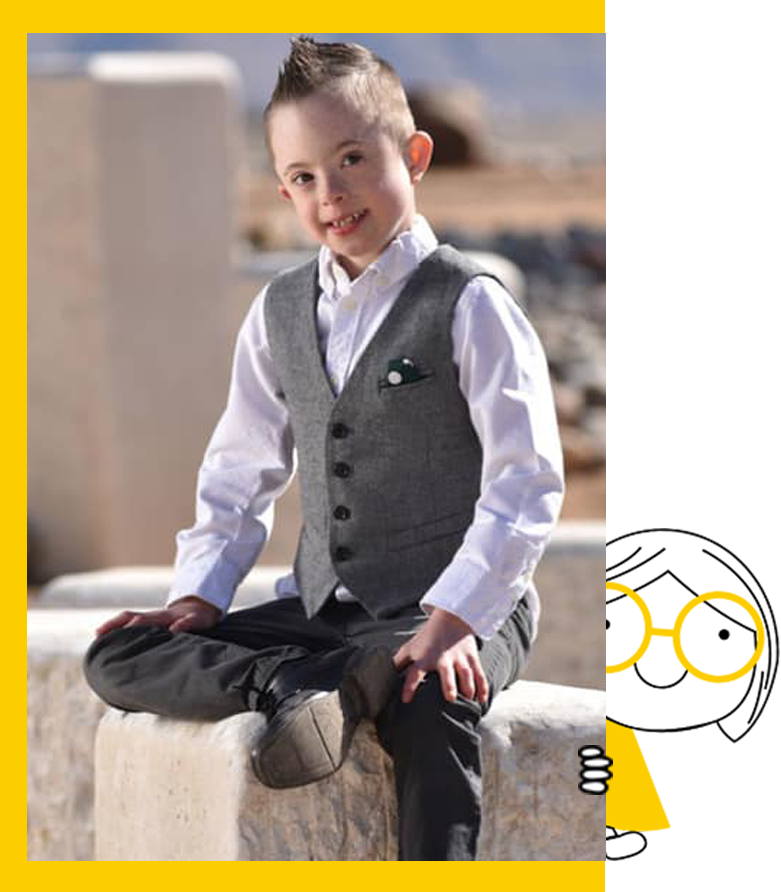 Ean Anderson is 10 years old and lives in New Mexico, where he attends the fourth grade. Ean has Mosaic Down Syndrome. He loves school and is such a smarty pants! He excels in math, reading, art, PE, and computers. He enjoys helping others learn in his classroom as well! He enjoys going to rock concerts, swimming, traveling, and playing music. Ean is one of the most loving, kind souls there is. He loves his family, friends, teachers, and his community very much. In fact, in our community, so many people know and love Ean and run up to give him hugs and talk with him. He knows how truly loved he is, too! Ean is truly our biggest blessing! We are so grateful to God for giving Ean to us and for allowing us to be a part of all of the wonderful and amazing things that he succeeds in every day. He has already accomplished so much! He models and proves how wonderful and awesome people with Down syndrome are. Our ultimate goal, as a family, is to show the world that Down Syndrome is not something to be feared, but rather something that is special, beautiful, and such a blessing! We love you, Ean!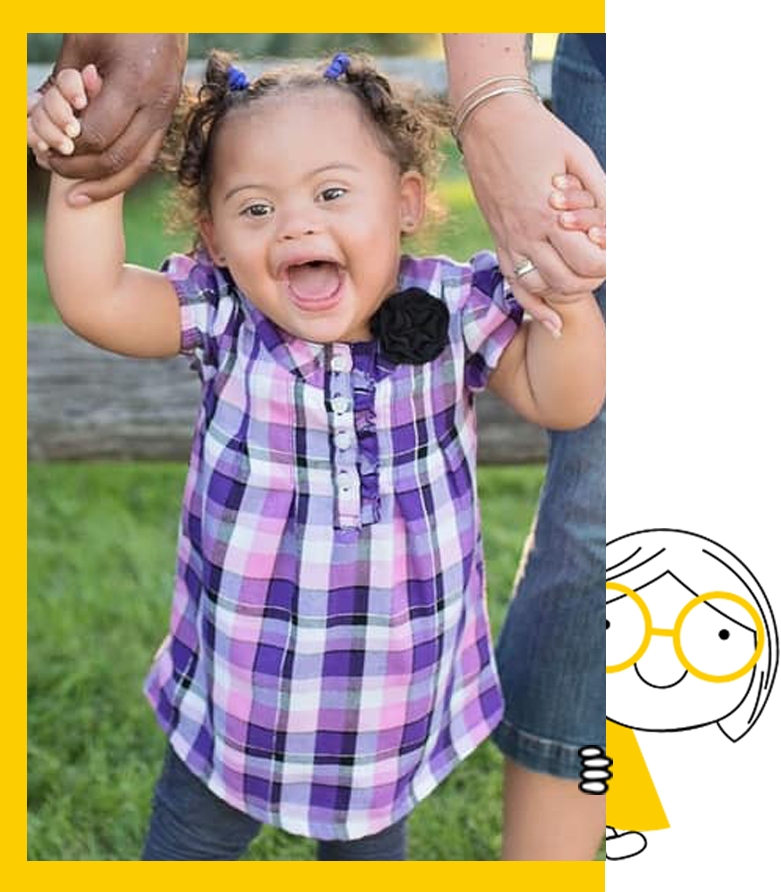 Jada is 2 1/2 and a sheer Joy, as her middle name suggests. She was born in August of 2016, and had a birth diagnosis of Down syndrome. She has been changing perceptions and lighting up the world ever since she was born. She is the focal point of a project in West Central Ohio called Spread Jada's Joy, bringing awareness and support to families in our area.
Jada has an older 5 year old sister, KJ, whom she adores and tries to keep up with in every way! She has recently started walking independently and is so proud! She continues to learn new signs and words everyday. Jada's mom and dad are both educators and athletic coaches, so she spends a lot of time inside Lima Senior High School, where she also attends an early head start program with her typical peers. Jada is loved by her friends and teachers alike! We are so grateful for a fully inclusive setting right within our high school. Jada loves watching live basketball and cheering on the Spartans!
We are so proud and excited for Jada to serve as a 2019 Nothing Down ambassador!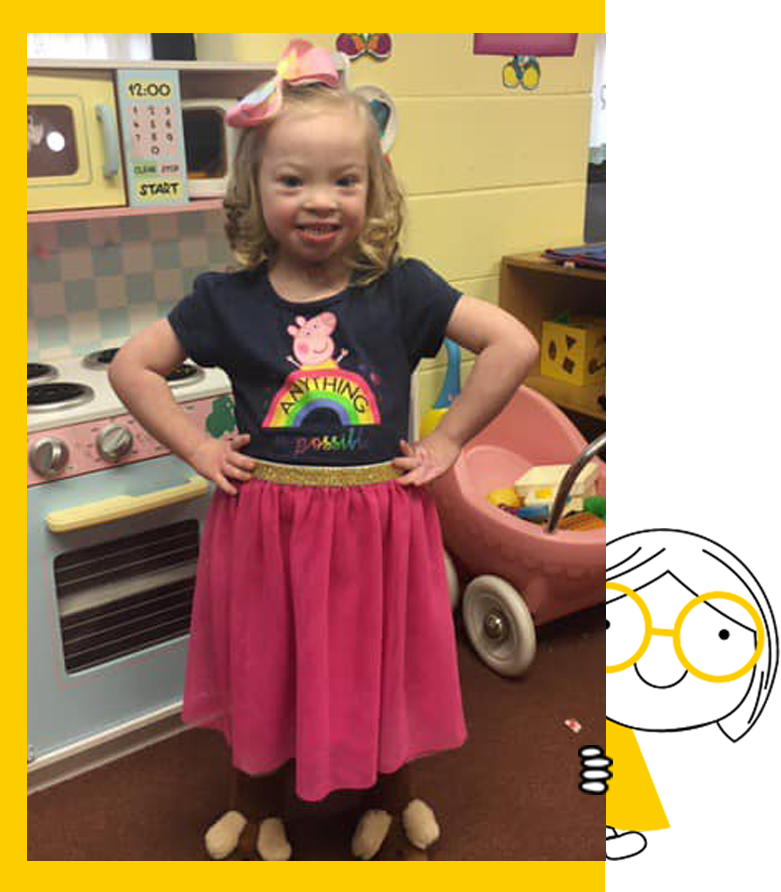 Bernadette is an adventurous five-year-old who loves to laugh and make others laugh with her. This year, she started mainstream preschool and has made a bunch of new friends. There is nothing she enjoys more than waking up in the morning and heading off to school. Bernadette also loves to dance. She takes ballet and tap class, something she has done since she was 2 years old. This spring she will dance at a local mall, the Ronald McDonald House and this summer she will appear in her third dance recital.
Bernadette's road has not always been the easiest. At two months old, she had an ostomy placed to help with her Hirschprung's disease and at two years old, she was fitted for a tracheostomy to help with her chronic airway problems; both of which have been removed. She braved through many, many procedures and has since had both devices removed, working her way toward a life of fewer doctor visits and shorter hospital stays. Through all her her medical problems, Bernadette earned a well-deserved reputation for being both a rock star and a warrior.
Bernadette has a great big sister, Addison, who is ten, and an eight-year-old English bulldog named Rizzo, who started out as her protector but has turned into her partner-in-crime.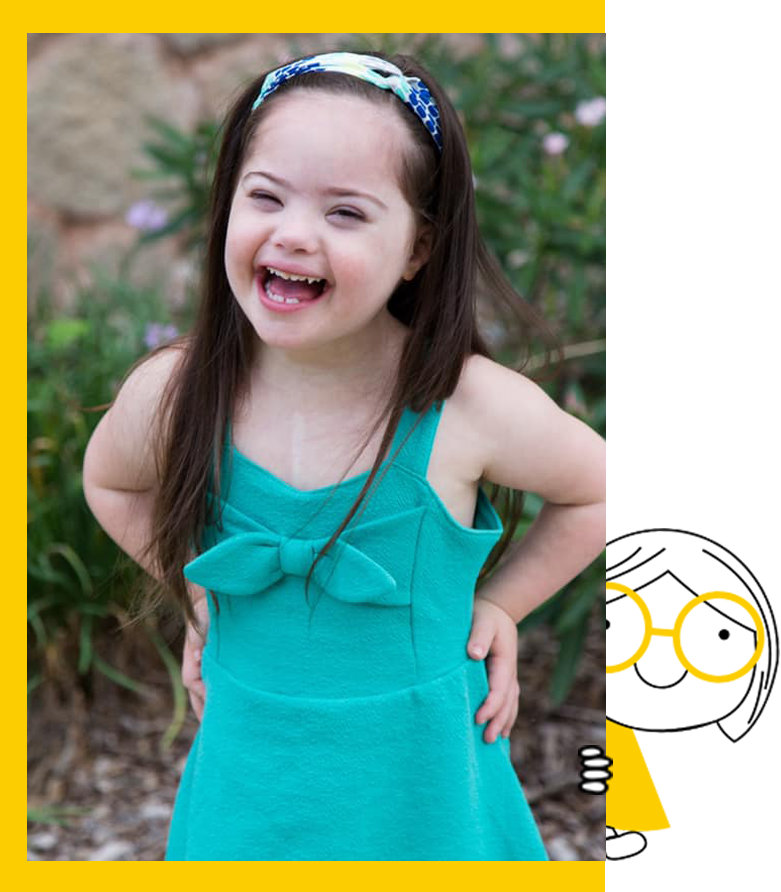 Gianna Hope Scauzillo was born June 29th, 2013. Once she arrived she put us on this amazing, life changing journey. Her pure, innocent soul brought a light into the lives of those around her- teaching us all to see the world thru a different, but equally beautiful lens. She loves unconditionally and has helped her family become better versions of ourselves. Gianna is full of spunk and has a huge personality! She is very charismatic, kind, determined, confident and driven. Everything we all strive to be, she has figured out at only 5 yrs old.
Gianna is a thrill seeker who loves amusement parks and roller coasters. She grew up being obsessed with Barney and even had the opportunity to meet him and his friends at Universal Studios. She also loves being in a dance class and performing on stage. She has the best big brother in the world who is her number one fan. At only 9 years old he has been an incredible advocate and started a Kindness Squad that spreads joy to others in her honor and for all individuals with Down syndrome.
There is no stopping this girl and she continues to crush stereotypes and misconceptions daily. It is an honor to have her as a part of our family.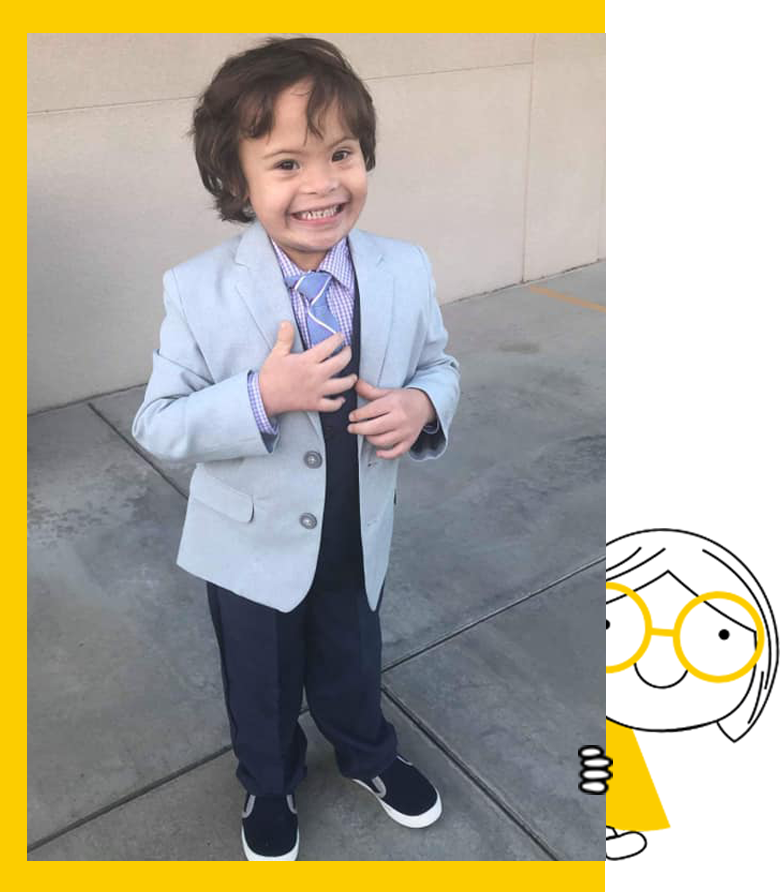 Alex is a fun-loving and happy 5 year old who loves music, dancing, and people. His initial shy personality opens up in to a wild and crazy guy once he is familiar with his surroundings. Alex can often be found playing the guitar or drums, inventing dance moves, or trying his hand at photography with his new camera. He loves to learn from the people around him and takes everything in that he sees.
Alex is fully-included in his neighborhood school where he is in grade TK. Inclusive education from preschool to this point has been a huge positive for Alex who is very supported by staff and his peers. He has flourished in this environment and continues to grow and show us each day all he is learning at school.
TAlex was fortunate to be part of a 2017 televised World Down Syndrome Day Public Service Announcement with the cast of Born this Way and the A&E Network and the 2015 Impossibles World Down Syndrome Day Calendar and article. He is featured on this year's Nothing Down calendar (August) and briefly in Nothing Down's Dear Doctor documentary released last year.
Through this opportunity, we are excited to show the world that there is Nothing Down about Down Syndrome! You can follow Alex on Facebook at his page Down With Alex (@downwithalex).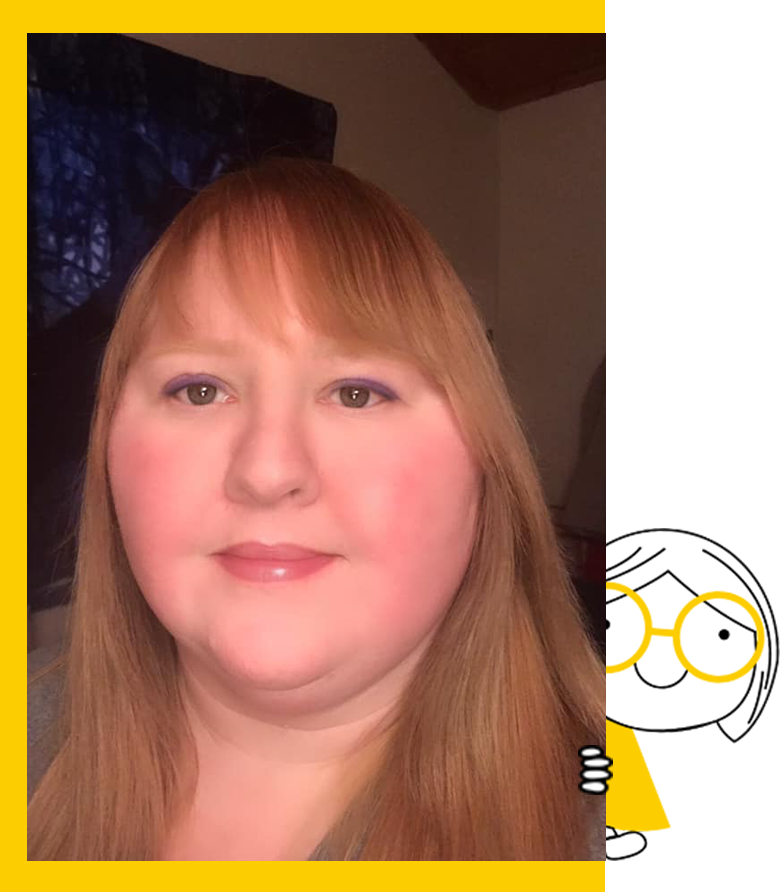 My name is Jen Strauss. I am 42 years old and live in Wisconsin. I originally grew up in South Florida and I spent 39 years there. My father passed away in 1995 and then my mother passed in 2016. Seven months after my mother's passing, I decided to make a big move. I moved to Wisconsin to be closer to my sister and her family, as well as my dad's side of the family.
When I lived in Florida, I participated with Broward County Gold Coast Down Syndrome Organization and attended two Buddy Walks.
I am well known in the Down syndrome community through my awareness videos that I post on social media. I enjoy giving hope and inspiration to parents.
As Wisconsin's Ambassador, I plan on doing more to teach people about Down Syndrome and would love to attend more events if I can. Hopefully, I can speak at schools and other events as a self advocate so that people can see who I am as a person and learn more about Down syndrome.
I'm a big-time WWE fan and my favorite artist is Disturbed. Thank you for taking the time to get to know me. I look forward to this coming year working with Nothing Down.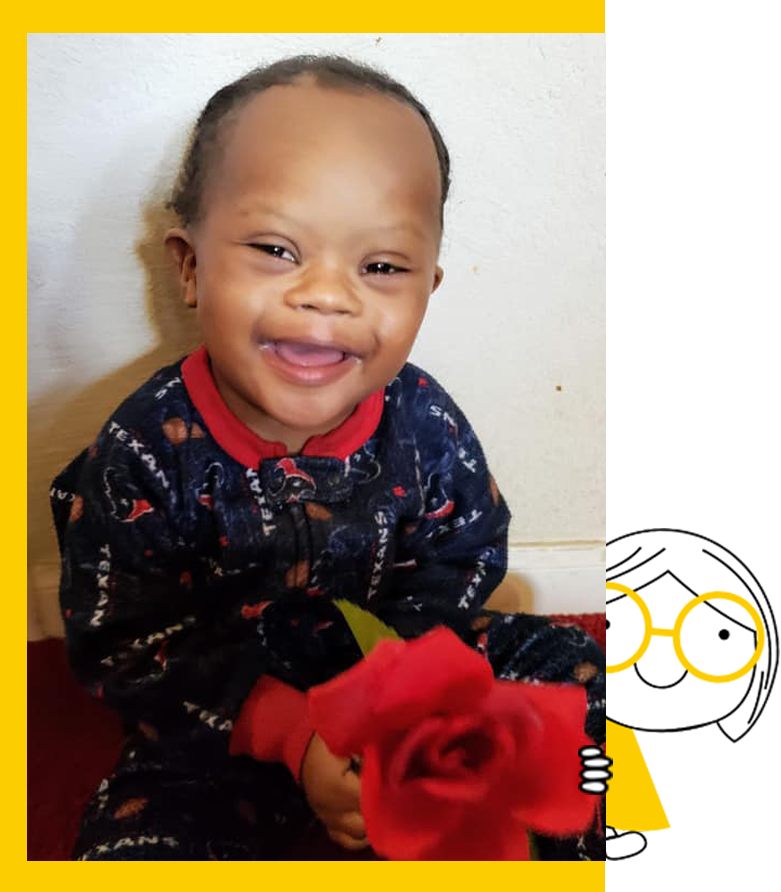 Damien Daniel Washington is the fifth and last born of Lucy and Dominic Washington. He is two years old and lives in Richmond, Texas. In his first two years of life, Damien has accomplished so much! He was a calendar model for the Down Syndrome Association of Houston and he is well known in the Pageant World here in Houston. He also is a member of the National Pediatric Cancer Foundation Share A Smile Organization. The organization is made up of Pageant Kings and Queens who, through community service, make a difference in their communities. My dream for Damien is that all the world will see ABILITIES through his beautiful eyes!!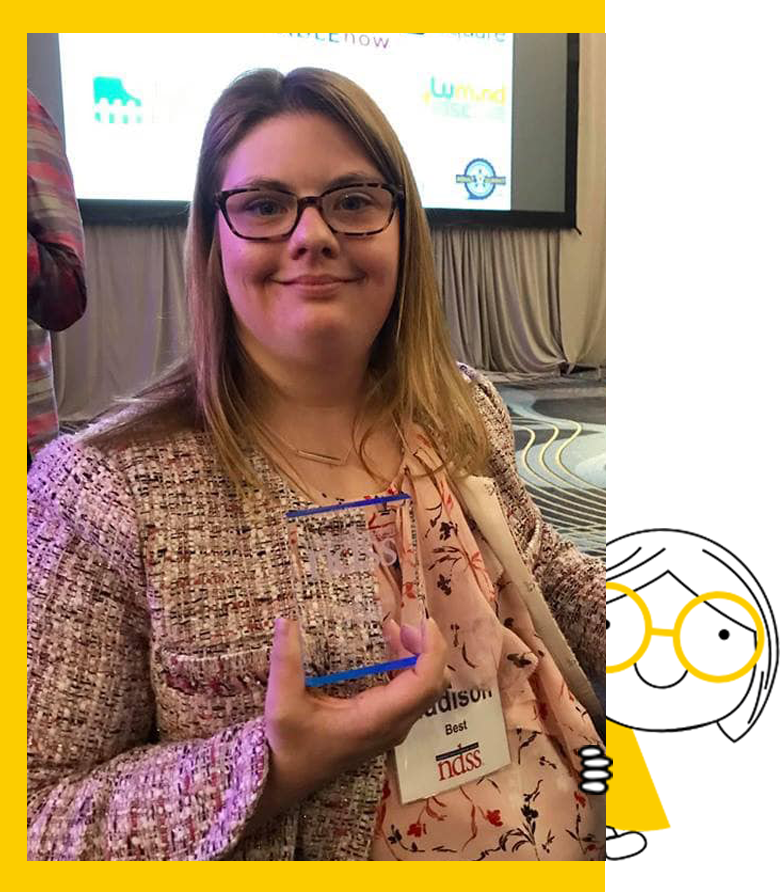 Hello, my name is Madison Best. I am 24 years old. I am a Special Olympic athlete, 2019 Ambassador for Nothing Down, a self-advocate speaker with the ARC of Indiana and I have Down syndrome.
I have been in Special Olympics for about six years. I play several sports- basketball, ballroom dancing, track & field, tennis, softball, corn toss, cycling, and bowling. Special Olympics is important to me because I meet new people, compete, win medals and trophies and socialize with my friends. My favorite sport is ballroom dancing. This is my third year in ballroom dancing. My partner, Officer Josh Chapman, and I practice every Wednesday night for six months. We practice the Waltz, Tango, Salsa, Rumba and Cha Cha. I LOVE to dance, especially the Rumba! Last year we competed in the State Games where Josh and I won first place in every category! I now take lessons with a professional ballroom instructor each week. I performed twice in December at ballroom competitions and look forward to competing in more! I love sports. I have a brown belt in Tae Kwon Do. Tai Kwon Do is important for both self-defense and exercise. Three years ago I learned to ride a bike at an I CAN RIDE bike camp and love to ride around my neighborhood for exercise. Mom and I have fun riding tandem bikes when we go on vacation.
I work at a nursing home and pay for my ballroom lessons and Tae Kwon Do with the money I earn from working. I have worked at the nursing home for three years and have worked in the kitchen, the dining room and delivering trays to the residents.
My boyfriend, Aron, and I have been dating for two years and we do a lot of things together. We read BOYFRIENDS + GIRLFRIENDS, A GUIDE TO DATING FOR PEOPLE WITH DISABILITIES and have an agreement that we will respect ourselves and set an example for other people with special needs. Sometimes that is hard work but it is worth it. We have a lot of fun together!
I try to find things that help me practice my independence. The last two years I have attended an Independent Living Retreat with Sunshine Social Club. Working on my independent living skills means working on these things:
Dating, job skills, making healthy food choices/cooking, shopping, independently, keeping a clean home, working on my job skills, expressing myself, setting an alarm and getting myself ready quickly, using my phone and ipad appropriately, keeping a healthy lifestyle, following my passions such as art, dance and more.
I want to inspire other people with Down syndrome to follow their passions. It is important to show the world that people with Down syndrome can live a full life: A life with meaningful relationships, hobbies, passions, independence, adventures and responsibility. My goals are to work in a coffee shop and live in an apartment or house, with a couple of my girlfriends. I look forward to my next adventure!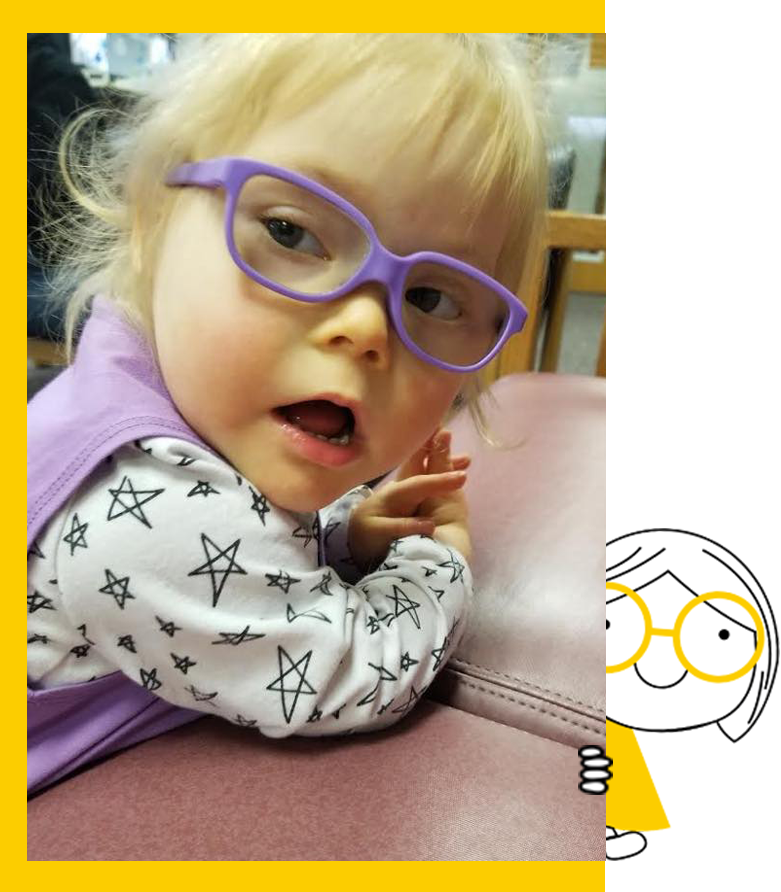 Hope is 2 years old and lives in Shelby Township, Michigan. She has a big brother, Johnathan who is 4 and is looking forward to becoming a big sister this fall. Hope likes unicorns, purple and pink, sparkly shoes, and My Little Pony. She is our sassy, sweet, cuddle bug. But more than anything, Hope is a warrior.
In addition to Down Syndrome, Hope was born with Complex Congenital Heart Disease including and AVSD and a coarctation of the aorta. Complications from her heart defect caused her lungs and airway not to develop correctly leaving her trach and vent dependent. She also has Cerebral Palsy, dysphagia, mild vision and hearing issues, and a gtube.
Our sweet girl has spent half her life in the hospital, many days critically ill. Now, she spends half her days in therapy. But she is weaning off the vent, on track to be trach-free by summer, starting to talk and eat, and taking her first steps with the help of a gait trainer.
Hope has taught us so much about faith, patience, and resilience. And she continues to prove every day that we can't ever count her out.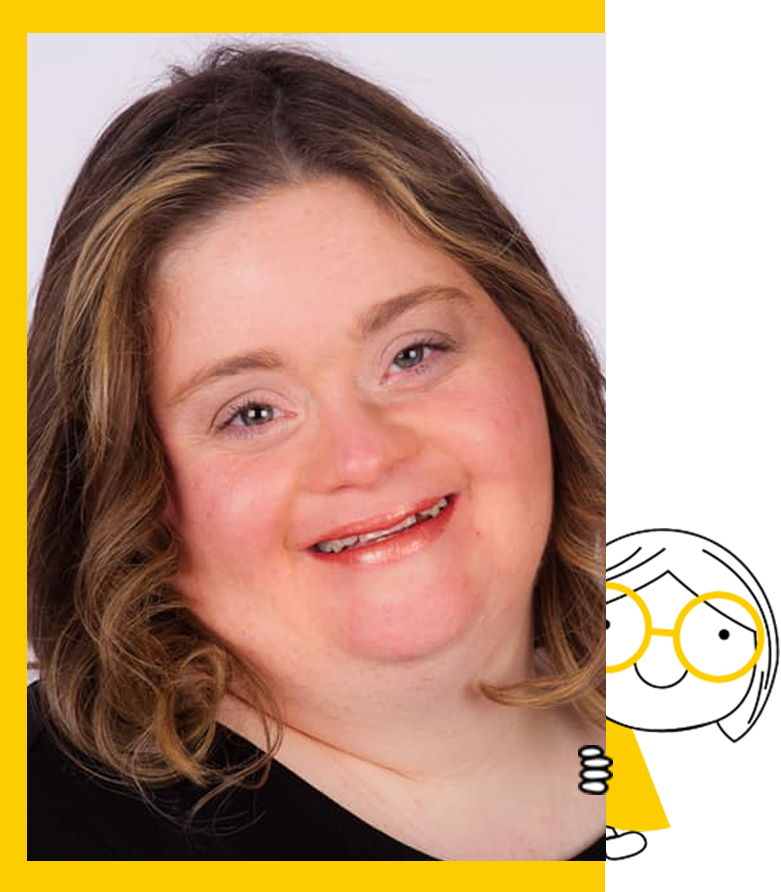 Christine Alicia Palladino is a resident of Montgomery County, PA. This year she has been selected to serve as an International Ambassador for Nothing Down, an organization aiming to change the way that people view Down syndrome by eliminating the stigmas that are often associated with disabilities.
Christine will be celebrating her 40th birthday this May and is so excited to celebrate this milestone birthday. She is a Special Olympics Athlete who has participated in horseback riding, soccer, basketball, baseball, volleyball and track and field through the years and currently competes in swimming, bowling, and bocce. She is fortunate to have won dozens of Gold, Silver and Bronze medals through the years. She was a Blue-Ribbon Equestrian for 21 years. Christine attends the Summer Pennsylvania Special Olympics State games every June held at Penn State Campus for swimming and attends the Fall State Games at Villanova University for Bocce. She also attends the Special Olympics Sports Camp yearly where she can play many of the various Sports and try new ones out!
Christine was in a performing arts group for 15 years; dancing, singing and performing on stage in countless productions and concerts. Her favorite role was playing ChaCha DiGregorio in Grease! She has also sung the National Anthem twice at the Buddy Walk for the Reach for the Stars group.
Christine has been the owner of a LuLaRoe franchise with her sister for the past two years. Christine has participated in the Pennsylvania Miss Amazing Pageant for the last three years. She attends the Tim Tebow Foundation Prom for the past four years and loves dancing the night away! This year, Christine, her sister, and her mother collected over 400 gowns for those invited to the Prom.
Christine has attended the National Down Syndrome Society Gala in New York City for the last several years and enjoys traveling to New York City and feeling like a superstar.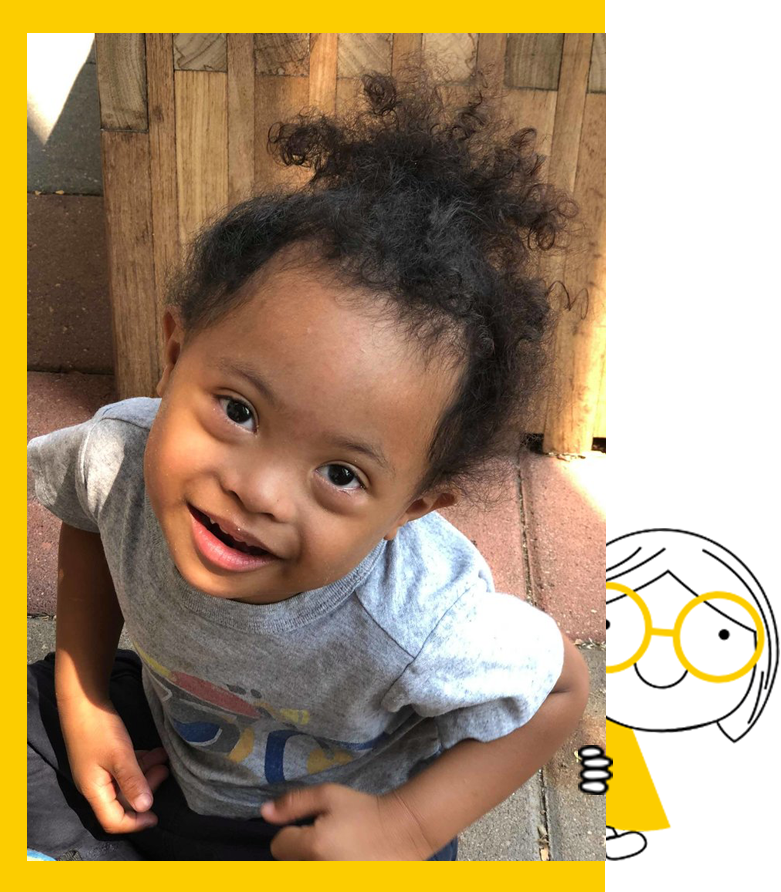 Manu is 3 years old from Boulder, Colorado. He is spunky, joyous and the life of the party. He loves making people laugh and just being his goofy self. He's one memorable little guy, especially with that head full of curls!
Manu attends full time preschool and makes friends everywhere he goes. He loves sports and music, and on any given day, you will find him dancing to Bruno Mars or throwing around a basketball or football.
He has been one of the biggest blessings to our family and continues to show us how amazing Down syndrome is.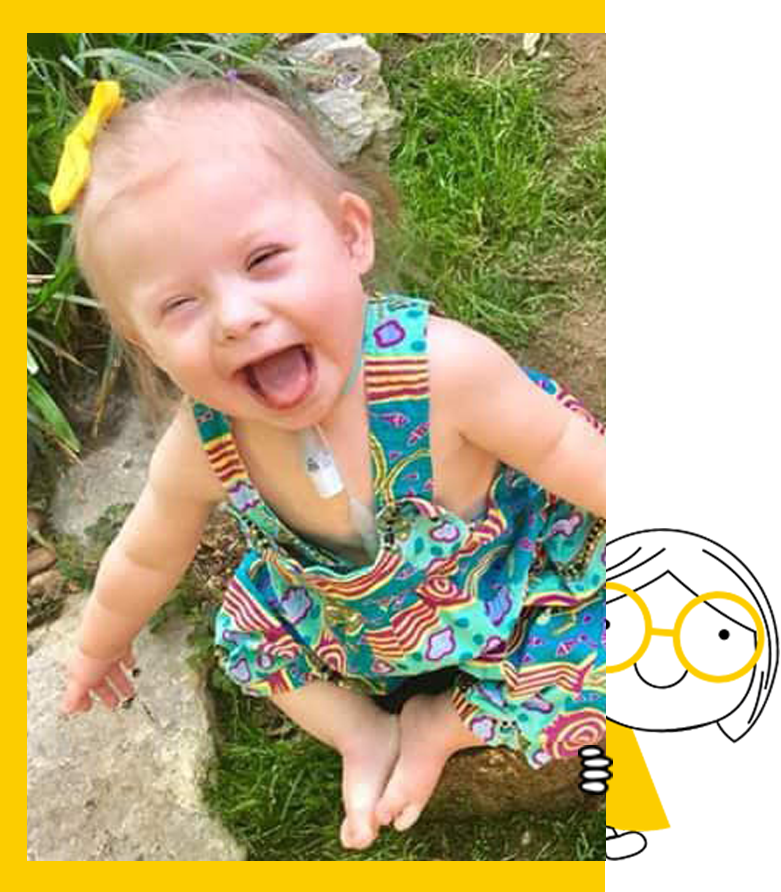 Meet our sweet Blakely Ruth! Blakely is representing the state of Oklahoma! She is 2 1/2 yrs old and the sweetest joy to be around! She has a wildly fun personality and loves to give tight neck squeezing hugs. She communicates by using sign language or will just simply yell to get your attention. She is so smart and ornery but, be careful- she uses it to her advantage and can be quite the sneaky little thing if you don't keep an eye on her! Along with her extra chromosome she also has CHD (Congenital Heart Disease) and chronic lung disease. She is referred to as "the fighter" in our family because she fought extra hard to be in this life. But now that she is so much healthier, that fighter personality has not ceased! Blakely had an unusually rough start at life for a baby with Down syndrome. We received her diagnosis prenatally along with her CHD. We didn't discover her sick lungs until she was born, but after 9 month of fighting, several surgeries, and getting a trach, she was healthy enough to go home! We have been home officially almost two years now and she has grown and thrived like a true miracle!
Blakely is growing her sign language vocabulary daily with her speech therapist and can say a few words out loud around her trach. She can scoot just about anywhere and she works very hard with her physical therapist weekly on growing stronger so that she can begin to walk. She loves movies- any and all movies- but her favorites are Trolls and Hotel Transylvania! She loves being outside playing with her doggies, and swinging in her swing. When she isn't cuddling up with her mommy or daddy, she's getting cuddles from gigi and papa or grandma and grandpa! Blakely loves her family and gets the biggest smile on her face when she sees someone she knows. She is quite the people person!
Blakely has never let her extra accessories and hard obstacles stop her from enjoying life. She wakes up everyday (well almost everyday, anyway) with a smile and gives a great big hug. She is our blessing, our rare gem, our lucky charm. She is a sassy little thing and we love being her parents! This journey has had many surprise turns but Blakely is our driver and we are just along for the ride!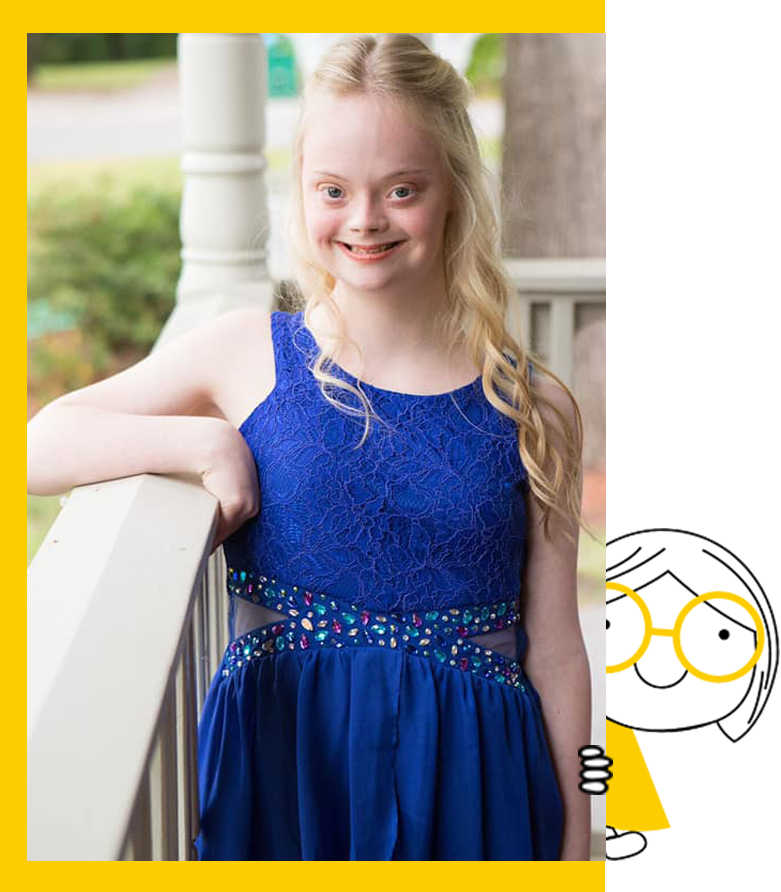 Hey there! My name is Lily D. Moore. I'm guessing you want to learn more about me. In some ways, I guess you could call me your all-around "average" teenager. I'm a freshman in high school. I'm fifteen years old. I enjoy cooking, swimming, singing, cheerleading, horseback riding, traveling around d the world, and playing with hair & makeup. I love my pets: Charlie (dog), Lester (cat), and Hazel (cat).
I'm also a professional actress and model. I've starred in films, television episodes, and national commercials. I have posed for photographers on both coasts of the United States.
Lastly, I started an initiative for the homeless population called "H.E.L.P. – Helping Everyone with Love and Passion." H.E.L.P. makes bags of food and toiletries available to the homeless. So far, we've given out over 400!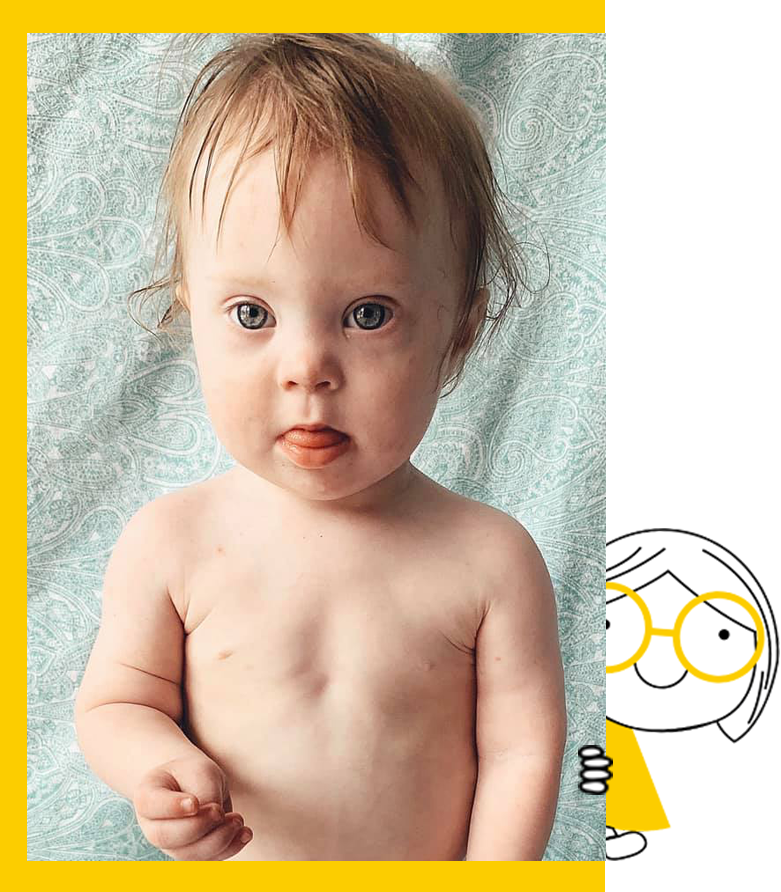 Elijah from Australia is 16 months old and so full of life and cheekiness!
I was a single mum and only 17 years old when I became pregnant. When I was 23 weeks along, I was told Elijah would be born with Down syndrome and duodenal atresia (a blockage in his bowel). He was in NICU for 22 days after having surgery at 3 days old.
Since then, he's been one of the happiest little boys I've ever seen.
Elijah might be shy around new people but, my goodness, can he work it in front of a camera! He is so sassy and forever smiling and laughing.
Elijah is now sitting, crawling and is standing confidently, all things he's taught himself.
He loves his cousins, Blayze and Ellah, and follows them everywhere, playing with them every chance he gets. Elijah babbles like crazy and his favorite words are Dad, Mum, bub and nan.
Elijah is so sweet and affectionate. He gives the best hugs and kisses, and is always giving cuddles, especially to me and his Gwarmy. His sweet personality shines through everyday. But, quite frankly, I believe we might be in trouble when he's older, as he's already super cheeky and sly!
Elijah doesn't let Down syndrome define him and is very much like any other child. We see his extra chromosome as just more for us to love. He is so very loved in our family and we wouldn't have Elijah any other way.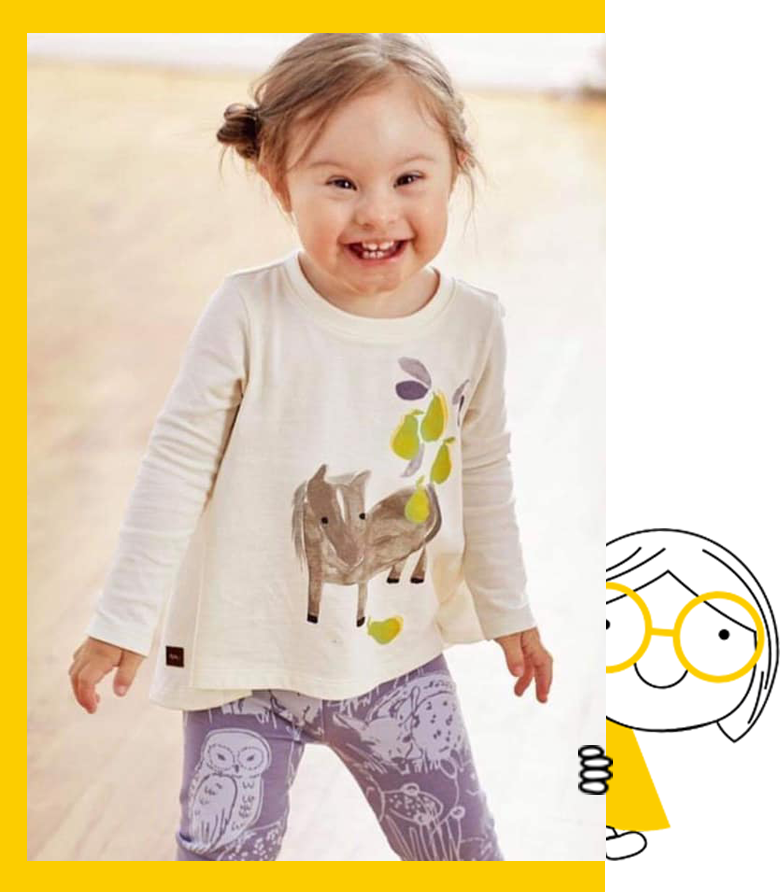 Nora is a three year old self advocate who continues to show the world there truly is nothing down about Down syndrome. She loves learning, playing with her little brother Isaac and dancing with her friends
Nora has been to Capitol Hill several times to meet with her local state representatives and has helped pass the ABLE Act for the state of Maryland. She advocates for equality and justice for the disability community.
Nora also advocates for inclusive marketing and has modeled for Target, Gerber, Tea Collection, Parent's Magazine and more!
Nora loves being an Ambassador for Nothing Down and hopes to continue showing the world just how capable individuals with Down Syndrome are!
**Note from the Nothing Down team~~Nora's parents were recently named Nothing Down's 2018 Parent Advocates of the Year at the Reach for the Stars Gala in Atlantic City, NJ. Congratulations Justin and Kimberly, and thank you for your dedication to advocacy!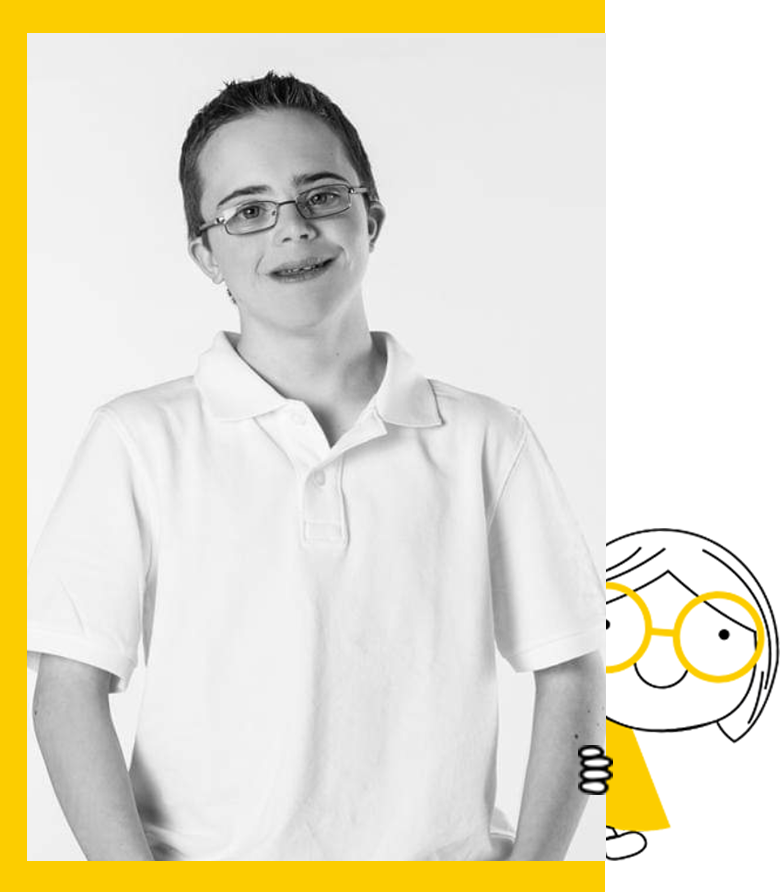 Brett is 16 years old from Parker, Colorado but recently moved to Gilbert, Arizona. He is super outgoing, never meets a stranger, and has the biggest heart and most infectious laugh. Brett is a model, Disney enthusiast, adventure-seeker, and avid pajama-wearer. You will almost never see him without his beloved stuffed animals in hand, especially Bert, Woody, and Grumpy! He was a varsity cheerleader last year as a freshman and is a current Junior Denver Broncos Cheerleader. Brett is an ambassador for Make-a-Wish and was a 2015 ambassador for Children's Hospital Colorado for showing perseverance through treatment. He made international headlines last year after becoming the first child with Down syndrome to walk the runway in Denver Fashion Week! Brett is reaching others every single day and helping to change negative perceptions of Down syndrome. Adopted as an older child, Brett is proving that there are no limits to what individuals with Down syndrome can accomplish with the proper supports and love. Brett is thrilled to be returning as a lifetime ambassador for Nothing Down. We absolutely love the message being spread that there is Nothing Down About Down syndrome!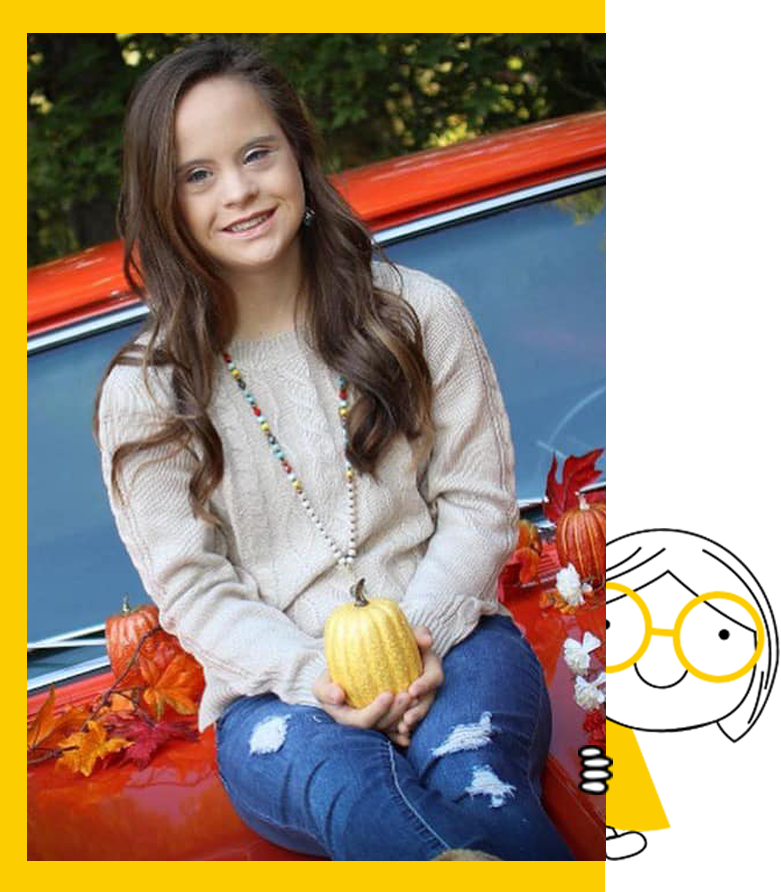 Anna is 18 years old. She's a senior in high school and will graduate with honors in May. She has taken all mainstream classes. She is a cheerleader and softball player at her school and has been a college cheerleader for the University of West Alabama for the past two years. She was the first Alabama woman with Down syndrome to compete in the Distinguished Young Woman Program, where she was awarded the Spirit of DYW honor.
Anna has been accepted into Passage USA for the Fall 2019 semester. She plans to open her own bakery when she completes her college education. She has three brothers and enjoys baking, dancing and texting!
Anna is an advocate for herself and others with Down syndrome. She always says "Down syndrome is O.K."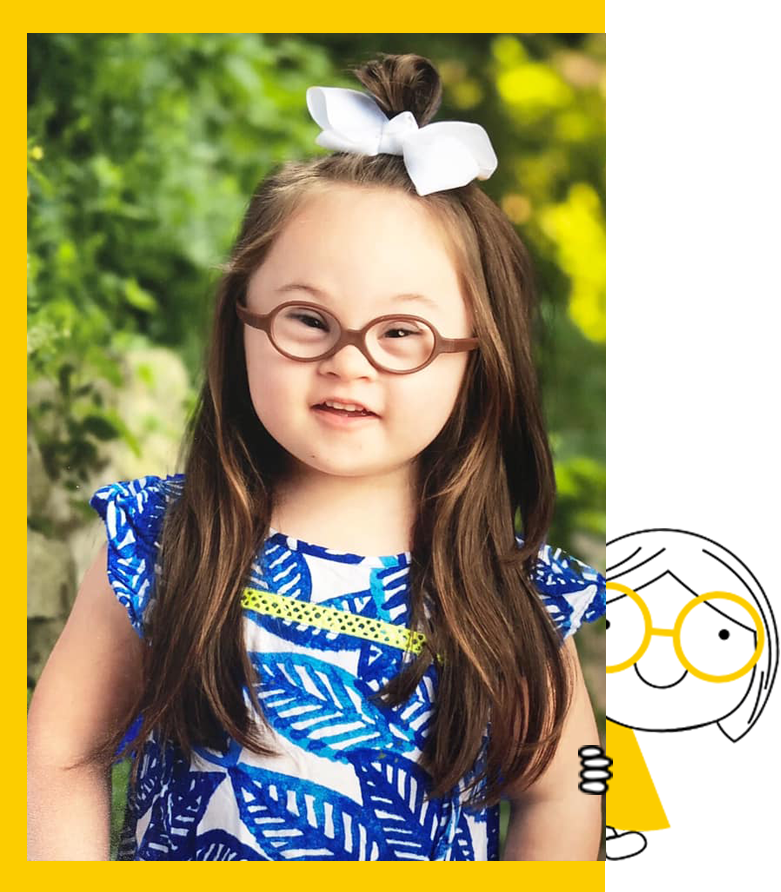 The moment I held Emersyn for the first time, this indescribable love proved that all the negativity and misinformation I heard while pregnant was completely false. It was then that I start advocating for my daughter. Emmy has given us purpose to share her value and her worth while prayerfully helping to save the lives of babies with a Down syndrome diagnosis.
Emmy, at four years old, is smart, funny, loving, compassionate, independent, indescribably feisty, and she makes others feel special. I couldn't desire more from any child. She shares the brilliant light of everyone with Down syndrome in every picture, video, and smile, and she advocates for herself simply by being Emmy. The privilege and honor of being a Nothing Down ambassador will be held close to our hearts as we continue on this journey to spread truth and help.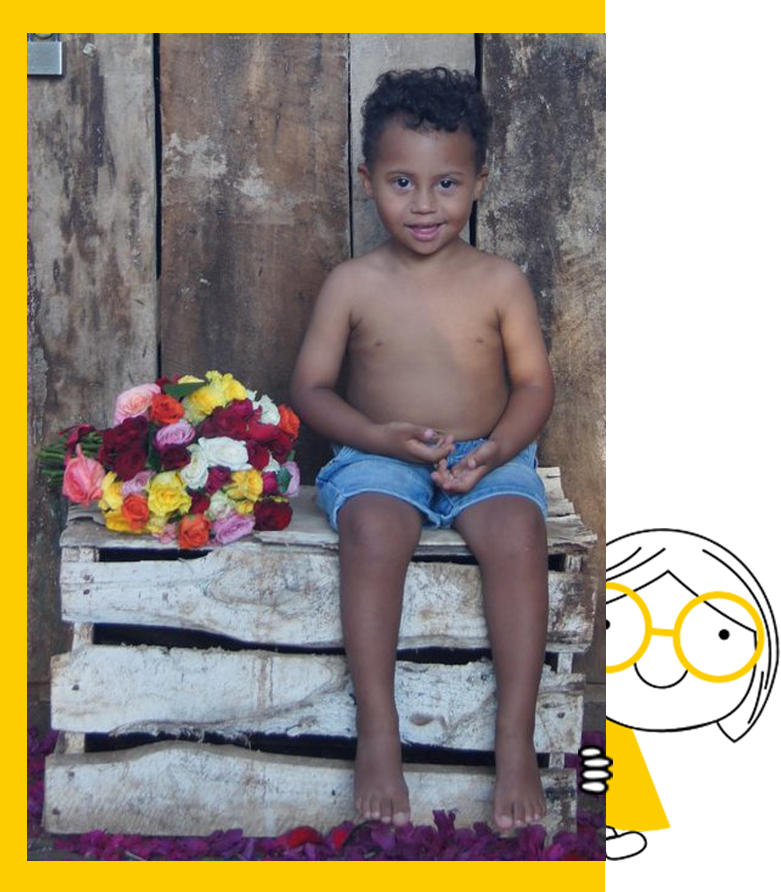 This is the mischievous and fun loving River, a whirlwind with a sparkle in his eyes. His story is unique, as his diagnosis of Down syndrome wasn't known until he was six months old. UK hospitals missed it and he was later diagnosed in Tanzania where he now lives with his family, squashing culture myths and showing society just how capable people with Down syndrome are. River is feisty, determined, funny, and adventurous. He loves running, jumping, climbing, riding his trike and scooter, drawing, dancing, cars and playing with his dogs.
He is a very much loved and valued member of his family and is truly showing the world that Down syndrome really isn't so scary at all. His cheeky antics can be found at www.facebook.com/IamRiverDownSyndromeAwareness where his wonderful and worthy life is making a difference to the world. River is massively proud to be a Nothing Down ambassador alongside the other fabulous individuals by his side.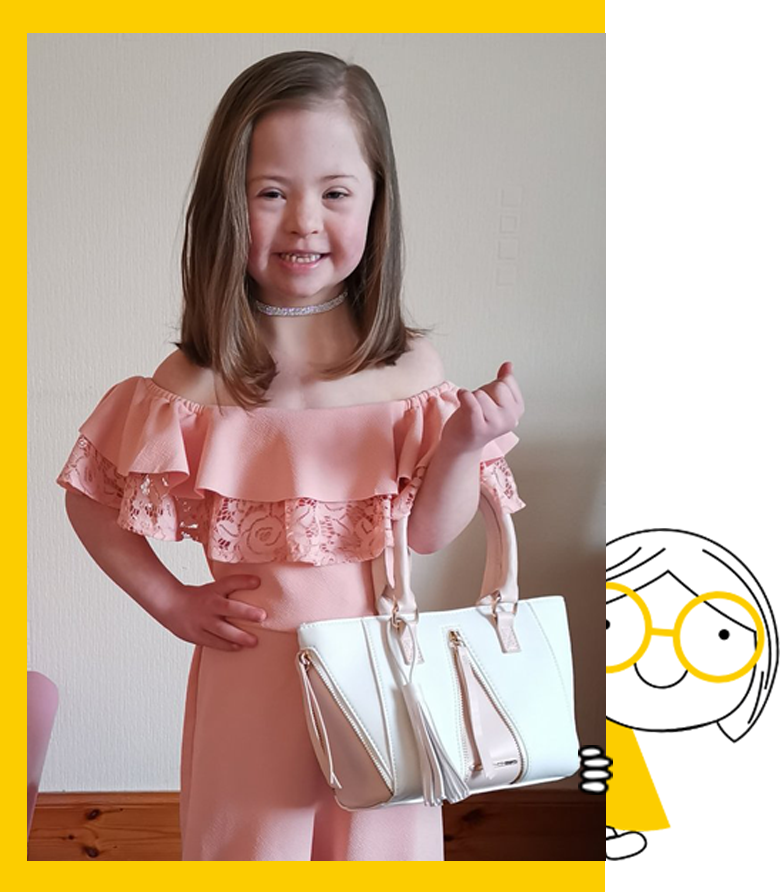 This is Chloe. She was born in March 2013 and lives in Scotland. Chloe attends dance classes, loves school, and is a well known model. This year she started acting and recently filmed her first talking role.
In a nutshell? Chloe is intelligent, capable, stubborn, determined, beautiful, funny, and just a little (well, a big!) dash of diva thrown in too.
She's overcome more than most in her life so far, the main one being her heart surgery at 10 weeks old. But in true Chloe style, she sailed through it and has never looked back. She surprises everyone she meets, and is unintentionally changing stereotypes and perceptions of Down syndrome, one fabulous day at a time.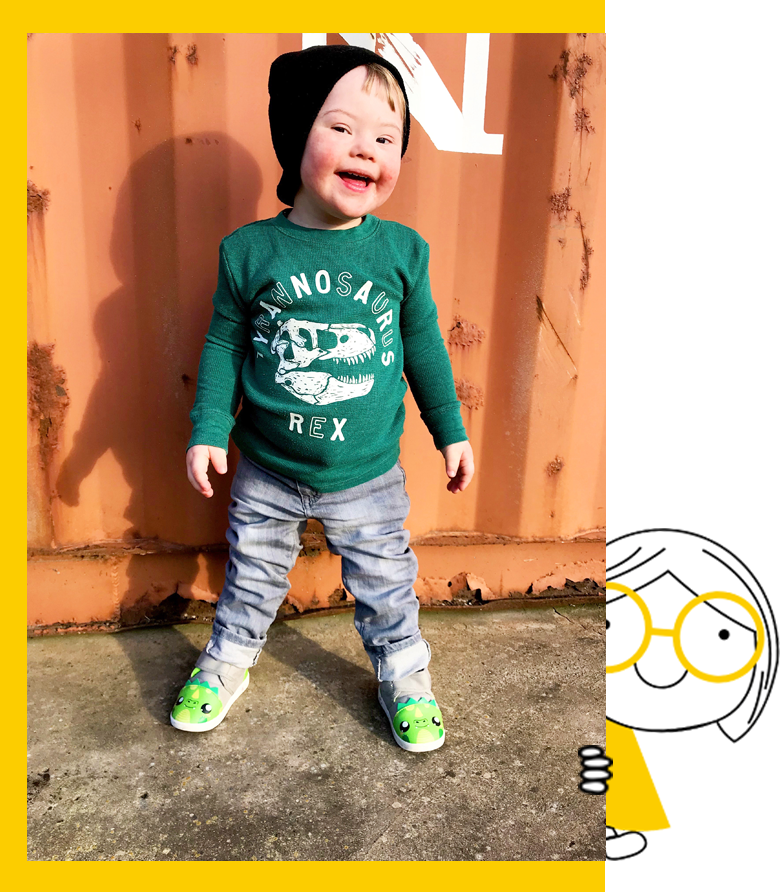 Meet Wesley Ryatt, his middle name does not disappoint . Wesley lives in a small town in Illinois and will be two-years-old in April. Wesley uses American Sign Language (ASL) as his primary form of communication right now. He is a local favorite just about anywhere he goes, a complete people magnet, and he doesn't know a stranger, constantly greeting with a smile.
Some of his favorite things include pizza and YouTube! He is quite the dance instructor of all things on LooLoo Kids and Coco Melon. His favorites include "The Itsy Bitsy Spider" and "Head, Shoulders, Knees and Toes." He is a big fan of swinging and wrestling with his older siblings. Wes started walking at 17 months and hasn't sat still since. He is incredibly fast and strong. We plan to get Wesley started in gymnastics as soon as he's old enough, as he's already mastered self-taught somersaults. If you ask him for some "sugar,", be prepared for the best hug you'll ever get.
Wes entered the world, calm, cold, and quiet, sporting an extra chromosome we knew nothing about. He only spent a week in the NICU because he made progress daily. The doctors would no sooner get a new IV, tube, or machine hooked up and then he didn't need it anymore. He has a strong will and stubborn determination that has only grown with age. He is a warrior, and my own personal hero.
We are completely over the moon honored to represent this organization. When Wesley was three weeks old, a genetic counselor told me "You can not expect him to do typical things" and she was absolutely right. I don't expect him to do typical things, I expect him to do and be so much MORE than typical. Wesley's spirit demands your attention and forces a love you can't put into words. He's moving mountains and changing hearts. You can keep up with Wes at ​www.facebook.com/wesleyswarrior and Instagram @ wesleyswarriors44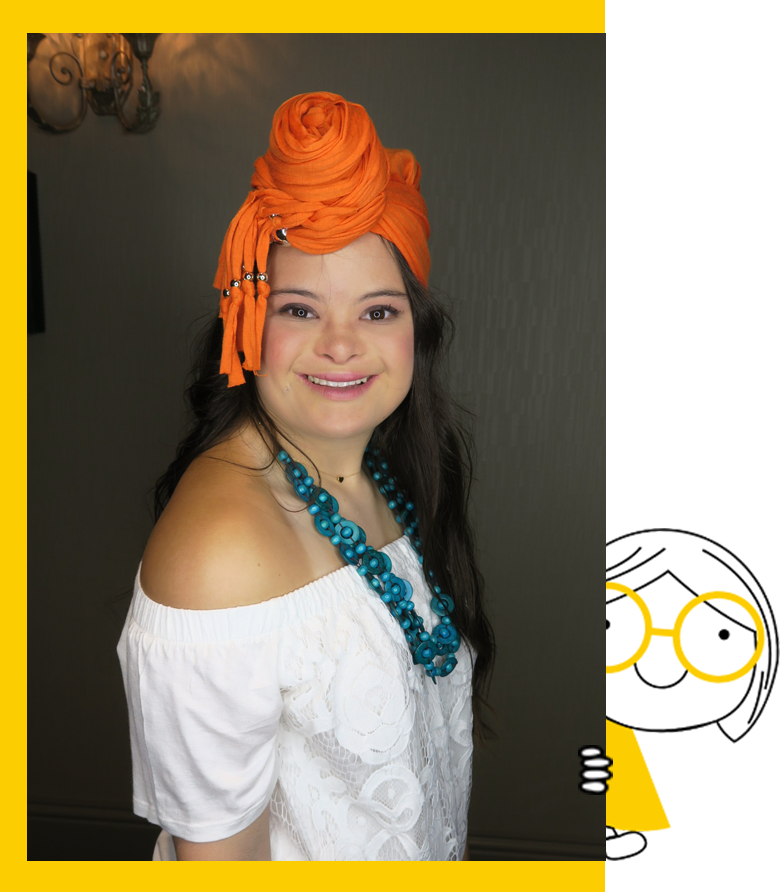 Saris Marie Garcia is almost 19 years old. Saris has a smile that will light a room! She is sweet, considerate and kind. She has a warm and beautiful personality! Down syndrome does not stop her. She is dedicated and is so proud of all her accomplishments. Saris loves sports and actively participates in Gymnastics, Stand up Paddleboard, Surfing and Equestrian. Saris also loves cheerleading; she is fully included in the cheer program in her High school. Saris is a model and has walked in New York Fashion Week three times and has participated in San Juan Moda fashion show in Puerto Rico as well as shows in Orlando, FL since 2018. She truly has a passion for modeling and has received a "Best Determined Model" and "Most Inspirational Model" recognitions. Saris is making a difference one fashion show at a time! Saris is confident and beautiful! She has hopes and dreams and is showing the world that she or anyone with down syndrome can achieve them. Saris loves to inspire others and has a message for you: "Do not be afraid, try your best and have fun!"We are very excited to be part of the 2020 Nothing Down Ambassador family and continue changing how the world sees Down Syndrome. To learn more about Saris' journey, follow her on Facebook at ​www.facebook.com/saris.marie and instagram at ​www.instagram.com/saris.marie.model​.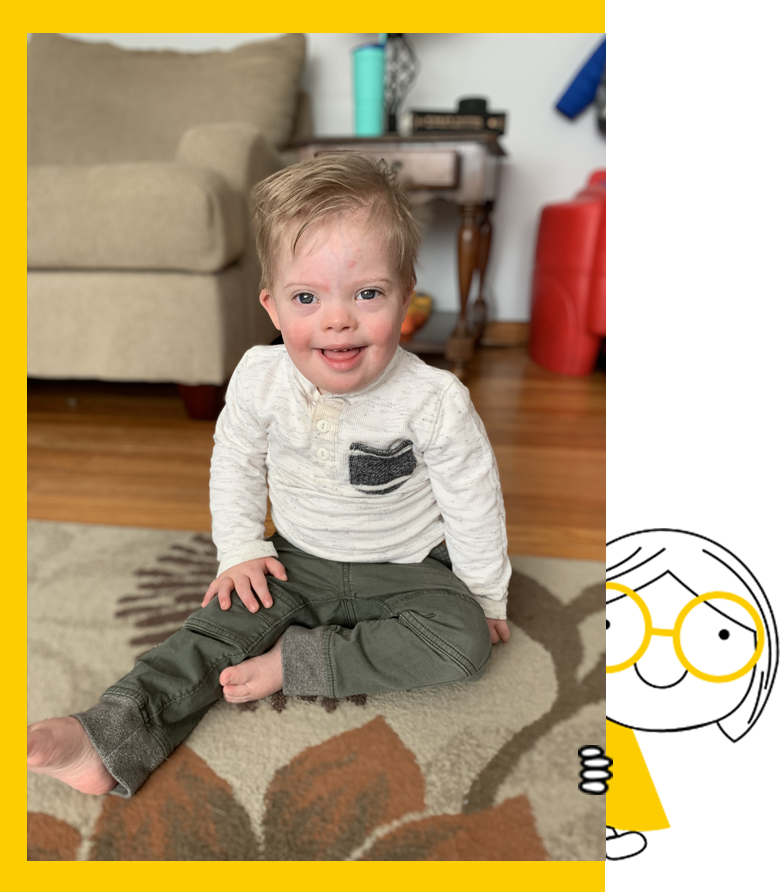 Meet Nicholas! He is two years old and lives in Oswego, New York. We received his official Down syndrome diagnosis six days after he was born, so it was quite a shock! At the time, we knew nothing about Down syndrome other than all of the inaccurate presumptions that we previously had. Since then, we have discovered that having a child with Down syndrome is not much different than having a child without it! Just like any other child, Nicholas is curious, playful, and excited to show you all that he can do! He has just learned how to walk and is gearing up for his transition into preschool in the fall!
It is our family's mission to show the world that Down syndrome is not scary or bad news, and that having a family member with Down syndrome can add such value to your life. That is why we are so happy to be chosen as a 2020 ambassador for the Nothing Down Organization, who shares that same mission. Nicholas' future is truly limitless, and this opportunity is just a small example of that! You can follow our family's journey at facebook.com/limitlessnicholas or www.limitlessnicholas.com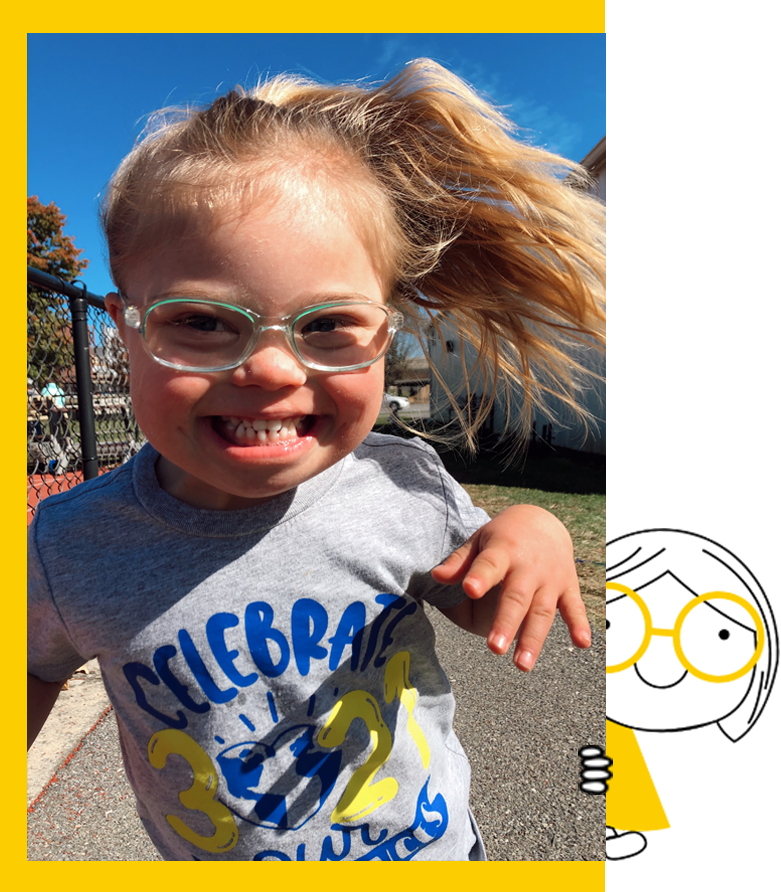 Addison is our four and fearless little lady. We don't ever have to worry about people limiting her because, in her opinion, she can do anything!. She is always ready for adventure and has a way of making anything ordinary in life extraordinary.
In between going to full day preschool, she spends her time being a mommy to her baby dolls, getting into trouble with her little sister, and playing outside as much as possible. She inspires everyone around her with her determination, positivity, and ear-to-ear smile.
She advocates for the Down Syndrome community just by being herself, being the social butterfly that she is and sharing her story with our circle of the world! She represented her home state, New Jersey, in a newly published children's book (written by her mom and another mom of a child with Down syndrome) about the 50 States. She is so excited to be a 2020 Nothing Down ambassador!!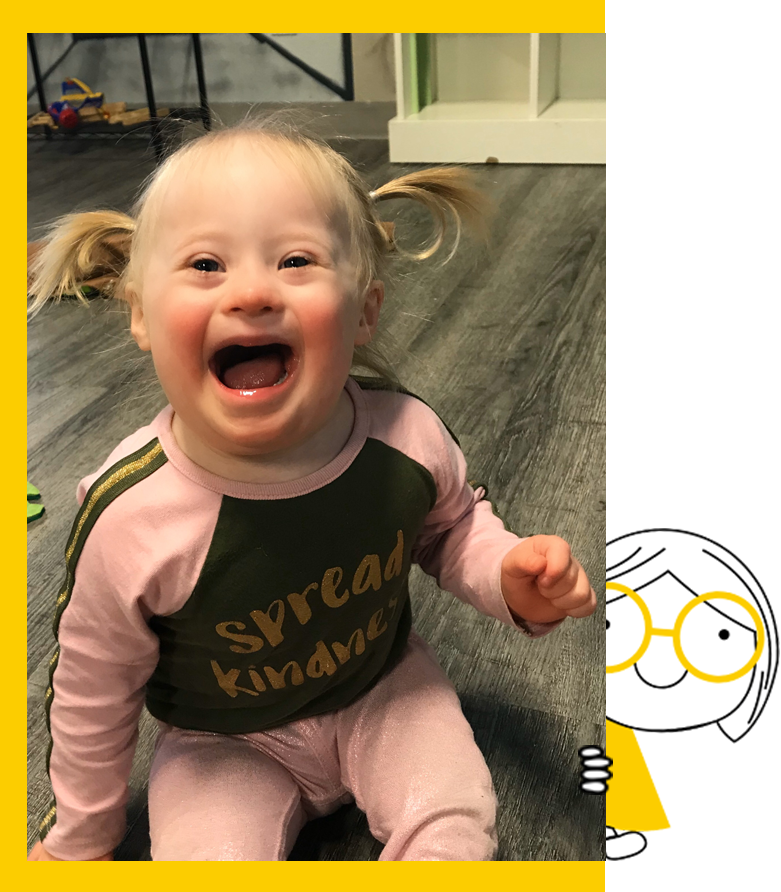 This is our sweet 'Lady Liberty.' Liberty is two years old and the only Nothing Down ambassador from Texas. Liberty was born with two holes in her heart and a herniated diaphragm. Both were corrected through multiple surgeries when she was around eight months old and she has been very healthy ever since! Liberty is a fighter!
Liberty has an infectious smile, her hugs and snuggles melt your heart and she has the ability to make your day 1,000 times better. Liberty is incredibly adventurous and curious. She is taking on toddlerhood in full force and gets into everything! She loves to swing, go on walks, play with her siblings and is obsessed with Doritos!
We feel so truly blessed that Liberty has been chosen to help raise awareness and show there is 'Nothing Down about Down Syndrome!' You can't meet her sweet joyful face and not fall in love with her. Liberty is ready to show the world that ALL people are worthy and deserve love and acceptance.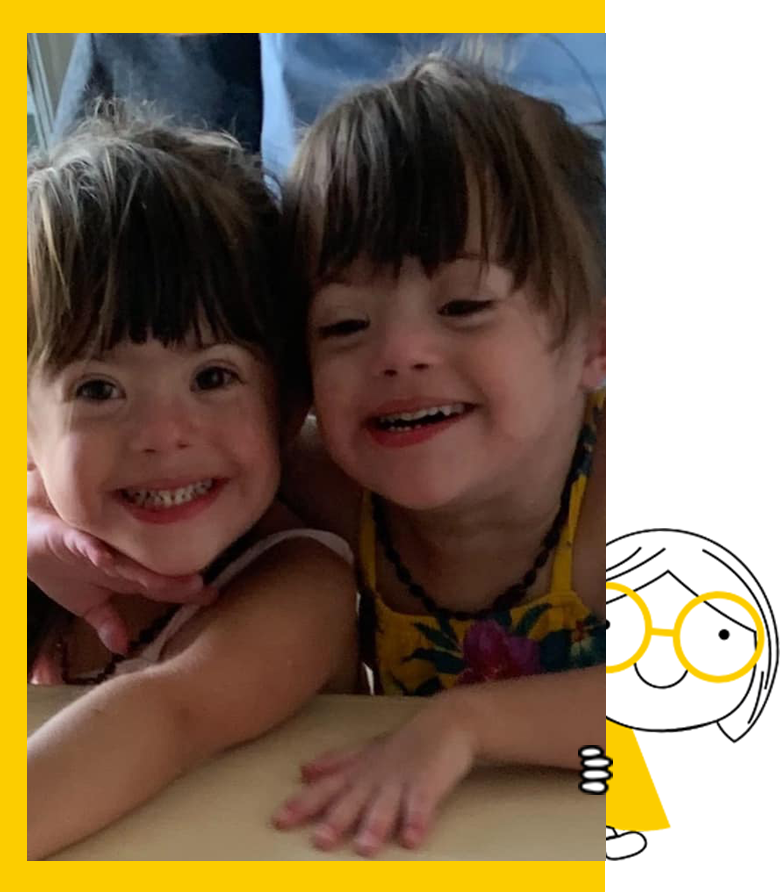 We are Vendela and Layla Acevedo and we live in Salisbury Mills, NY. We are four-year-old identical twin girls with Down syndrome. We are the only set of identical twin ambassadors that Nothing Down has ever had! The chance of being identical twins with Down syndrome is one or two in a million. So I guess that makes our parents double lucky. We were actually born as a set of triplets! We have a fraternal brother named Aiden who we absolutely adore. We were born at 26 weeks so we have come a long way. We are in Pre-K and love school. We also love music and books and one of our favorite things to do is dance. We are so excited to be a part of the Nothing Down organization! We are even more grateful to be a part of the 2020 ambassadors. We can't wait to see what the future holds for this amazing organization and we are so excited to be a part of it!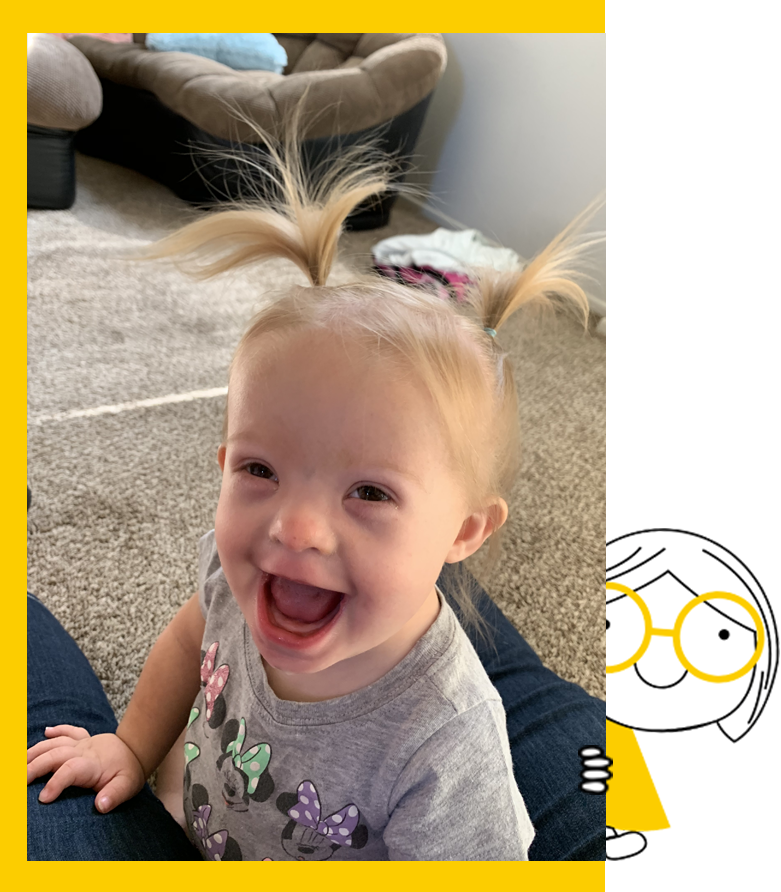 Averie is a very sassy two-year-old. Although born in Ohio, she currently splits her time between her home in Fort Bragg, NC (yes, her daddy is in the Army) and working in Los Angeles. Averie had open heart surgery when she was 4 months old. She is spunky, stubborn, silly, loves to laugh when you tell her no, and into everything, pretty much like any other two-year-old. Music is her favorite and she will dance no matter where we are and she certainly doesn't care who's watching. Traveling and Disney are her two other favorite things to do!
Averie has two older sisters that keep her on her toes. I'm positive her attempts to keep up with them has been a huge contributing factor in the way she has hit every goal her OT has given her! She is currently learning sign language. Averie is so excited to be an ambassador and change any negative connotations people may have about Down syndrome because there is truly Nothing Down about it. She's rockin' her designer genes!
You can keep up with Averie at her Instagram- @averiegracefangmann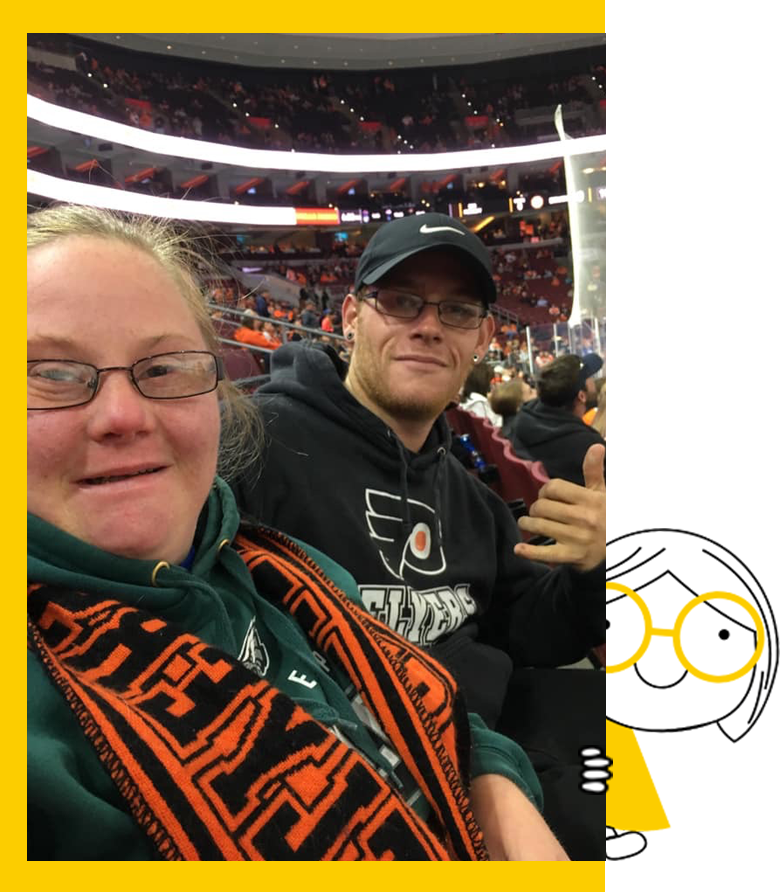 Hello, I am Chelsea Cummings. I just had my birthday and turned 27 years old. I am so excited that I was chosen to be a 2020 ambassador for the Nothing Down organization. I love being involved in life and all things fun. I have worked for the past two years at the local Wawa and just got voted as employee of the month! I am active with New Jersey Special Olympics as a swimmer and have a lot of medals. I take acting classes every week. I play softball and basketball. I love bowling and singing is my favorite. I sing on my porch to the neighbors.
In 2017, I participated in a viral interview video for Nothing Down that showed the world we are more alike than different. I was also recently featured in the promotional video for Nothing Down's new "R Card program."
I will continue to be active in promoting that Down syndrome is not a life sentence of doom and gloom, and I'm empowered to shine in every aspect of my life!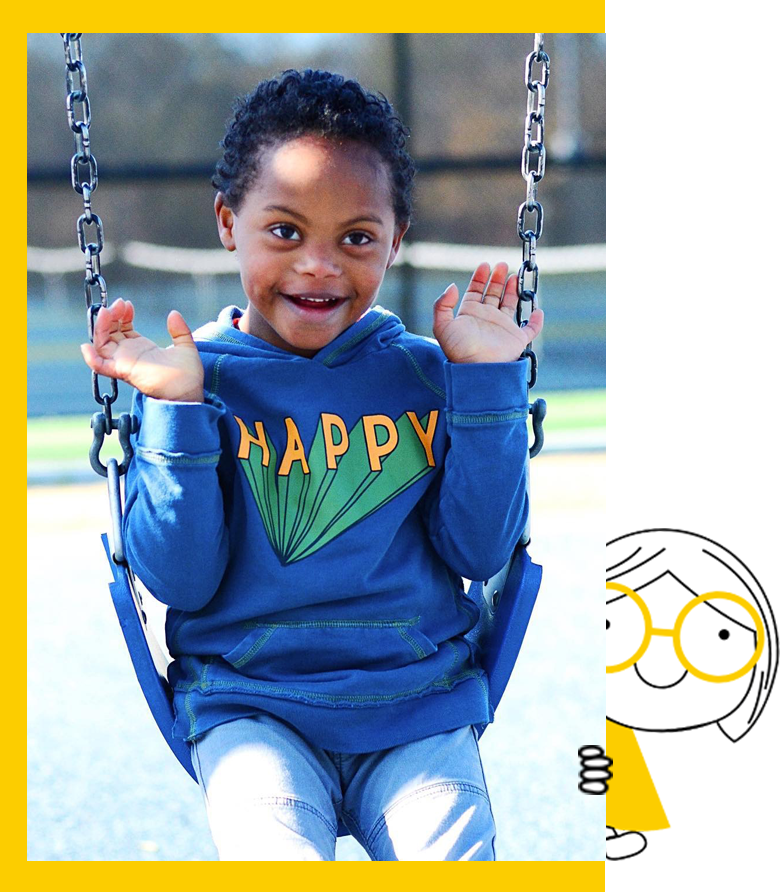 Hayden is a kind, brave, smart, strong, and funny six-year-old kindergartener who is always up for a fist bump or a high five. He adds incredible joy, adventure, and love to the lives of his family and friends. His favorite things include: climbing, jumping, exploring, swinging, dancing, listening to music, and being awesome. Hayden enjoys learning and growing alongside his peers and being meaningfully included and supported in all aspects of his school and community experience. He loves to stay active through his involvement in a variety of activities, including Special Olympics Young Athletes, martial arts, swimming, playing basketball and baseball, and participating in programming at his local GiGi's Playhouse.
Hayden is thrilled and grateful to have been chosen as 2020 Ambassador for Nothing Down! It is an honor to be part of an extraordinary group of individuals who are rockin' their extra chromosome and advocating for acceptance and belonging while providing accurate information and celebrating the beauty and worth of individuals with Down syndrome.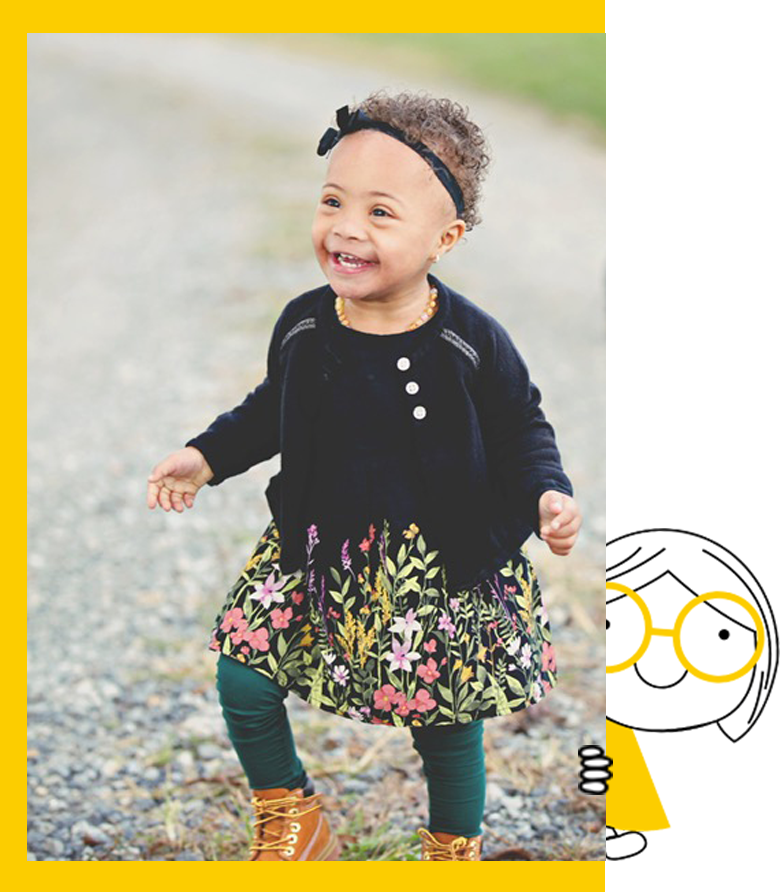 Meet Jocelyn Denise who was born March 19, 2017 representing the Wild and Wonderful state of West Virginia from the city of Martinsburg. Jocelyn, in her short three years, has been in the hospital on four occasions and has had three surgeries. Despite it all, she has not skipped a beat. She is a sweet, fun-loving little girl that is very strong-willed. Her smile will light up the darkest room, her laugh will bring joy to all that hear it and her hugs will warm your heart. Jocelyn never meets a stranger. She speaks, waves or throws kisses to everyone she comes in contact with, including family, friends and even people she does not know.
We did not know until Jocelyn had her heart surgery at 6 months that she has Down syndrome as all prenatal testing showed no signs. The diagnosis came as a surprise, however that has not slowed down our "Wonder Woman". She is our perfect little angel.
Jocelyn loves reading books, playing with her play kitchen, and thinking she is in charge. She enjoys playing with her babies and, at times, thinks other kids are her babies too. It is also believed that she gets a kick out of driving her mommy and daddy crazy and keeping them on the move at all times.
Jocelyn has always loved dance and started dance class in the fall of 2019. She really loves going to her dance class and wearing her tutu. We hope with starting early she will break stereotypes across the country and be the next Misty Copeland proving there is "Nothing Down" about Jocelyn Denise Sykes.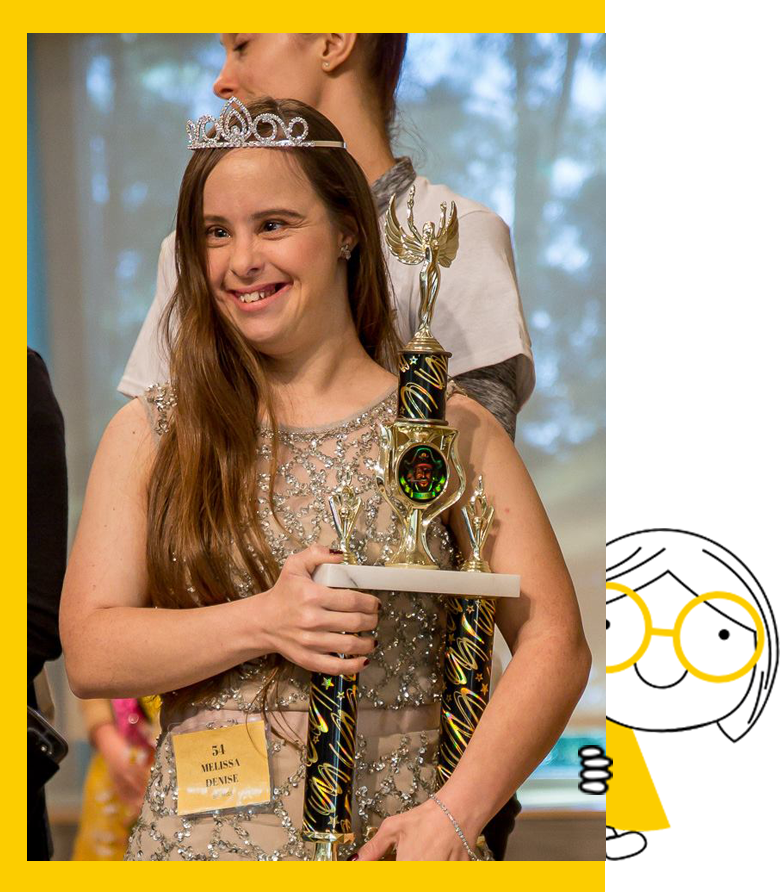 This is Melissa Denise. She is 30 years old and is a bright light. She is a sweet, smart and sassy diva who is fiercely independent. Melissa loves swimming, singing, dancing with Straight Up Abilities and her amazing teacher, Robin Olive. She bowls with the Special Olympics and proudly displays her gold medals in her room. Melissa Denise works at Marshalls and is a model; you might see some of her photos on Canva Design. She participated in an anti-bullying campaign with Be Strong Global and a marketing project with Facebook. Melissa was featured in a video produced by The Mighty for World Down Syndrome Day in 2018. She also participates every year in the Miss Amazing Pageant, a pageant for girls and women with disabilities.
Melissa loves volunteering in her community and has been involved in beach clean-ups, collecting items such as clothes, shoes and jackets for Goodwill, and organizing a food drive for the Orange County Food Back, collecting 227 pounds of food. Most recently she got friends and family together to make sandwiches, put together lunches and walked around, passed them out to the homeless in our community. Her latest project was collecting items for Ronald McDonald House – Long Beach. Melissa says volunteering "makes me feel happy in my heart and soul." She has a large circle of friends and a very handsome boyfriend. And most important, Melissa LOVES the Backstreet Boys and never misses a concert! According to Melissa "Nick Carter was my first crush." Melissa is honored to be a 2020 Nothing Down Ambassador and hopes it will enable her to be a role model for others with Down syndrome. You can follow her on Instagram @melissadenisemodel.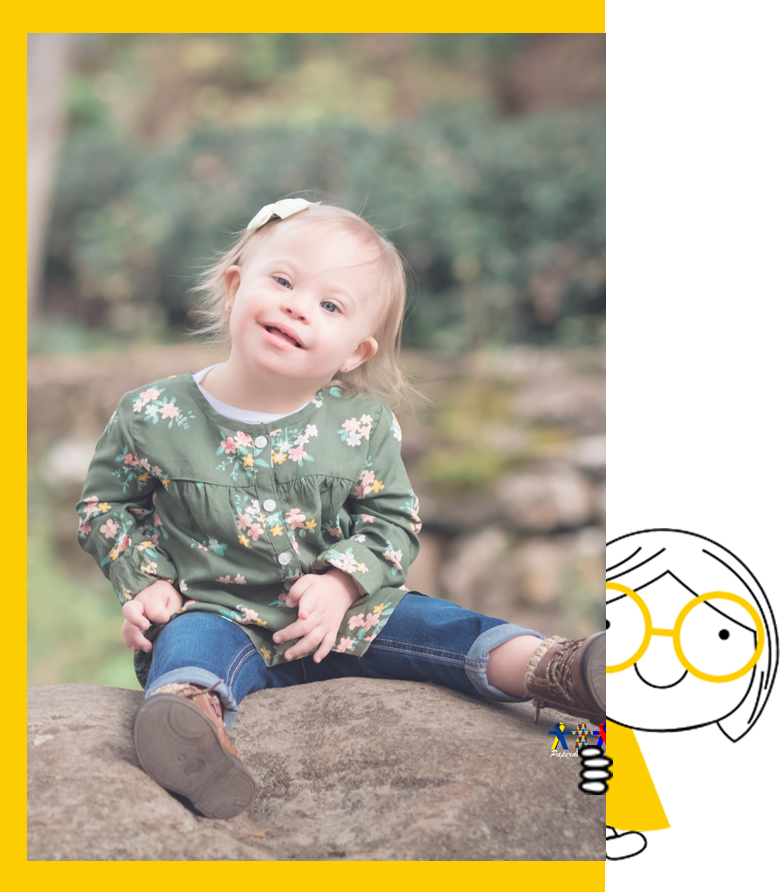 Meet our two-year-old Palyn. We had an unofficial prenatal diagnosis at 11 weeks through a blood test. We were given the chance to have further testing to confirm the diagnosis, but opted not to. Nothing would change the fact that we would be having a beautiful, little girl. On January 18th, 2018 our lives would be forever changed. After a short NICU stay, we were blessed to head home with no medical conditions related to her diagnosis.
We want to give our daughter every opportunity to be anything she wants to be. We push her weekly through Early Intervention, physical therapy, occupational therapy, and speech therapy. Without all of their support, we would not be where we are today. It may take her longer and she may have to work harder to achieve those milestones, but she will get there. At 9 months old, Palyn became a Down Syndrome advocate for the globally published photographer Stephanie Ann of Paperdolls Photography, based out of Nashville, TN. Her mission is to capture the hearts of her subjects teaching the world to love like Jesus does with her universal mantra "Look with your eyes, but see with your heart."
Palyn amazes us daily with her spunkiness, silliness, resilience, determination, and sweetness. We couldn't be more proud of the person that she is and of the person that she will become. To all the future Down syndrome families out there, everything will be okay! You have an amazing community and support system here. We are honored to have Palyn represent this amazing organization as a 2020 ambassador.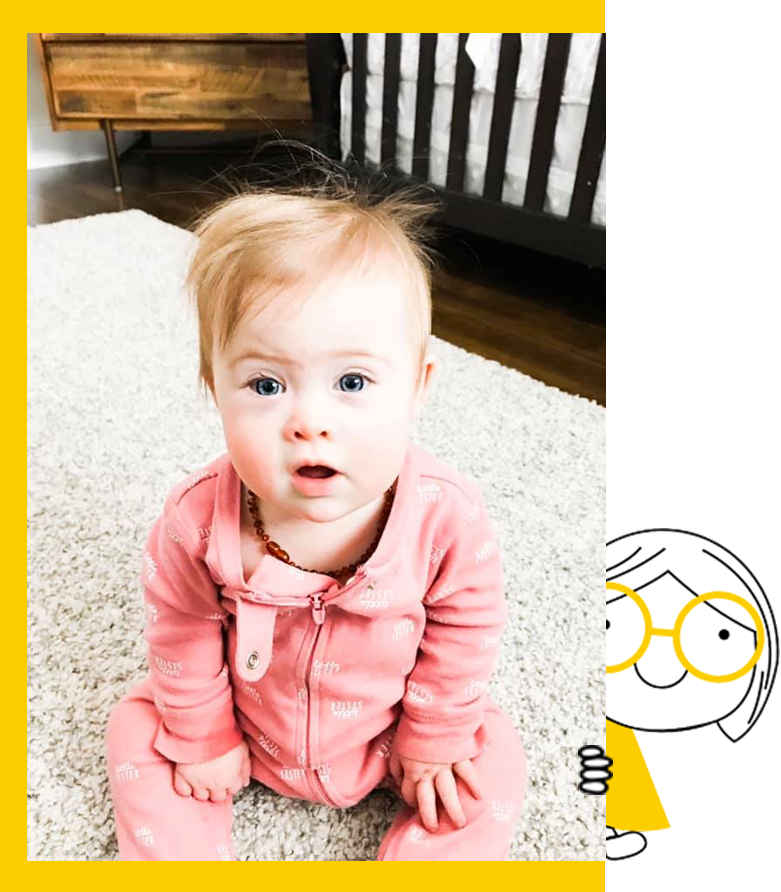 Hi, I'm Ruby! I am Nothing Down's youngest and only Canadian ambassador for 2020. I have been full of surprises since day one! I had a birth diagnosis, and made my debut seven weeks early. I just couldn't wait to get here! I spent 10 days in the hospital for monitoring and hold the record for the quickest preemie discharge at my local hospital. Although I was born with just a little bit extra, I have no medical concerns. I've been non-stop ever since!
Ruby adores her older siblings, Lola and Jack, and tries to keep up with them whenever she can! She loves music and swimming is our sweet spot. Ruby has already captured the hearts of so many with her infectious laugh and sweet snuggles. We couldn't imagine a world without her!
This little lady is so full of life and love and has shown our family, and community, that there really is Nothing Down about Down Syndrome! We are so thankful that Ruby chose us, and we will continue to shout her worth and promote advocacy anywhere we can! You can keep up with Ruby on her Instagram page at- rockin_it_with_ruby.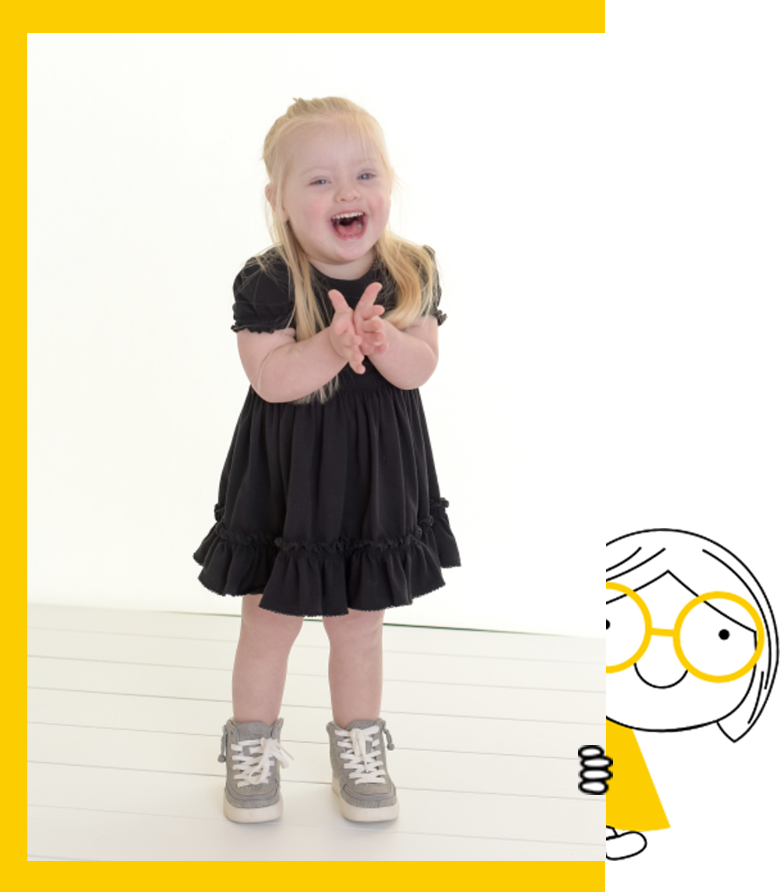 Tynleigh Grace came into this world with the determination to BEAT the expectations others had predetermined for her. Although we, her parents, were told that there was a higher than normal risk, Tynleigh's diagnosis was not fully confirmed until post-birth. Overall she has been in great health, only having to take one pill a day for Hypothyroidism. She has shared her happiness and love to millions ALL over the world, a lot of which came from a simple video of her celebrating her 2nd birthday that went viral on Nothing Down's Facebook page. That in turn led to Good Morning America taking interest in Tynleigh by calling us and requesting an interview so they could continue sharing her story. Our local news station also came to our home for an interview and filmed her for a news segment. All of this amazing exposure has happened in just the first two years of her beautiful life. Our girl loves to dance and sing. She participates in ballet and tap and will perform in her first recital in June. Tynleigh is a precious gift to our family, she is SMART, STRONG, CAPABLE and most of all, a child of God. We are so excited to be an ambassador for Nothing Down this year and to advocate for all the EXTRAordinary children and adults. We can't wait to see how far Tynleigh will go and what mark she will make on the world.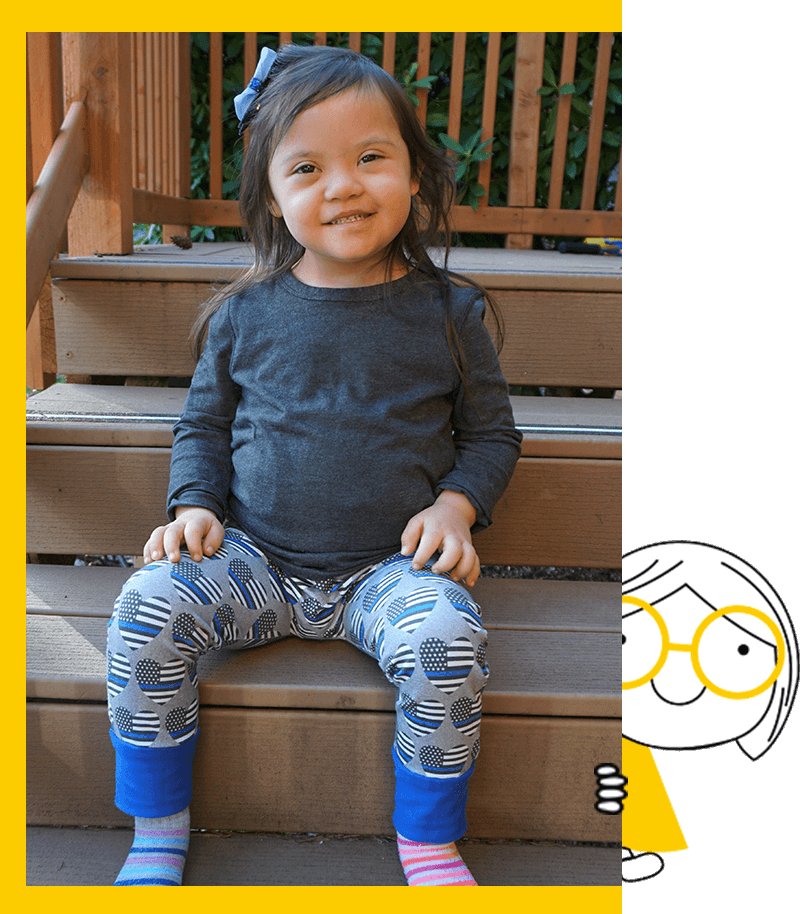 Arianna is five years old and we are so excited that she was chosen to be a 2020 ambassador for Nothing Down! Arianna was diagnosed prenatally with Down syndrome and her birth mom chose to put her up for adoption because the diagnosis scared her. Our family was registered with the National Down Syndrome Adoption Network and we were matched with the birth family 3 months before Arianna was born. We got to hold her in our arms when she was just a few hours old! In the last 5 years we have been able to show the birth family that Down syndrome is not a negative thing, but a blessing. She has changed our world for the better and brought so much light into our lives. Arianna is a blessing!
Arianna has done modeling for Zulily and she reps for a few small shops. Our family is trying to change the way the retail world sees differently-abled people. She is a ham and loves the camera! Last October Arianna was crowned Miss Petite Queen in our local Exceptional Families Pageant. Because we spread Down syndrome awareness through random acts of kindness all over our community, she was awarded Citizen of the month in October 2019. Arianna is becoming very well known in our community as the little girl who brings a bright light to our city while spreading kindness and Down syndrome acceptance and awareness.
Arianna LOVES Frozen and Toy Story. She has some impressive dance moves and loves singing and dancing to just about any type of music. In public she gives high fives and fist bumps pretty freely and seems to find people who need a little cheering up. Arianna is loved by her big family and we can't wait to share that there is Nothing Down about Arianna and all of her friends that rock that extra chromosome!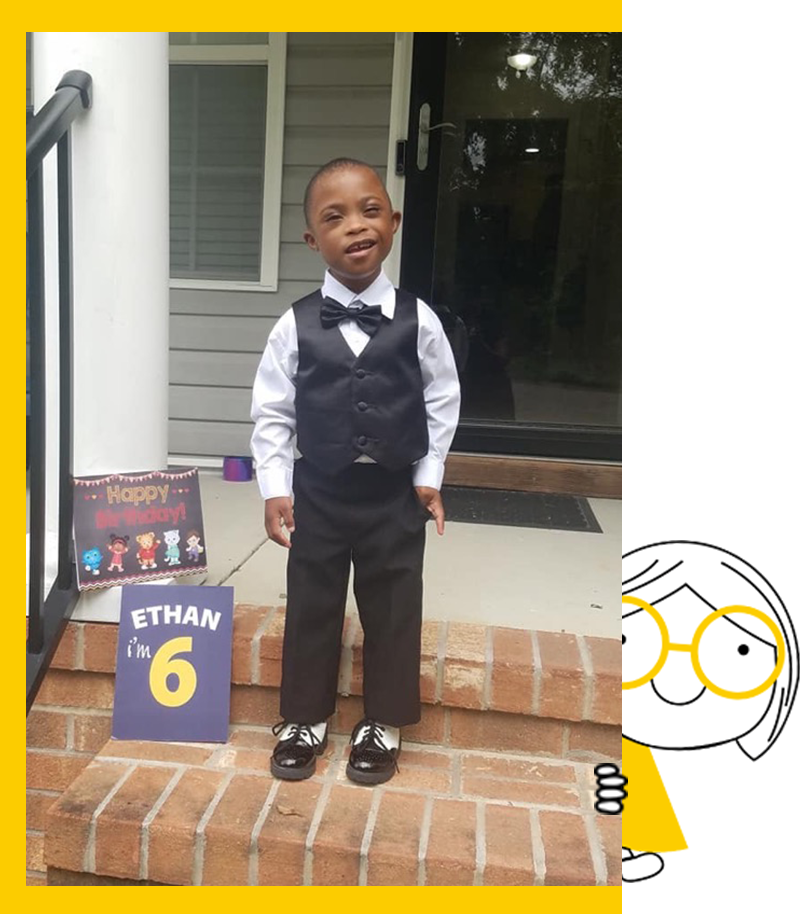 Ethan is a super cute six-year-old little boy commonly known as "Super Ethan". Born 8 weeks early with Down Syndrome, two holes in his heart and fluid in his chest, Ethan overcame many obstacles to earn his Superhero status! Not only did he endure a 5 month hospital stay, open heart surgery at 4 months of age, he also spent the first two years of his life on a feeding tube.
Ethan is a joyful, little, first grader who loves riding the bus to school! His favorite subjects are Language Arts, Math, Music, and Recess! Ethan primarily uses American Sign Language (ASL) to communicate but is often heard loudly singing along to his favorite tunes.
When Ethan is not at school, he loves to take swimming lessons, play in his toy kitchen, and watch Signing Time with Rachel Coleman! His feeding tube is a thing of the past because Ethan loves to eat! His favorite foods are chicken, rice, french fries, and popcorn! We are so proud of Ethan! For more information on Ethan's adventures you can follow him on Facebook and Instagram at EnJOYing Ethan where he encourages others to find "joy" in their journey everyday!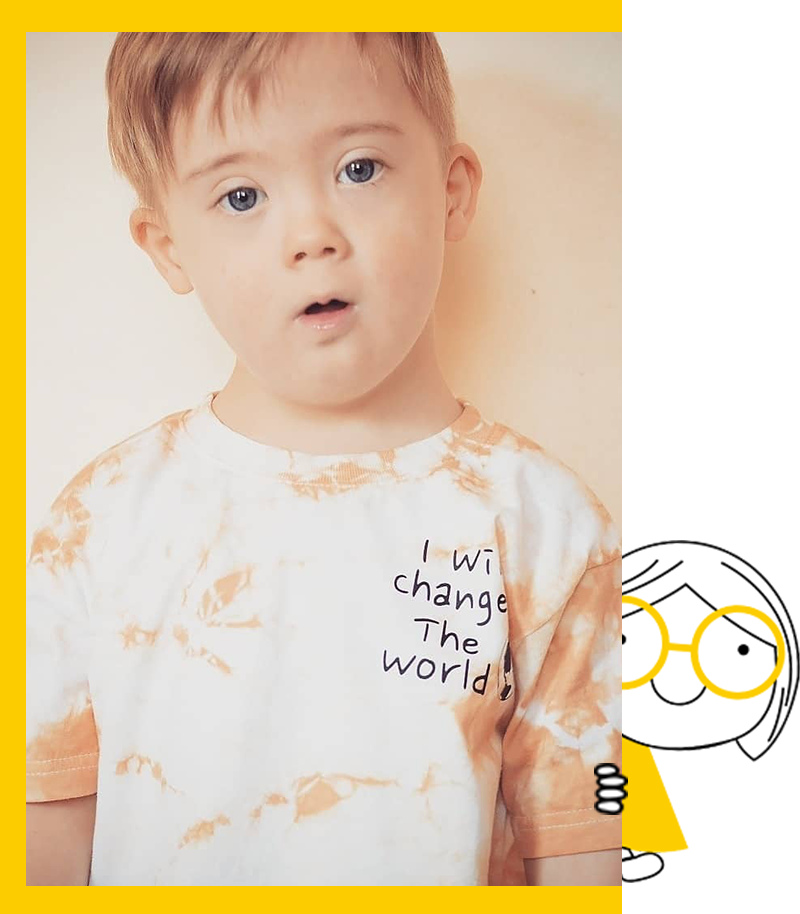 Jax is nearly four years old and will soon be starting mainstream school. We had a prenatal diagnosis by amnio at 17 weeks. We endured a lot of outdated views from medical professionals and now advocate to change these perceptions.
Jax talks but is also very good at British makaton sign language. He is cheeky, charming and has the most infectious smile and personality. He gathers a crowd wherever he goes. Jax has made our lives so much better. He changes people's perceptions everyday and we are so proud to call him our son.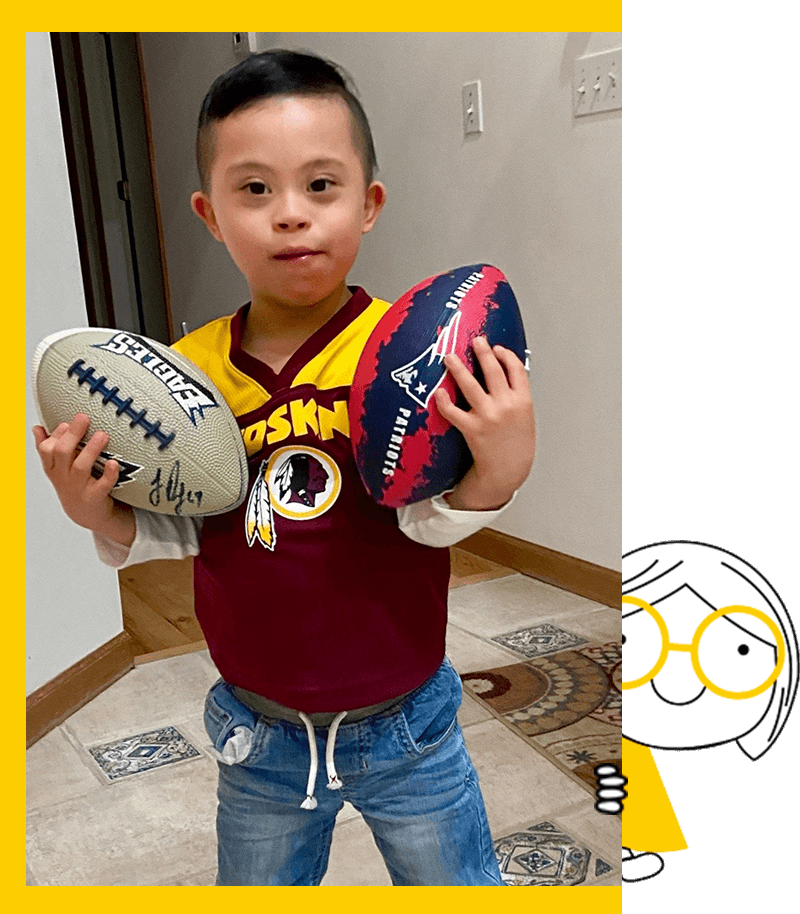 Born on July 1, 2016, Mateo Noah Filiciello has been impacting lives and bringing joy to everyone since he came into the world. Overcoming several health-related surgeries before turning 1 years old, Mateo has maintained a joy and passion for life that never goes unnoticed. He is truly a heavenly angel in our midst. In addition to his million-dollar smile, he has a heart of gold and an extreme desire to learn.
At the tender age of 3 years old, Mateo is able to recognize and pronounce every single letter of the alphabet. The same can be said of the numbers 1-20. Mateo learned these valuable skills within just a couple months of practicing with his family. And he isn't done yet!
Reading is a huge passion of Mateo's. Mateo loves books! Thanks to his dedicated mom and dad, Mateo has successfully read (listened to his parents read to him) over 4,000 books. Originally starting with the goal of reading 1,000 books before kindergarten (after getting the idea from the non-profit "1,000 Books Before Kindergarten"), Mateo's parents saw how much he really enjoyed story time. As a result, for the last 3 years they have read to him an average of 10-20 children books every morning when he wakes up and every night before he goes to bed. And as a result, when Mateo is at daycare, he can be frequently found next to the classroom library with 3 or 4 books spread out on the floor before him. There's no doubt that this young man loves to learn!
In addition to being a local celebrity in Atlantic City, NJ, Mateo was recognized on the billboard in New York City's Time Square in 2018 for the National Down Syndrome Society, has been featured in advertisements for "Pals Socks" across the country, won a dance contest at a local Catholic school's International Night, and most recently was selected as an 2020 Ambassador for the International Down Syndrome Awareness Organization, Nothing Down. Mateo wears all of these honors and titles humbly, knowing that life is meant to be pure joy and love is to be given to all.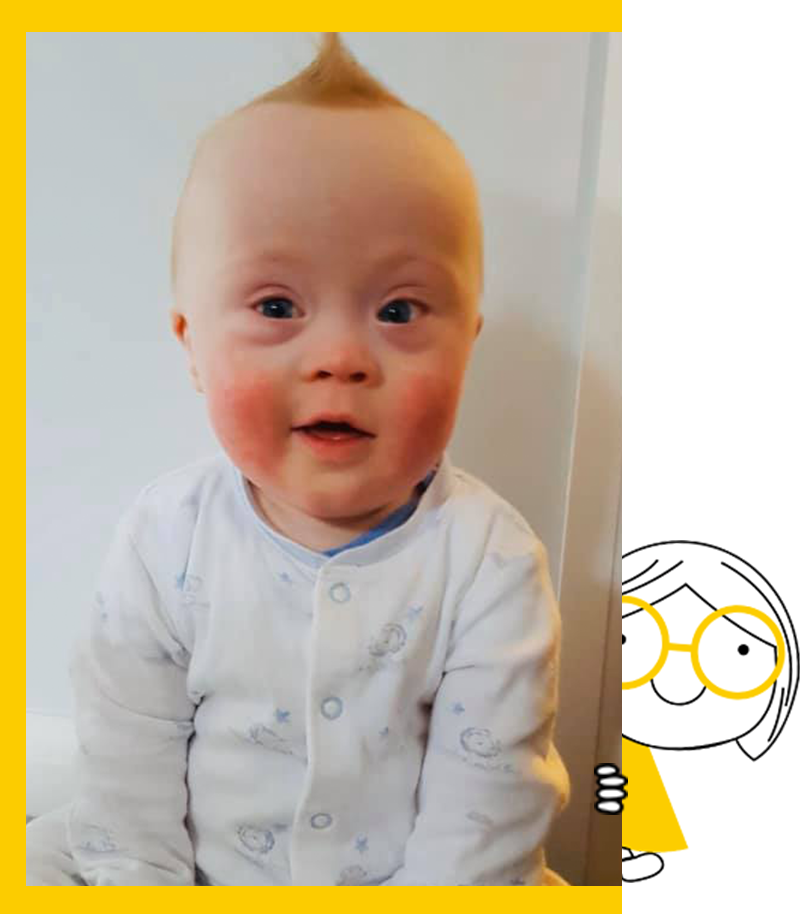 Odhrán is a bubbly, chatty, dramatic toddler. He is 19 months and we have enjoyed every moment of his life. He amazes us each moment of every day with all that he can do and what he has achieved. He loves to play with his two dogs and go for walks with his mammy and daddy. However, the biggest love of his life is food, which all started when we went on holiday to Italy. It's safe to say that he makes his mammy feel like a Michelin star chef, by how he devours mammy's cooking!
Odhrán attends his local mainstream playschool. He has only started to bum shuffle and prior to that, his peers in nursery would come and sit down with him to play. He loves socializing and playing with his friends at nursery. Odhrán is loved by everyone he meets and continues to hold an audience whenever we go out, even if it's just to the shops! His smile is infectious and he is also a big flirt which helps him get his own way most of the time! His smile and laugh lights up the room and he uses his whole body to smile!
Odhrán is signed to the modelling company Zebedee Management which is a modelling agency in the UK. He has appeared in the The Wouldn't Change a Thing BOOK and was in the 2018 calendar for the Wouldn't Change a Thing awareness group in the UK.
Odhrán recently became a big brother and has taken the role in his stride. He has begun to show his caring side and wants to comfort the baby whenever he starts to cry. Being a big brother has also brought Odhrán along developmentally as he has become more chatty and confident.
Odhrán is a fabulous little boy and we are so excited to represent Nothing Down as a 2020 ambassador. We as a family see Trisomy 21 as something to be celebrated, and not feared. Our kids with Down syndrome are amazing and Odhrán is just beating all the odds and challenges he has faced in his short life so far.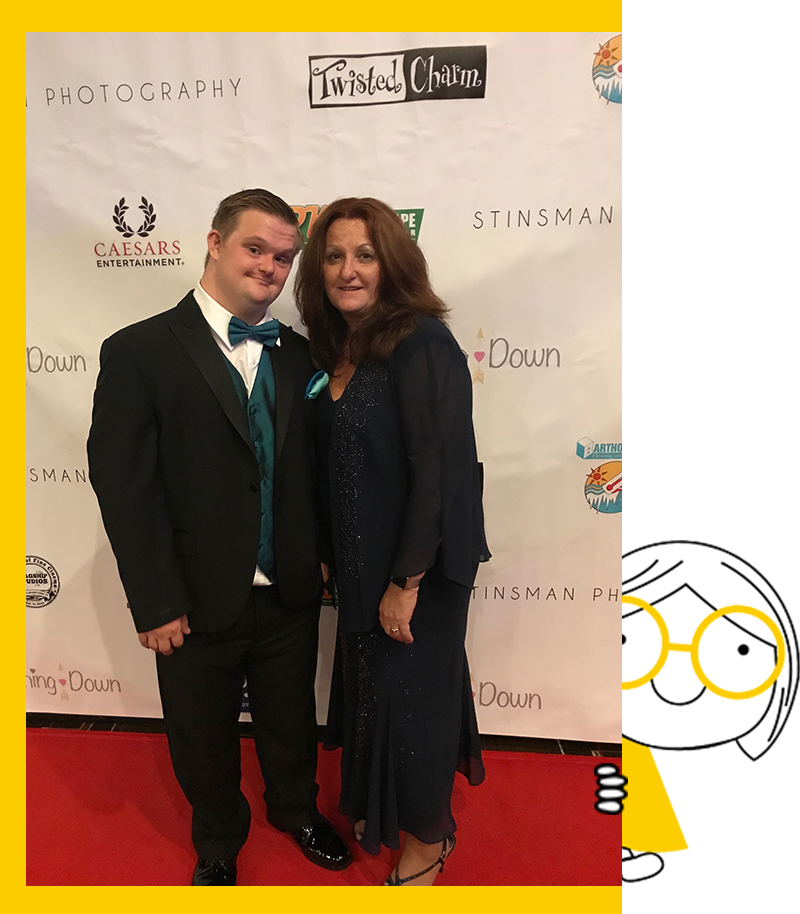 Peter was recently selected as an International Ambassador for Nothing Down. Peter was diagnosed with Down syndrome at birth where the doctors told us he would die within 4 days. Well, he is now 27 and doing just fine. We want to share the message that doctors don't always know everything and to always keep the faith!
Peter has an older sister, Heather, and a younger brother, Brent, and he became an uncle for the first time five months ago. His parents have been married for 33 years and he and his siblings are the highlight of their lives. Peter enjoys such things as bowling, swimming, movies, eating out and traveling. His travels have included Niagara Falls, the Bahamas, Cancun, California, Las Vegas, Arizona and many others. His most recent adventure was in December to Colorado, where he enjoyed horseback riding and mushing (dog sledding.) Yes, he drove the dog team in the beautiful snow covered mountains! Peter is definitely a thrill-seeker. He has been skydiving, zip lining, parasailing and even rode the roller coaster at the top of the Stratosphere in Las Vegas.
Peter attends an acting class, and was recently cast as an extra in an upcoming movie called "Bruised" starring and directed by Halle Berry! He had the wonderful opportunity to meet this actress and she was very inspiring. Peter also performed a dance number with several other young adults with Down syndrome at the Nothing Down Gala this past November and received a standing ovation! Peter held a job at a local Italian Restaurant and is actively seeking a new job, but if asked he will tell you he took early retirement to enjoy his life!
Peter can make you laugh for no reason, smile just thinking about him and he definitely lights up a room. He is an avid WWE fan and could probably tell you more stats than most of their managers. His dream is to become a wrestler or announcer. Our wish is to help show the world that an extra chromosome only means our kids are filled with more love and compassion than the world can handle. But through groups like Nothing Down we are going to change perceptions, one day at a time.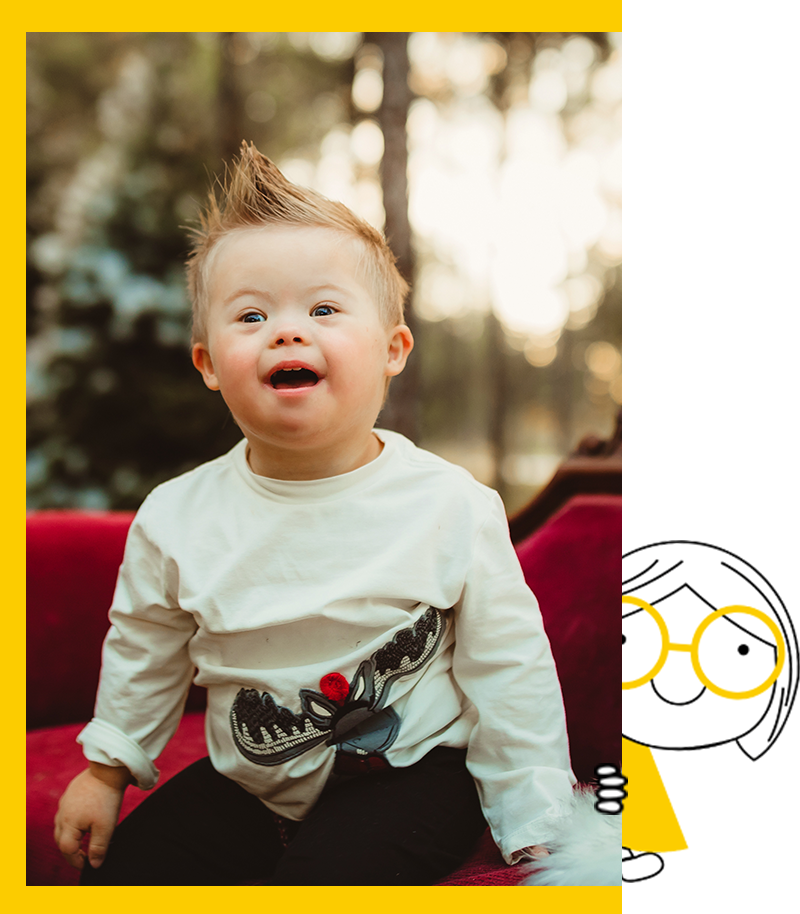 Rocco lives in DeLand, FL with his mom, dad, and family dog, Wally. He attends Emmaus Lutheran Preschool where he is excelling in his intellectual development and stealing the hearts of his teachers.
Rocco LOVES to sing and dance. If there is music playing Rocco is on his feet grooving to the beat and belting out the sweetest tune. If he's not singing and dancing then he's chasing Wally around the house or sitting nose-to-nose with him, getting all the lovin'.
His giant personality is sweet and gentle, yet stubborn and fierce. If there is something Rocco wants, he is determined to get it.
As an Ambassador family for Nothing Down, we are focused on advocating hard this year and making the world a little more accepting and welcoming for Rocco and his friends.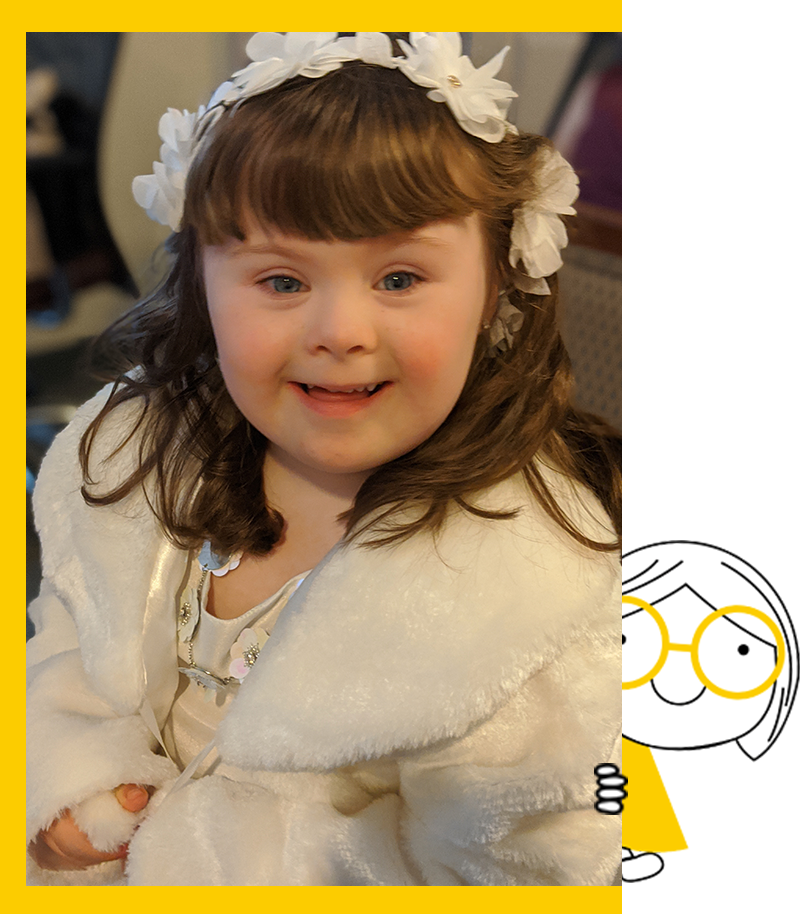 Olivia (Livie) was our early Christmas present five years ago! After our prenatal diagnosis at 17 weeks, she was welcomed into the world with abundant family support. Her infectious giggle and smile brings joy to all around her, but don't let her fool you, she can give out sass like the best of them. She loves to give hugs and play with her baby brother. She enjoys practicing to be a doctor and eating popcorn while watching hockey with Daddy.
Through her Facebook page she shows the world her beautiful journey. From day one, Livie's determination and hard work has broken stereotypes. She has shown that no one can predict a child's capabilities and that she has no limits! Livie continues to amaze all of her therapists, teachers, and doctors as she is constantly pushing the bounds and surpassing their goals.
Livie was so happy to be featured in the Nothing Down calendar for March of 2017, where she was rocking her silly socks like a champ. Livie is super excited to be an ambassador for 2020!
Follow her on Facebook, and Instagram, at Livie's Livin' It Up.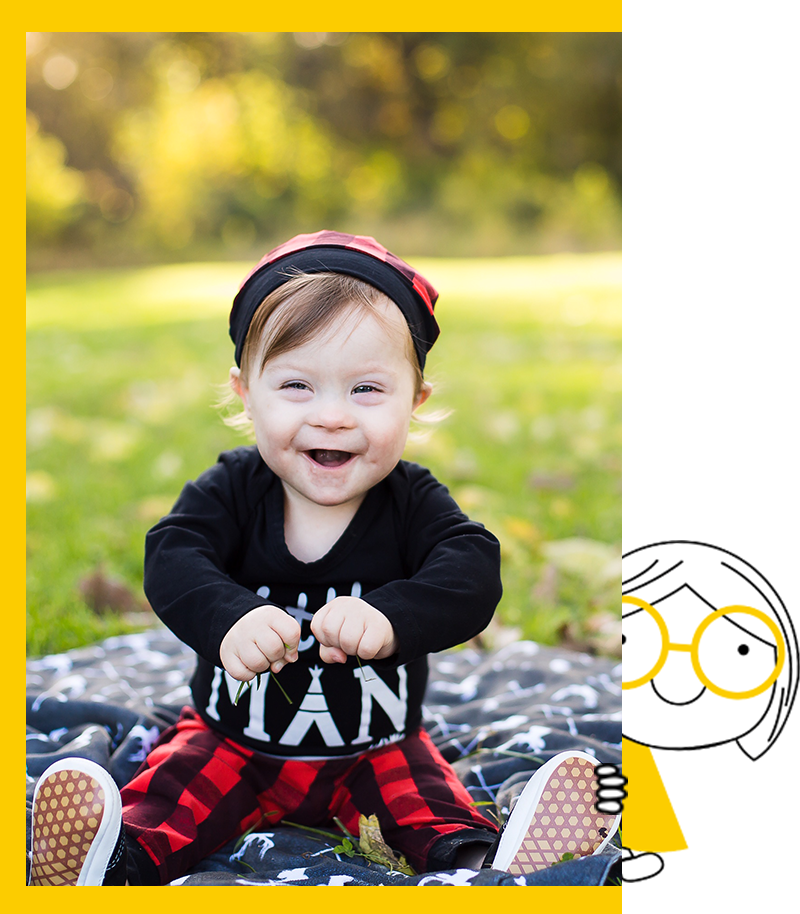 Sweet Lane is 16 months old and the youngest of four. Lane has been the biggest blessing for our entire family. We have all learned so much in such a short time and cannot wait to continue on this amazing advocating journey with Nothing Down!
Lane spends his days on a six acre farm in Illinois, loving life. Each day Lane continues to defy the odds. He is a great eater, a little jabber box, and crawls all over the house! Lane's favorite activity is swimming. He is a little fish! Since the day Lane was placed on my chest, I promised myself that I would advocate every single day so that no family missed a moment like this out of fear! Lanes life is worth living and we are just so happy he is ours!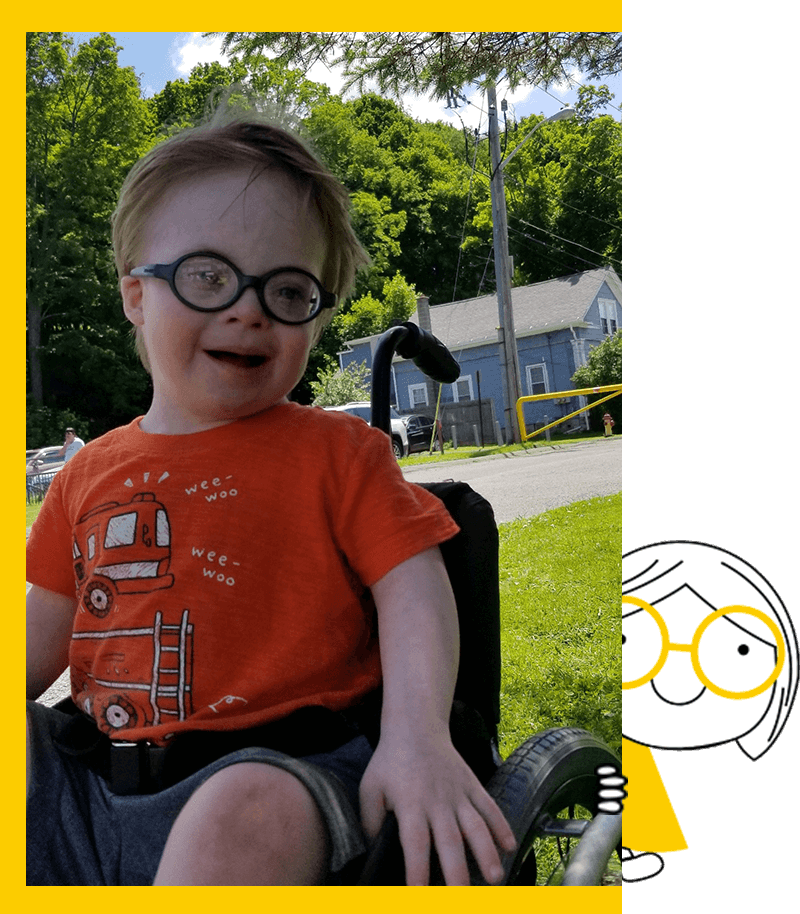 Lucas Solak is a 4 year old from Massachusetts who brings smiles to the face of everyone he meets. Lucas and his twin brother, Christopher, were adopted in 2018, in part thanks to a listing from the National Down Syndrome Adoption Network. We were only pondering adoption and hadn't considered a child with Down Syndrome, but when we heard about the boys our hearts knew they were meant to be our sons. Lucas has taught us so much since joining our family! We knew we would be becoming parents for the first time when we found the boys, but we never could have guessed the amazing community we would find among other families raising children with Down Syndrome. Our family grew in more ways than one! Lucas has mild hearing loss, wears really strong glasses, is the first child ever diagnosed with the combination of Down Syndrome and Soto's Syndrome, is hoping for the last of the three holes in his heart to close up, and is being tested for autism. But none of that keeps him from doing anything he puts his mind to! Lucas has recently started communicating through a program on his iPad. He is learning to walk independently, and attends an inclusive pre-kindergarten program.
Lucas loves making other people smile. Lucas smiles the most when he is giving out smooches, watching Peppa Pig and Muppet Babies, or going to school and seeing all of his friends. Lucas is involved in our local Special Olympics Young Athletes program and takes riding lessons each week, along with all of his therapies, in and out of school. While things don't always come easy for Lucas, he never gives up and keeps showing people that they should never underestimate him! We are so excited for Lucas to represent Nothing Down for 2020 and show even more people that Down Syndrome isn't something to fear. It's an often unexpected blessing that will only make your life richer and make you slow down and appreciate each milestone.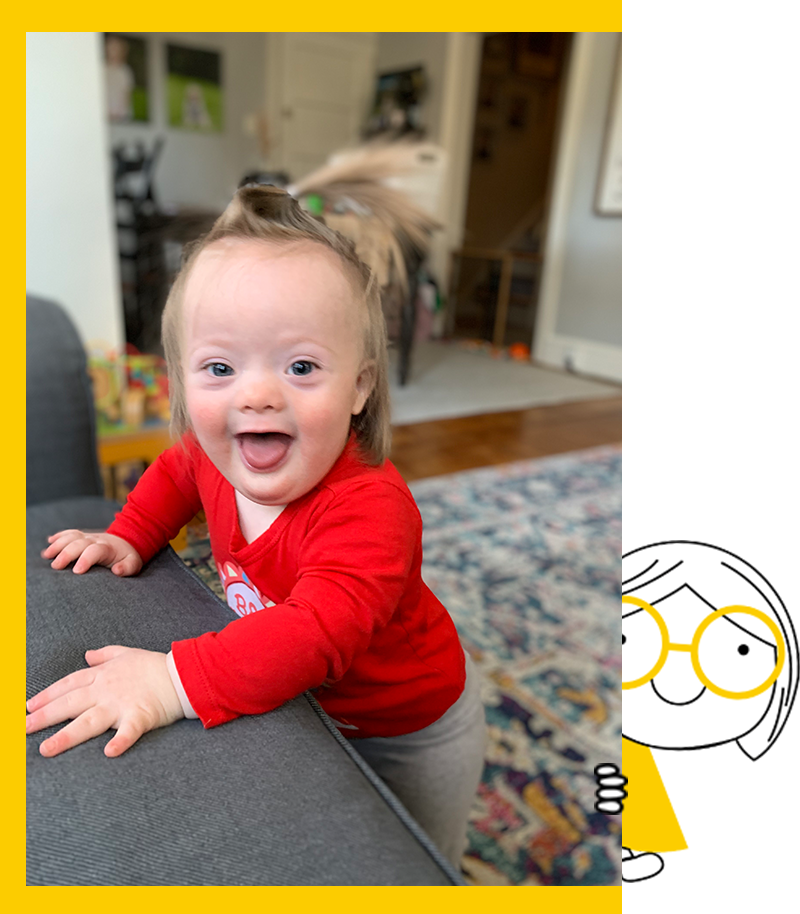 Isla Grace is 17 months old and joy personified. She is the youngest of three, with big sister and brother, Ainsley (9) and Elias (7), cheering her on every step of the way. Isla has started standing on her own and is starting to take her first steps! She is a fiercely determined, and somewhat strong-willed, toddler. She loves music and dancing, playing ninjas with her brother and having tickle wars with her sister. When her mommy is cooking, she loves to empty the pantry! She loves the church nursery, making friends and is opening hearts wherever she goes.
Isla had a prenatal diagnosis at 13 weeks. Every doctor and care provider we encountered along the way was amazing. We were shown compassion, but also treated as any other expectant parents, as the world of Down Syndrome was opened up to us. We are hopeful that other doctors can learn from the wonderful experience we had, so that other families can prepare for the joyful future that lies ahead for them as they welcome a child with Down Syndrome.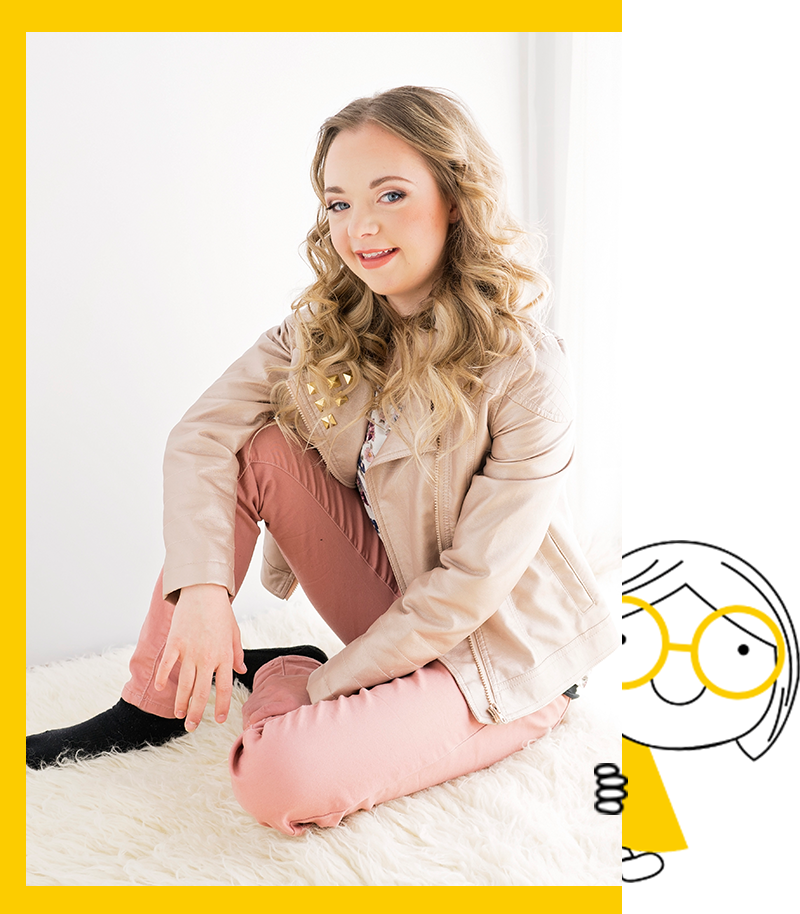 Hanna Strebel is one of 29 ambassadors from across the globe chosen to represent Nothing Down in their mission to show the world the potential of individuals with Down syndrome.
Hanna Strebel of Tabiona, UT was announced this week as an ambassador for Nothing Down, an organization aiming to change the way the world views Down syndrome. Twenty-one-year-old Hanna is one of 29 new ambassadors from across the globe. She was chosen to represent Nothing Down and, alongside her family, will assist the organization through community outreach, fundraising and social media promotion for the duration of 2020. The mission of Nothing Down is to provide support, advocacy, education and opportunities for individuals and families that have been touched by Down syndrome. They aim to change the way that the world views Down syndrome and eliminate the stigmas that are often associated with disabilities. The organization produces documentaries, viral photo and video projects, an annual calendar, and social media campaigns that highlight the promise and beauty of individuals with Down syndrome. In addition, Nothing Down runs several programs- Blessing Baskets of Hope, which supports new and expectant parents of babies with Down syndrome, and a nationwide World Down Syndrome Day school program that celebrates differences and fosters acceptance among students.. The school program raises awareness and funds for participating schools during the week of World Down Syndrome Day (March 21.) Nothing Down ambassadors and their families support the organization's mission by promoting such programs and by educating the public on the potential and abilities of individuals with Down syndrome.
Nothing Down announced the application process for their Ambassador Program in January. They received well over 500 applications, hailing from 42 states and 11 different countries. Hanna and her 28 fellow ambassadors were announced this week through a slideshow on the Nothing Down Facebook page. To keep up with the ambassadors and their mission, follow along at www.facebook.com/nothingdown or www.instagram.com/nothingdownorg or https://nothingdown.org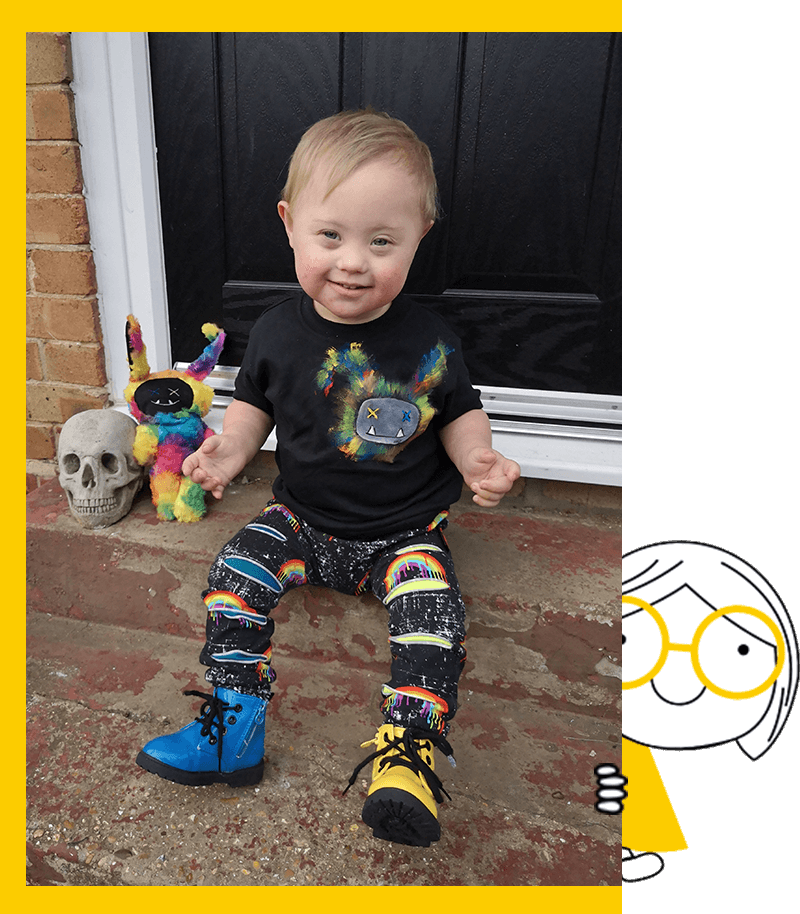 Keldan will be three-years-old in April and is from the UK. We are so happy to have this opportunity to help spread the word far and wide that a Down Syndrome diagnosis is not the end of the world.
We had a postnatal diagnosis. I actually said to the delivering midwife that I was sure he had Down syndrome. For us, it was not a scary prospect and I feel blessed to have not felt anything other than love.
Keldan is a very boisterous and cheeky little boy. He loves to play fight with his older brothers and has a great throw. His favorite thing to do is fill up a container,bucket, or pot then empty it and start again. Keldan's smile is the one thing that is guaranteed to reel anyone in and get them chatting. He really is the apple of our family's eye!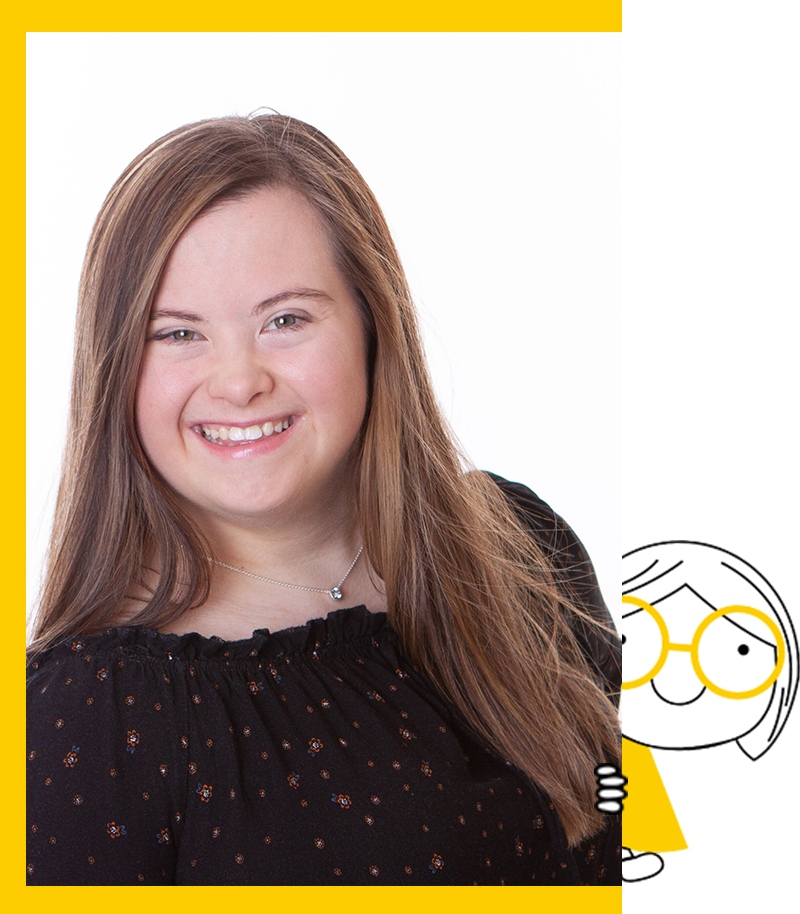 I love the Nothing Down Organization! I especially enjoyed the Gala where I got to perform with a dance group. It was so much fun!
My name is Nicole. I am 20 years old and live in Bucks County, Pennsylvania with my parents, two poodles and some chickens. Down syndrome is only a small part of who I am. My parents, brother, sister, cousins and friends have always treated me the same as anyone else. Down syndrome is no big deal! I am just like any other 20 year-old.
From preschool through high school graduation, I attended the same schools as my sister, Melissa, and my brother, Brandon. In high school, I was in the Marching Band and National Honor Society. My fellow students elected me Prom Queen in my senior year. I was a Girl Scout for more than 10 years and earned the Girl Scout Gold award by making a free lending library at my local Community Center. We collected over 2,000 donated books and built a little free library box to go outside the Community Center. At the Girls Scouts Awards Ceremony, I spoke about my project to over 100 people. I love public speaking!
Right now, I have two jobs, a volunteer job and a paying job. I volunteer at Children's Village a preschool at Doylestown Hospital where I feed and play with babies. At Children's Village, I give back to the place where I went to preschool and got an early start. Some of the teachers there remember rubbing my back to help me fall asleep when I was 3 years old. Now I get to rub the backs of other small children while they are falling to sleep for their naps. For spending money, I work as a hostess at Red Robin. I seat customers, run food and walk around the Red mascot on kid's nights. It is a fun place to work and my co-workers and managers are awesome.
In the fall, I will be going to East Stroudsburg University. Then, I will live in a house, off campus with 4 other students! In the meantime, I take courses at Bucks County Community College. I audited public speaking and now I am taking basic writing for my first 3 college credits! I love being there and already made some good friends. After college I hope to find a job helping people.
You can see that there is nothing down about my life!
Congratulations to Our Nothing Down Lifetime Ambassadors!
The following individuals were recently named Lifetime Ambassadors, due to their exceptional dedication to Nothing Down during their 2018 ambassadorship. These self-advocates and their families provide an incredible service to the Down syndrome community and are working hard to help end the negative stigmas that are often associated with Down syndrome. Congratulations to all!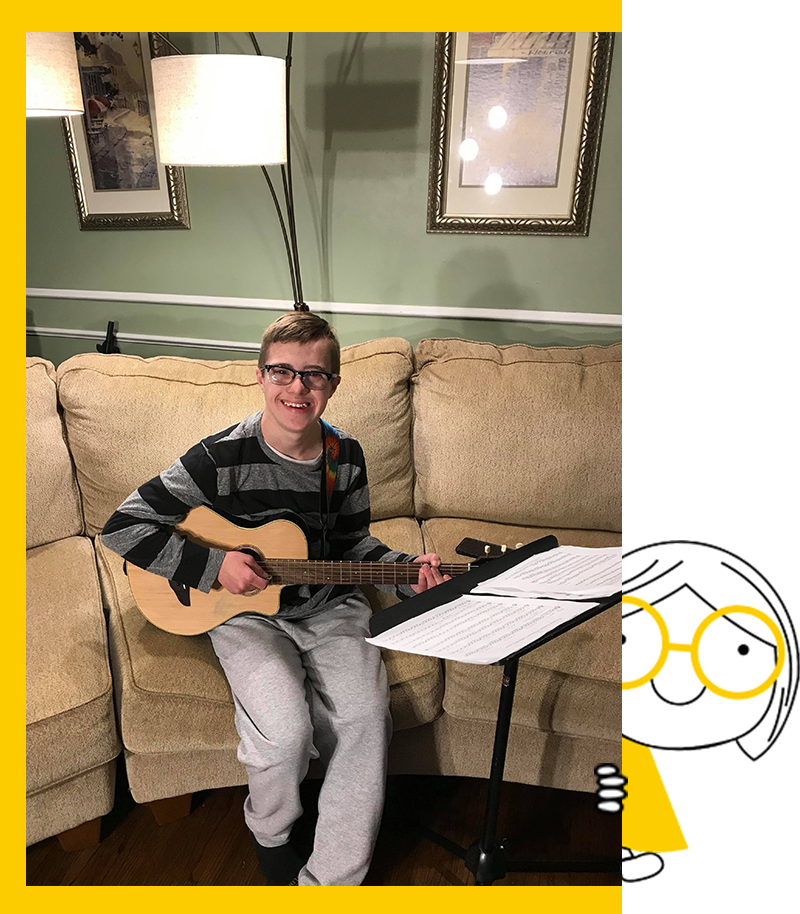 Jack is a typical 15-year-old teenager. He loves music, sports, video games, playing outside, his puppy Sam, and spending time with his family and friends. Jack swims for the Cinnaminson Pirates' High School swim team and also plays on the high school's Play Unified soccer team. Jack also takes guitar lessons and can play a variety of songs (including Walk The Line by Joaquin Phoenix, which is his favorite song to play!). Jack comes from a big family; he has a mom and dad, two sisters, two brothers, and a 10-year-old niece! It has been with their help that he has started his own 321 apparel company, "Jacked Up Shirts". Jack's company promotes Down syndrome awareness and acceptance. Jack donates a portion of all proceeds to different organizations that demonstrate inclusion and acceptance.
Jack is an amazing son, an incredible brother, and the best uncle in the world! Jack brings nothing but love and happiness to his family and everyone he meets. There is something very special about Jack. People are just drawn to him. Wherever Jack goes, good things happen. He lights up any room he walks into, he welcomes every person he meets with open arms, and he changes lives for the moment, and possibly forever. Down syndrome does not define Jack; it simply makes him who he is. Jack has a smile that is contagious and a personality that is even more infectious. Jack is a character, to say the least, as he definitely loves being the center of attention! Jack is a beautiful, smart, funny young man with the biggest heart. Jack is one of the lucky ones….he is the type of person that God intended all of us to be. Jack just "gets" life and lives it to the fullest each and every day. We can all learn so much from someone like Jack. He is proving to the world that there is nothing down about Down syndrome!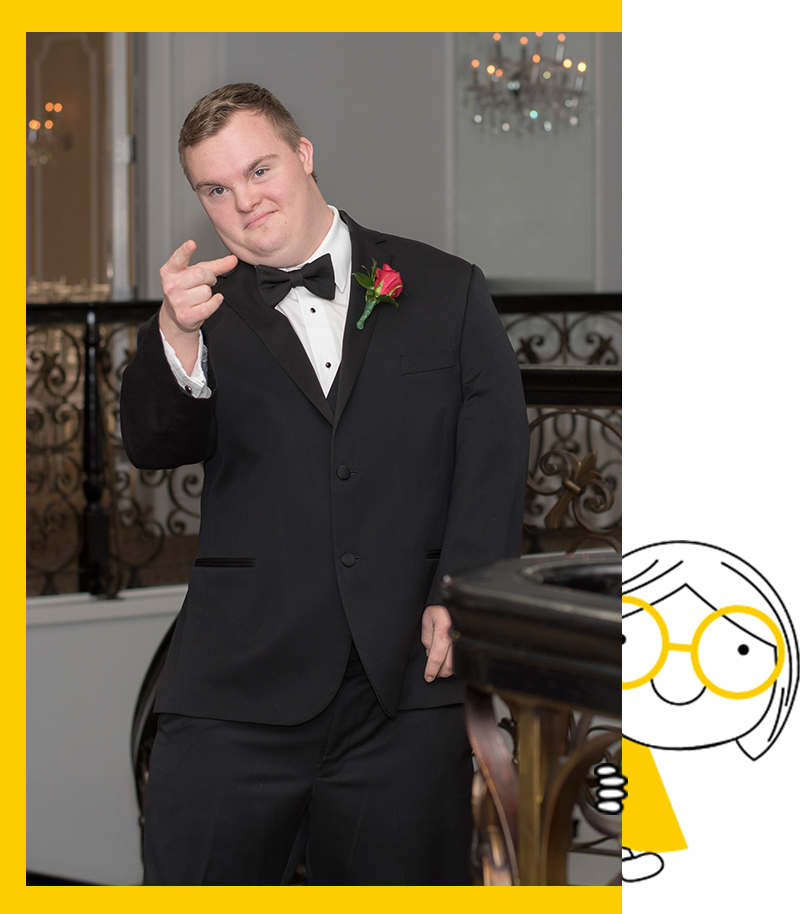 Hi I'm David Heller Jr. and I'm 24 years of age and live in Bucks County Pennsylvania. There are so many things that I want to tell you about who I am but most of all I want you to know that even though I have Down syndrome its really only a small part of me, it doesn't define me or limit me, it enhances me. I am a high school graduate. I graduated from Central Bucks West High school where I was one of the first ever students to be included in general education classes from kindergarten straight through until graduation. I graduated at 18 just like all of my friends who I started kindergarten with. I am an Eagle Scout, in 2014 I earned the rank of Eagle after I worked with the United Way of Bucks County to create disaster relief kits for resident along the flood prone areas of the Neshaminy creek. I am a college graduate, in 2018 I graduated from the College of New Jersey Career and Community Studies Program where I lived in an off campus house with 4 other students who are some of my best friends today. I took college level classes in a variety of things that I was interested in and wanted to learn more about, I did job training on campus in a variety of different departments and in my senior year I had an internship 20 hours a week with Verizon. I am an employee, currently I have two jobs and work 30 hours a week. I work for Regal Cinema at the concession stand taking orders, getting the orders and working the cash register. I love my job a Regal and have worked there for a year now. One of the best perks is that I get to bring a friend and see free movies! I also have a job at Wawa. At Wawa I have been a coffee barista brewing up 10 or more type of coffee for over 5 years now. Wawa is an awesome place to work and I have a lot of customers that come by every weekend just to say hi to me. The Wawa perks are pretty awesome too, I get discounts on any food I want and I love food! I am just like you. I love life, I have great friends and an amazingly supportive family. Don't set limits on someone because they look different, learn different or need a little extra time to get something done. Support and encourage them to reach for the stars.