Reynaldo Mateo signed with Oakland A's in 2008 as a free agent and was then drafted as a catcher in his home country of the Dominican Republic where he played for nearly eight years. When he was released due to injury, his passion for the game never waned. In fact, he always kept a dream project in the back of his mind. Reynaldo was known for being a power hitter but always struggled to find the right bat to best work for him. He set out to start his own business, following his dreams of creating the perfect baseball bat that he could share with the world.
But before he could get started, Reynaldo and his wife, Veronica, were excited to learn that they were expecting their first child. Several months later, they received news that rocked them to the core. Veronica tells us about a routine doctor appointment where they would learn the sex of their unborn baby. "We went in to get an anatomy scan and to finally reveal the sex of the baby after a long wait. As the tech was looking around, she asked multiple times if we had received our labs back for Down Syndrome. I didn't think much of it since everything had come back normal. After a long silent pause, the tech called my doctor to look at the images. I knew something was wrong. We were sent to get a second level ultrasound but never really mentioned Down Syndrome. The doctor simply said that some images were unclear and that they needed a better view of her heart. When I went in for the second level ultrasound, the doctor noticed three holes in her heart and a missing nasal bone, which were huge indicators of Down Syndrome. We were asked to do further testing, but we declined."
Several months later, baby Sofia came into the world after an easy, short labor without complications. It was at that time that the diagnosis of Down syndrome was confirmed. Veronica says "It was the scariest feeling. The fear of the unknown. I remember at 11:30pm when my husband walked in my room after being at the NICU with the baby all afternoon, he sat on my bed. He hugged me and broke down crying. All I remember is him asking me "we'll be ok, right?"
Yes, they were alright. Sofia is a thriving two year old girl who dances to every beat that her little ears catch. Mom and Dad also report that she is the best dancer that they know! She's very friendly and will hand out hugs/kisses every opportunity she gets, making friends wherever she goes. She is a healthy and happy little girl who doesn't let anything stand in her way. When she was five months old, she underwent heart surgery to correct her heart defect, but she shocked her parents by recovering so quickly and was released from the hospital in only six days. It wasn't too long after that Sofia's love of dance began, grooving to music before she even turned a year old.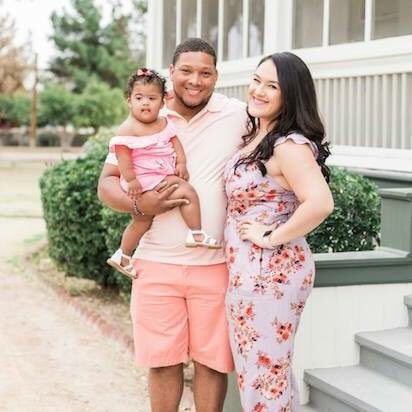 As the threesome settled into their new family life, Reynaldo got back to work on his dream of creating the perfect baseball bat and starting a small business to sell them. Several months ago, Reynaldo surprised Veronica with the new prototype and that's when she saw the label on the baseball bat- T21 Bats. T21 stands for Trisomy 21, another name for Down syndrome. Veronica was so shocked that her first reaction was to cry. When she asked why he had chosen that name for his brand, Reynaldo said
"Sofia has changed my life. I'm proud to represent the Down Syndrome community in everything I'm involved with. When people ask 'why T21?' I will be happy to educate them on what Down Syndrome is. I want the world to know how blessed we are to have been chosen to be part of this elite group of parents."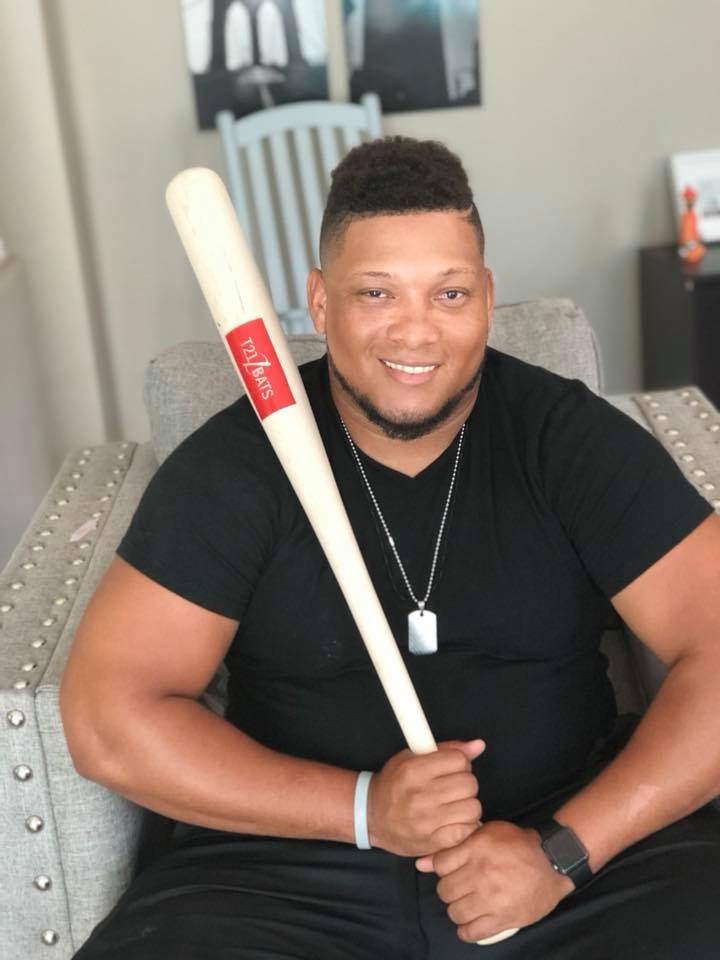 Veronica spoke to us at Nothing Down, describing Reynaldo as an amazing man and an even better father. "He has never felt ashamed, or even threatened, by the diagnosis. He has made it his life goal to give our daughter the best life possible- to normalize her extra chromosome and never allow Down Syndrome to become her only identifier. Early on, I went through postpartum depression, and Reynaldo told me, "I need you to see her as Sofia, not a baby with Down Syndrome. The day you see her as Sofia before her diagnosis, you will learn to accept this beautiful roller coaster." And he was so right. Sofia's life has been a little bit of a roller coaster, but it's the best roller coaster we could have ever experienced."
Thank you to Reynaldo and Veronica for sharing their beautiful story.
T21 Bats can be purchased through their Facebook shop @T21Bats. For more information, please visit their webpage www.t21bats.com