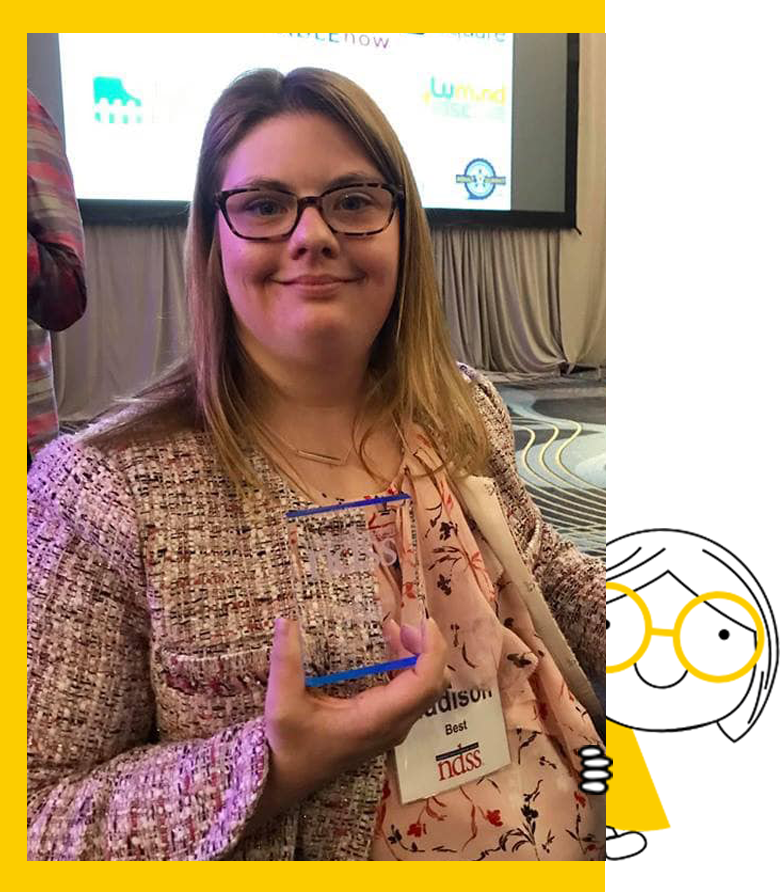 Hello, my name is Madison Best. I am 24 years old. I am a Special Olympic athlete, 2019 Ambassador for Nothing Down, a self-advocate speaker with the ARC of Indiana and I have Down syndrome.
I have been in Special Olympics for about six years. I play several sports- basketball, ballroom dancing, track & field, tennis, softball, corn toss, cycling, and bowling. Special Olympics is important to me because I meet new people, compete, win medals and trophies and socialize with my friends. My favorite sport is ballroom dancing. This is my third year in ballroom dancing. My partner, Officer Josh Chapman, and I practice every Wednesday night for six months. We practice the Waltz, Tango, Salsa, Rumba and Cha Cha. I LOVE to dance, especially the Rumba! Last year we competed in the State Games where Josh and I won first place in every category! I now take lessons with a professional ballroom instructor each week. I performed twice in December at ballroom competitions and look forward to competing in more! I love sports. I have a brown belt in Tae Kwon Do. Tai Kwon Do is important for both self-defense and exercise. Three years ago I learned to ride a bike at an I CAN RIDE bike camp and love to ride around my neighborhood for exercise. Mom and I have fun riding tandem bikes when we go on vacation.
I work at a nursing home and pay for my ballroom lessons and Tae Kwon Do with the money I earn from working. I have worked at the nursing home for three years and have worked in the kitchen, the dining room and delivering trays to the residents.
My boyfriend, Aron, and I have been dating for two years and we do a lot of things together. We read BOYFRIENDS + GIRLFRIENDS, A GUIDE TO DATING FOR PEOPLE WITH DISABILITIES and have an agreement that we will respect ourselves and set an example for other people with special needs. Sometimes that is hard work but it is worth it. We have a lot of fun together!
I try to find things that help me practice my independence. The last two years I have attended an Independent Living Retreat with Sunshine Social Club. Working on my independent living skills means working on these things:
Dating, job skills, making healthy food choices/cooking, shopping, independently, keeping a clean home, working on my job skills, expressing myself, setting an alarm and getting myself ready quickly, using my phone and ipad appropriately, keeping a healthy lifestyle, following my passions such as art, dance and more.
I want to inspire other people with Down syndrome to follow their passions. It is important to show the world that people with Down syndrome can live a full life: A life with meaningful relationships, hobbies, passions, independence, adventures and responsibility. My goals are to work in a coffee shop and live in an apartment or house, with a couple of my girlfriends. I look forward to my next adventure!