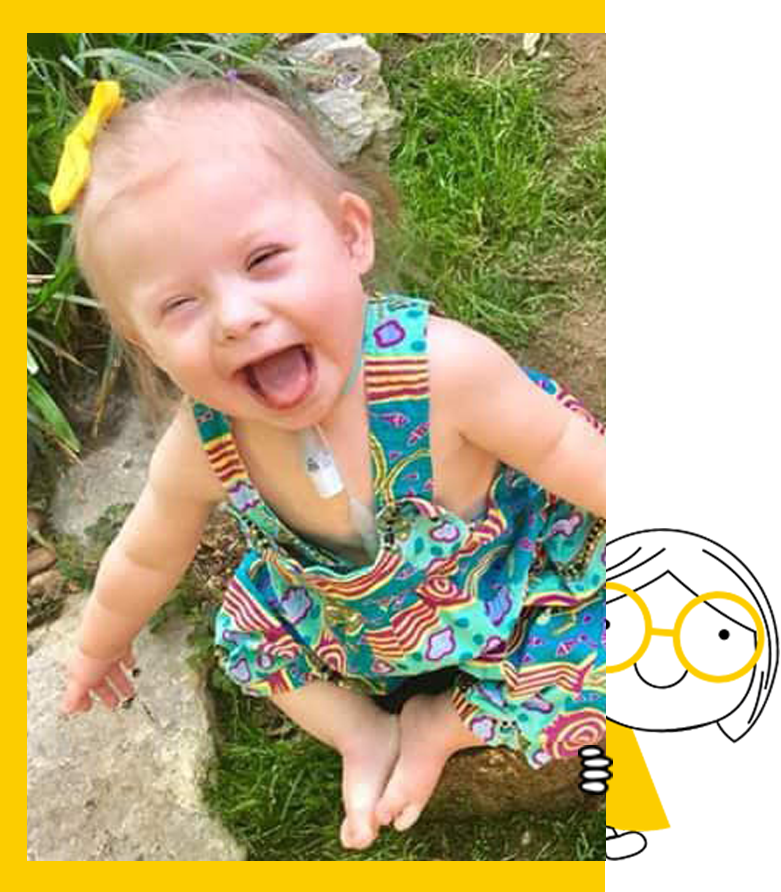 Meet our sweet Blakely Ruth! Blakely is representing the state of Oklahoma! She is 2 1/2 yrs old and the sweetest joy to be around! She has a wildly fun personality and loves to give tight neck squeezing hugs. She communicates by using sign language or will just simply yell to get your attention. She is so smart and ornery but, be careful- she uses it to her advantage and can be quite the sneaky little thing if you don't keep an eye on her! Along with her extra chromosome she also has CHD (Congenital Heart Disease) and chronic lung disease. She is referred to as "the fighter" in our family because she fought extra hard to be in this life. But now that she is so much healthier, that fighter personality has not ceased! Blakely had an unusually rough start at life for a baby with Down syndrome. We received her diagnosis prenatally along with her CHD. We didn't discover her sick lungs until she was born, but after 9 month of fighting, several surgeries, and getting a trach, she was healthy enough to go home! We have been home officially almost two years now and she has grown and thrived like a true miracle!
Blakely is growing her sign language vocabulary daily with her speech therapist and can say a few words out loud around her trach. She can scoot just about anywhere and she works very hard with her physical therapist weekly on growing stronger so that she can begin to walk. She loves movies- any and all movies- but her favorites are Trolls and Hotel Transylvania! She loves being outside playing with her doggies, and swinging in her swing. When she isn't cuddling up with her mommy or daddy, she's getting cuddles from gigi and papa or grandma and grandpa! Blakely loves her family and gets the biggest smile on her face when she sees someone she knows. She is quite the people person!
Blakely has never let her extra accessories and hard obstacles stop her from enjoying life. She wakes up everyday (well almost everyday, anyway) with a smile and gives a great big hug. She is our blessing, our rare gem, our lucky charm. She is a sassy little thing and we love being her parents! This journey has had many surprise turns but Blakely is our driver and we are just along for the ride!